Conversation piece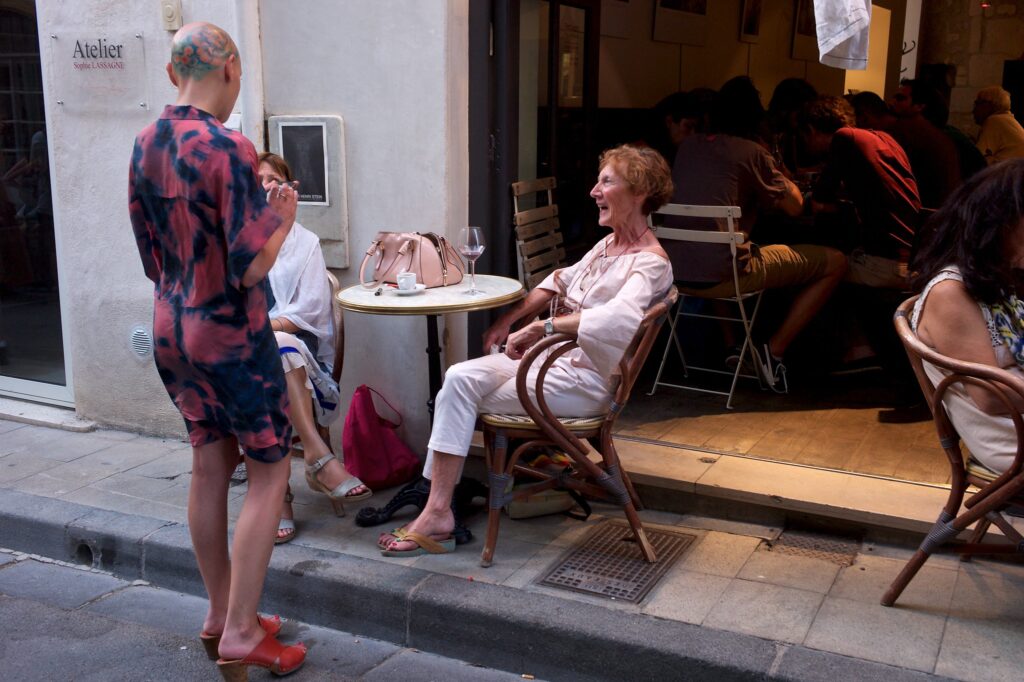 Arles, 2015
---
Quote of the Day
"A man may write at any time, if he will set himself doggedly to it."
---
Musical alternative to the morning's radio news
Hot House Flowers – "Don't go": Diamond Awards festival, 1988, Antwerp.
Terrific Irish band. I first heard them sing this at a street concert in Kerry many years ago.
---
What do we do with Cruise ships now?
Why, dismantle them, of course, and recycle whatever we can.
Neat set of photographs from Reuters.
Well, well. What's next? Universities?
---
What happens if there's no Brexit trade deal?
You can guess the answer, but Politico has done a really useful deep dive into the matter.
(Number of stars indicates how bad things could be — for the UK.)
Tariffs: ★★★★★
Custom checks: ★
State aid: ★★
Dispute settlement: ★★★
Health: ★★★★★
Air travel: ★★★★
Road transport: ★★★
Security/intelligence: ★★
Environment/climate: ★
Energy: ★
Fishing: ★★★★
Digital: ★★★★
Finance: ★★
Citizens' rights/immigration: ★★
Science and Education: ★★★
Pet travel: ★
Gibraltar: ★★★
It's a long read, but worth it. If some of the assessments puzzle, dig into the text for an explanation.
Great piece of public-interest journalism.
---
The dangerous and inexorable rise of the instant expert
Interesting essay in the FT by Andrew Hill triggered by a new book by Roger Kneebone about the nature of expertise.
TL;DR summary: attaining expertise is hard and there are no short-cuts.
The real threat to becoming an expert, though, is an increasing yearning for quick fixes, pat answers, and instant gratification. "There's a growing sense that anyone can learn to do anything — and quickly," laments Prof Kneebone in his book. People applaud Tik Tok experts over those who have "done time", or they assume that real skills displayed on social media can be picked up without effort or the acquisition of basic techniques.

Mr Trump is a case in point. He has sometimes been swift to claim "natural ability" in matters that his expert advisers took years to understand. But that is no surprise. After all, in the TV show that vaulted him towards the presidency, the apprenticeships he bestowed were a high-profile reward for a few weeks of showy salesmanship, not the first step in a hard but fulfilling journey towards mastery.
Yeah: just look at how Trump now regards himself as an expert on Covid-19.
---
What is the virus doing to us?
One answer, prompted by reading this thoughtful essay by historian Peter Frankopan, is that it's softening us up for authoritarian rule. The crisis, he says, "has the capacity to be apocalyptic".
More than eighty countries declared a state of emergency as a result of the virus, according to the Centre for Civil and Political Rights. In some cases this resulted in impassioned debate about the erosion of civil liberties, for example in Israel, where the government approved a controversial measure in March to digitally track those who had tested positive for coronavirus.

In Britain, meanwhile, the 329 page 'Coronavirus Bill' was passed in a single day – suspending the requirement for councils to meet the eligible needs of the disabled and vulnerable people, amongst others, as well as the right to cancel or re-arrange elections and to close ports and borders. Police releasing drone footage of walkers in the Peak District, officers reprimanding people for using their own front garden, or Thames Valley police issuing appeals for local residents to inform on each other if they suspect they are 'gathering and then dispersing back into out communities' during the lockdown show that the relationship between citizens and the authorities has changed dramatically in a matter of a few weeks. The new mantra of our pandemic and post-pandemic world is best expressed by Thailand's Prime Minister, Prayuth Chan-ocha – a general who himself took power in a coup in 2014: 'right now it's health over liberty.'

There are, of course, pockets of resistance, such in the US, where armed militias gathered on the steps of some state assemblies to demand an end to lockdown. Ironically, they were encouraged by President Trump who issued a series of tweets effectively urging civil disobedience: 'Liberate Michigan', he tweeted; 'Liberate Minnesota !'Liberate Virginia !' But even in the complicated and contradictory United States of 2020, things have not been straightfoward, with Trump asserting that his powers are not so much presidential as dictatorial: 'When somebody's the President of the United States, the authority is total, and that's the way it's got to be,' he said in a press briefing in mid-April – a few weeks after he had boasted that 'I have the right to do a lot of things that people don't even know about', before a bilateral meeting with Irish Prime Minister, Leo Varadkar.

The push away from democratic norms to autocratic measures is framed by the justification that the crisis is so severe as to require emergency measures that usually reflect a war footing. So it is no surprise that so many leaders around the world have referred to the coronavirus as a 'war', nor that wartime parallels are the ones we turn to in order to make sense of the situation: it is no coincidence either that the death toll from the Vietnam War contextualised mortality figures from the US, or that those of the height of the Blitz in the twenty eight days to 4 October 1940 were set against those to Covid-19 in the four weeks to mid-April.
Not a cheery read. But riveting nevertheless.
---
This blog is also available as a daily email. If you think this might suit you better, why not subscribe(https://johnnaughton.substack.com)? One email a day, delivered to your inbox at 7am UK time. It's free, and there's a one-click unsubscribe if your decide that your inbox is full enough already!
---