Thursday 30 July, 2020
Quote of the Day
Every time Trump opens his mouth, he convinces somebody out there to vote for Biden.
---
Musical alternative to Radio 4's 'Today' programme
Bach: Toccata and Fugue, BWV 565, played by Edson Lopes. (9 minutes)
---
Doc Searls is 65+
Doc is one of the Elder Statesmen of the Web. (He was one of the authors of The Cluetrain Manifesto). And he's just turned 65, which means he's now in the blanket category known to marketers as "the over 65s".
Thus I have now fallen over the edge of a demographic cliff, at the bottom of which is little of major interest to marketers, unless they're hawking the cushy human equivalent of parking lots. You know: cruises, golf, "lifestyle communities," "erectile dsyfunction," adult diapers, geriatric drugs, sensible cars, dementia onset warnings…

For individuals, demographics are absurd. None of us are an age, much less a range of them. We're animals who live and work and have fun and do stuff. Eventually we croak, but if we stay healthy we acquire wisdom and experience, and find ourselves more valuable over time.

Yet we become less employable as we climb the high end of the demographic ladder, but not because we can't do the work. It's mostly because we look old and our tolerance for bullshit is low. Even our own, which is another bonus.

Nearly 100% of the people I work with are younger than me, usually by a generation or two. I almost never feel old among them. Sometimes I joke about it, but I really don't care. It helps to have been around. It helps to know how fast and well the mighty rise, and then fall. It helps to see what comes and stays, and to know why those things matter more than what comes and goes. It helps to know there are sand dunes older than any company born on the Internet.
Happy birthday, Doc!
---
Echo frames
Aww isn't this sweet? Alexa sitting just above your ear.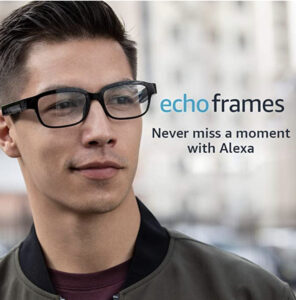 Meet Echo Frames – All-day glasses with hands-free access to Alexa. Just ask Alexa – Make calls, set reminders, add to your to-do lists, listen to podcasts, or control your smart home from anywhere. Designed for all-day wear – Echo Frames are lightweight and compatible with most prescription lenses. VIP Filter – Customize which notifications to receive from the contacts and apps that matter most to you (Android only). Thoughtful design – Amazon open-ear technology directs sound to your ears and minimizes what others can hear. And with no camera or display, you stay in the moment.
Don't you just love the idea of "staying in the moment"!
---
Cummings saga damaged UK lockdown unity, study suggests
The scandal over Dominic Cummings' trips to and around Durham during lockdown damaged trust and was a key factor in the breakdown of a sense of national unity amid the coronavirus pandemic, research suggests.

Revelations that Cummings and his family travelled to his parents' farm despite ministers repeatedly imploring the public to stay at home – as exposed by the Guardian and the Daily Mirror in May – also crystallised distrust in politicians over the crisis, according to a report from the thinktank British Future.

The findings emerged in a series of surveys, diaries and interviews carried out over the first months of the pandemic as the public got to grips with profound changes to their habits, relationships and lifestyles.
The only thing that's surprising is that anybody would be surprised by these findings.
---
What's involved in stripping Huawei out of UK mobile networks
Well, up to £500m if you're BT, according to evidence given to a Commons Select Committee by a senior BT executive quoted by the Register.
---
Nikon versus Canon: A Story Of Technology Change
If you're a photography geek (which, I'm sorry to say, I am), then you could happily spend a good deal of the morning following Steven Sinofsky's wonderfully detailed account of how Canon displaced Nikon as the standard camera system for professional photographers. It's really an illustration of some of the points Clayton Christensen was making in The Innovator's Dilemma all those years ago.
---
This blog is also available as a daily email. If you think this might suit you better, why not subscribe? One email a day, delivered to your inbox at 7am UK time. It's free, and there's a one-click unsubscribe if you decide that your inbox is full enough already!
---