Vanishing point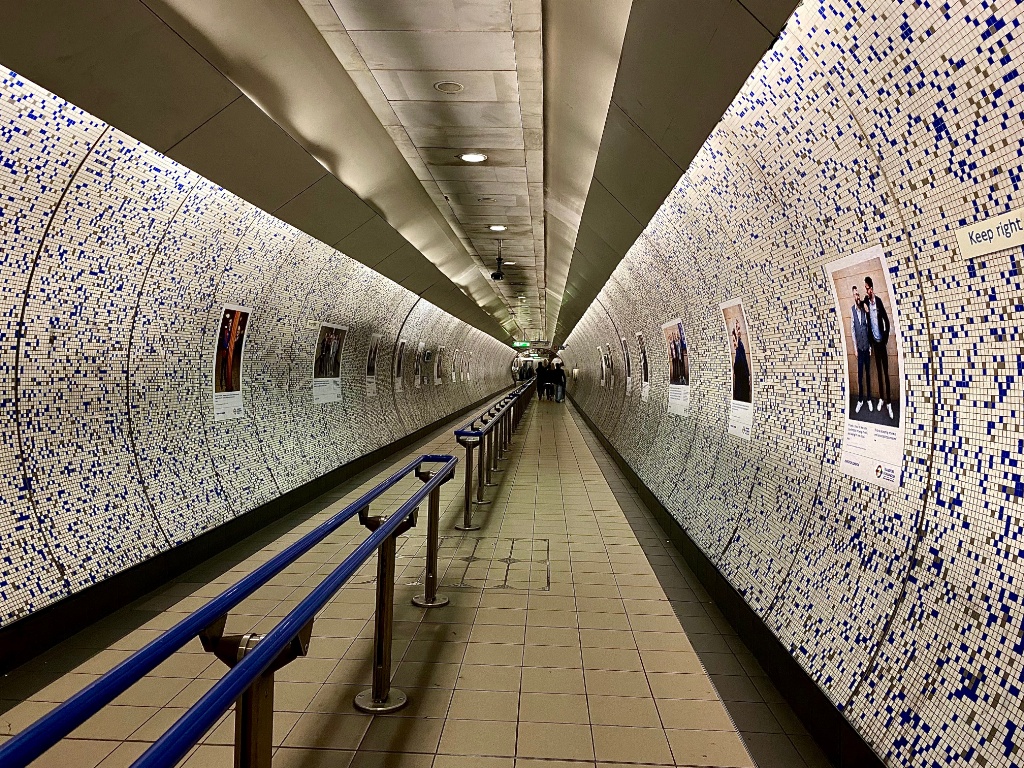 Green Park Tube Station the other day.
---
Quote of the Day
"When the missionaries came to Africa they had the Bible and we had the land. They said 'Let us pray.' We closed our eyes. When we opened them we had the Bible and they had the land."
---
Musical alternative to the morning's radio news
Bob Dylan | Bob Dylan's Dream
---
Long Read of the Day
 What the Algorithm Does to Young Girls
For years I've been convinced that Instagram is terminally toxic for teenage girls. But who am I, a white male boomer, to know anything about this? So maybe you can understand why I have been so struck by the writing of Freya India, and particularly by this essay, which I stumbled upon the other day. If you're a parent or grandparent of teenage girls, maybe you should read it and ponder.
Let's say you were born in the year 1999, so Instagram comes out when you are 12. Back then it was fairly benign: a platform to share pretty sunsets and candid pictures with friends. A few years in, the editing app FaceTune arrives (launched in 2014), and everyone on your feed starts to look perfect. You start editing yourself—smoothing your skin, reshaping your nose, restructuring your jaw. By the time you're 16, your Instagram face is very different from your natural face, which you've come to despise.

And then the algorithms are introduced: your feed is no longer chronological but customized. Instagram now serves you not just photos of the friends you follow but of "influencers"—beautiful women from all over the world, selecting the ones that make you feel the most insecure. Soon you get ads to fix your flaws: Botox; fillers; Brazilian Butt Lifts! By the time TikTok comes out you're 18, and your feed tracks you even faster. Hate your nose? Try this editing app. Not enough? Try this video editing app. Want it in real life? Nose jobs near you! Suddenly you're in your 20s and you've transformed your style, your face, maybe even your body. And yet you are still insecure. You still hate how you look. And every day your feeds flash on with This is your sign to get a nose job!, The earlier you start Botox the better!, Get ready with me for a Brazilian butt lift!

For many girls, this rewiring of their self-image, this pressure to alter their appearance, happened without them realizing it. It was gradual. Subtle. Drip-fed.

And where have we ended up?
Read on to find out.
---
Henry K, contd.
 A People's Obituary of Henry Kissinger
Scorching assessment by historian Greg Grandin in The Nation. He contends that "reading Kissinger as an alien out of tune with the chords of American Exceptionalism misses the point of the man. He was in fact the quintessential American, his cast of mind moulded to his place and time".
At every single one of America's postwar turning points, moments of crisis when men of good will began to express doubts about American power, Kissinger broke in the opposite direction. He made his peace with Nixon, whom he first thought was unhinged; then with Ronald Reagan, whom he initially considered hollow; and then with George W. Bush's neocons, despite the fact that they all rose to power attacking Kissinger; and finally with Donald Trump, whom Kissinger fancifully imagined as the realization of his belief that the greatness of great statesmen resides in their spontaneity, their agility, their ability to thrive on chaos, on, as Kissinger wrote in the 1950s, "perpetual creation, on a constant redefinition of goals."

"There are two kinds of realists," Kissinger wrote in the early 1960s, "those who manipulate facts and those who create them. The West requires nothing so much as men able to create their own reality." Trump, the reality-show president, certainly creates his own reality. A "phenomenon," Kissinger called Trump, saying that "something remarkable and new" might emerge out of his presidency.
It's a great piece, worth reading in full, which cuts the old brute down to size. Isaiah Berlin, observing K's weird partnership with Richard Nixon (whom he seemed to despise), christened the beast 'Nixonger', presumably because it was more than the sum of its grotesque parts.
---
My commonplace booklet
Charlie Stross (Whom God Preserve) had heard bad things about Google Bard, the search giant's 'AI'-assisted search tool. So he decided to test it on a topic on which he is a world expert: himself. It doesn't end well, but Charlie's account of it is both funny and serious.
His takeaway: "LLMs don't answer your questions accurately—rather, they deliver a lump of text in the shape of an answer."
Amen.
---
Linkblog
Something I noticed, while drinking from the Internet firehose.
This is my Treat of the Week, a recording of Benedict Cumberbatch reading a letter of complaint from George Bernard Shaw to the management of the Royal Opera House after attending a performance of Don Giovanni.
---
This Blog is also available as an email three days a week. If you think that might suit you better, why not subscribe? One email on Mondays, Wednesdays and Fridays delivered to your inbox at 6am UK time. It's free, and you can always unsubscribe if you conclude your inbox is full enough already!
---