Reports of social media's influence on (UK) voters may be exaggerated
This morning's Observer column:
While it would obviously be ridiculous to deny that social media played some role in these political upheavals [Brexit and Trump's election], it would be foolish to assign it the critical role. Apart from anything else, putting social media centre stage ignores what had been happening to democratic electorates during decades of globalisation, neoliberal economic policy, rising inequality and austerity. But because the rise of Facebook et al was one of the biggest changes over the last two decades, the temptation to see them as the place to look for explanations seems to have been well-nigh irresistible.
Fortunately, it was resisted by researchers at the Reuters Institute for the Study of Journalism in Oxford when they set out to understand where UK voters got their news during the 2019 general election. They tracked the online news consumption of 1,711 people aged 18-65 across mobile and desktop devices throughout the campaign and also surveyed a subset of 752 panellists before and after the vote. What the researchers were seeking to understand was the relative importance for voters of offline and online news and their attitudes to the media and politics more widely.
Their findings make intriguing reading, not least because they challenge some of the anecdotal conventional wisdom about the predominance of social media…
---
In the boxing business, only the promoter wins every fight
Same applies on social media.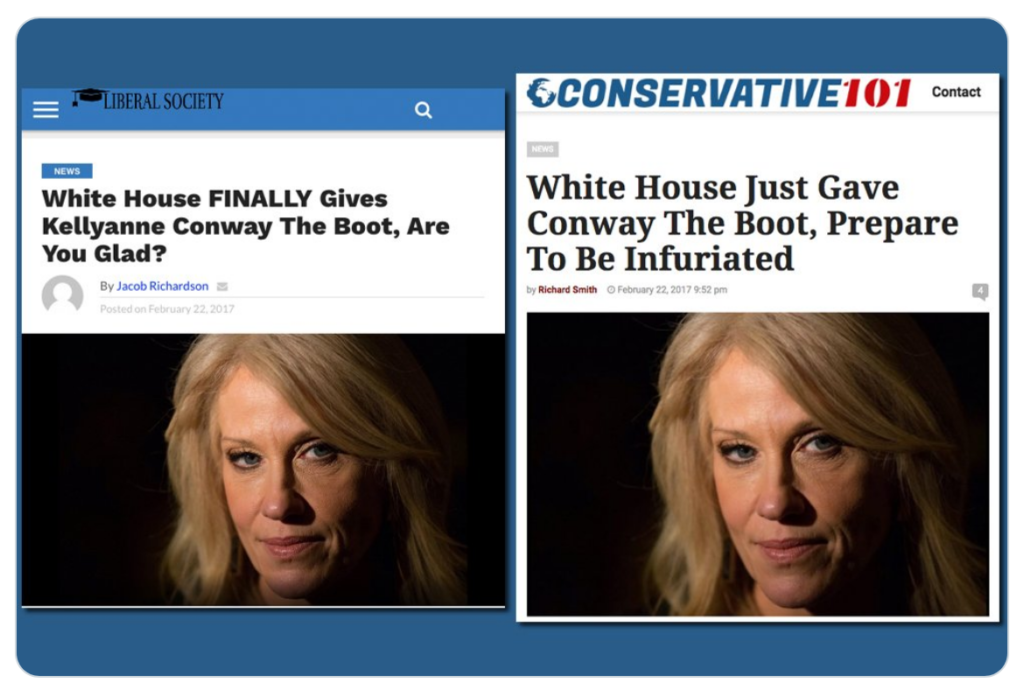 Both of these sites are owned by the same jokester. Heads he wins, tails he wins. 'Engagement' is all.
"Are you glad to see Conway gone?" asked Liberal Society at the end of its post.

"Will you miss seeing Conway on TV?" asked Conservative 101.

The stories read like they were stamped out of the same content machine because they were. Using domain registration records and Google Analytics and AdSense IDs, BuzzFeed News determined that both sites are owned by American News LLC of Miami.

That company also operates another liberal site, Democratic Review, as well as American News, a conservative site that drew attention after the election when it posted a false article claiming that Denzel Washington endorsed Trump. It also operates GodToday.com, a site that publishes religious clickbait.
---
What the composition of the Johnson Cabinet actually portends
Insightful analysis by James Butler in the LRB:
It's the move to control and centralisation that is most significant, and gives us the clearest sign of what to expect from the government over the next five years: personalised authority, a tussle over economic intervention intended to reshape the nation, hostility to legal and journalistic accountability, and a host of convenient public enemies as villainous Brussels recedes from view. The new appointees, and the new priorities, inaugurate a new mode of British Conservatism – and any opposition that fails to grasp that, and its internal weaknesses, may find it takes longer than five years to defeat it.
---