Dusk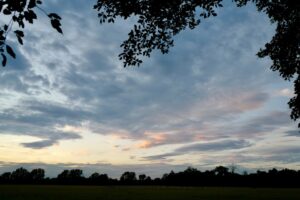 That magical moment between daylight and darkness.
Click on the image for a bigger version.
---
Quote of the Day
"The convent taught me only that if you spit on a pencil eraser it will erase ink."
---
Musical alternative to the morning's radio news
Paul Brady sings 'Arthur McBride', an Irish folk song variously categorised as an "anti-recruiting" song, a specific form of anti-war song, or more broadly as a protest song. Planxty also has a lovely version of it.
---
Thinking about tech regulation
This diagram comes from an interesting article, "Law and Technology Realism" by Thibault Schrepel.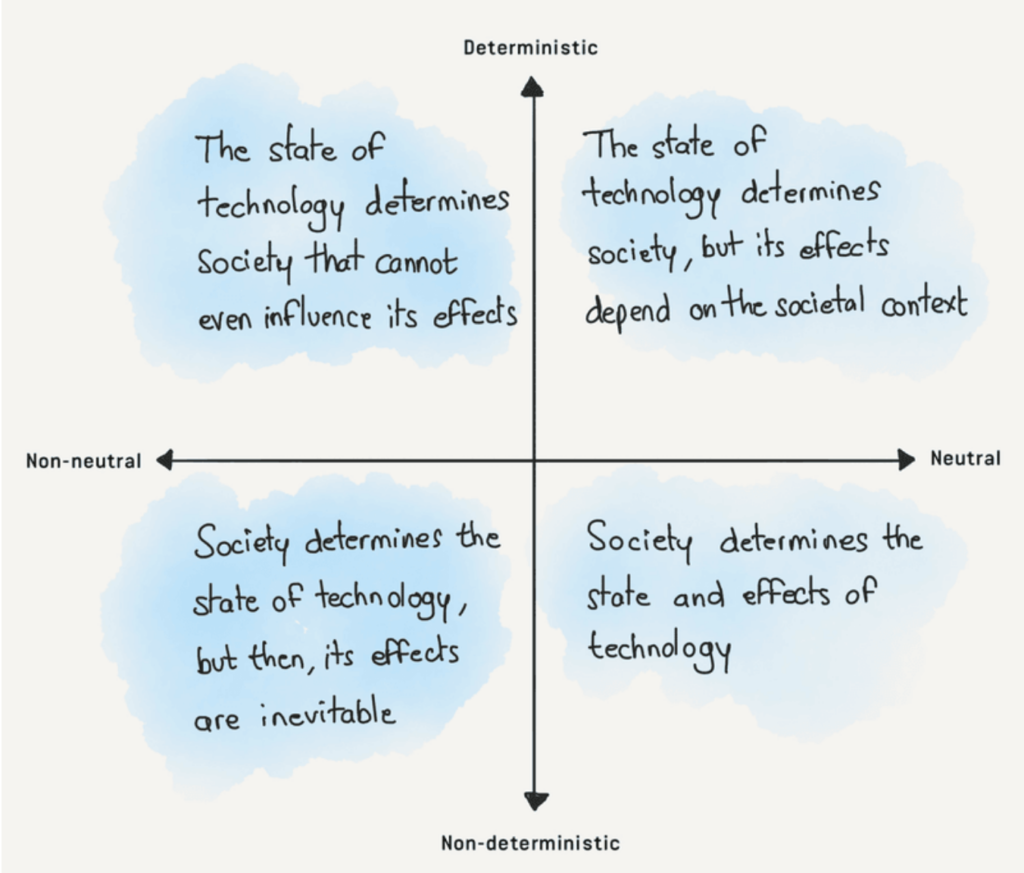 While it is commonly accepted that technology is deterministic, I am under the impression that a majority of "Law and Technology" scholars also believe that technology is non-neutral. It follows that, according to this dominant view, (1) technology drives society in good or bad directions (determinism), and that (2) certain uses of technology may lead to the reduction or enhancement of the common good (non-neutrality). Consequently, this leads to top-down tech policies where the regulator has the impossible burden of helping society control and orient technology to the best possible extent.

This article is deterministic and non-neutral.

But, here's the catch. Most of today's doctrine focuses almost exclusively on the negativity brought by technology (read Nick Bostrom, Frank Pasquale, Evgeny Morozov). Sure, these authors mention a few positive aspects, but still end up focusing on the negative ones. They're asking to constrain technology on that sole basis. With this article, I want to raise another point: technology determinism can also drive society by providing solutions to centuries-old problems. In and of itself. This is not technological solutionism, as I am not arguing that technology can solve all of mankind's problems, but it is not anti-solutionism either. I fear the extremes, anyway.
Not sure I agree with his methodological recommendations at the end, but this is an interesting way of thinking about the regulation problem.
---
Challenging the epistemological imperialism of 'Computer Science'
Randy Connolly has written an extraordinary article in the August issue of Communications of the ACM on "Why Computing Belongs Within the Social Sciences". It's a really interesting and important essay, about which I will be writing more. But for now, here's the trailer.
---
Jack Shafer: stop fretting about Trump's bluffing on postal voting and get your vote in early
Typically robust Shafer column:
If you're still worried about the disenfranchisement of the 76 percent of eligible voters who have the right to cast their ballot by mail, there are practical things you can do as an individual besides tweeting anxiously about Trump. The progressives at Democracy Docket recommend that in addition to using special drop boxes, you avoid the Election Day crowds by taking part in the early, in-person voting offered in 41 states. Some states even offer weekend voting. They also suggest you participate in the organized collection of ballots, which some states allow. (Trump assails organized collection as "ballot harvesting.")

Other things you can do to increase the tabulated vote: Request your absentee ballot at the earliest date possible and return it in person, by mail or secure dropoff as soon as you can. If you live in a state that sends ballots to all registered voters, complete yours and return it promptly. Also, use the USPS sparingly in the three weeks before the election to liberate capacity. Pay your bills via the web. Don't send postcards. Place phone calls instead of sending birthday cards. Send packages through FedEx or UPS.

Do what you can—if only to call Trump's postal bluff.
I like Shafer's brusque, no-nonsense style. Which is why I always read him.
---
Summer books #7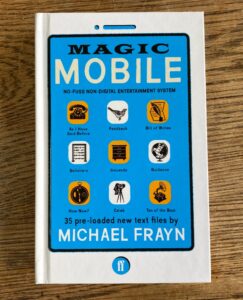 Magic Mobile by Michael Frayn.
This is lovely. I bought it at the beginning of lockdown. It's a "no-fuss, non-digital entertainment system", complete with 35 "pre-loaded new text files" by one of Britain's greatest playwrights and humourists. No batteries required. Makes a lovely gift for non-techies, I've discovered.
---
This blog is also available as a daily email. If you think this might suit you better, why not subscribe? One email a day, delivered to your inbox at 7am UK time. It's free, and there's a one-click unsubscribe if you decide that your inbox is full enough already!
---