Sign of the times. According to today's New York Times,
The Nikon Corporation, the Japanese camera maker, said Thursday that it would stop making most of its film cameras and lenses in order to focus on digital cameras.

The company, based in Tokyo, is the latest to join an industrywide shift toward digital photography, which has exploded in popularity. Rivals like Kodak and Canon have already shifted most of their camera production into digital products.

Nikon said it would halt production of all but two of its seven film cameras and would also stop making most lenses for those cameras. The company will halt production of the film camera models "one by one," though it refused to specify when.

A company spokesman said Nikon made the decision because sales of film cameras have plunged. In the most recent fiscal year ended March 2005, Nikon said that film camera bodies accounted for 3 percent of the 180 billion yen ($1.5 billion) in sales at the company's camera and imaging division. That is down from 16 percent the previous year.

By contrast, sales of digital cameras have soared, the company said, jumping to 75 percent of total sales in the year ended March 2005, from 47 percent three years earlier. Scanners and other products account for the remainder of the division's sales.

"The market for film cameras has been shrinking dramatically," the company spokesman, Akira Abe, said. "Digital cameras have become the norm."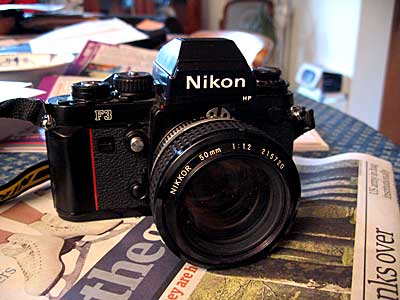 So my lovely old Nikon F3 is destined to become a valuable antique? Maybe, maybe not. From another part of the CES forest, David Pogue (also of the NYT) reports:
In one CES panel, an analyst from InfoTrends noted that cameraphones now outnumber non-cameraphones. She also noted that 78% of under-18-year-olds take a cameraphone picture at least once a week.

Another InfoTrends analyst reported, surprisingly, that digital camera sales have actually peaked, and has [sic] declined since last year. Meanwhile, the manufacturers are feeling the pain: Konica Minolta has exited the Canadian market, Sony and Olympus have cut camera production and workforces, and the Kyocera/Yashica/Contax corporation has exited the digital camera market entirely.