Quote of the Day
"Most of what we call civilisation depends on reciprocal vulnerability"
(one of the many things demagogues don't understand.)
---
Instead of listening to the news at breakfast today, why not listen to this?
Mozart's Clarinet Concerto in A major, K.622
This is a performance from 2015, in the days when people could still go to concerts in person!
A recording of the concerto was the first LP record I ever owned.
---
From today face-masks will be compulsory in UK shops and (some) other places
From today, it will be compulsory to wear a face covering when buying food and drink to take away. However, the public will be permitted to sit down in the same outlet and remove their mask to consume their purchase. Those who fail to cover their faces in shops, supermarkets, banks, post offices and transport hubs will face a fine of up to £100.
So the government has finally got the message on masks, then? Er, you forget that this is the UK, a country governed by amateurs who don't know what they're doing. Accordingly, it's still not mandatory to wear a face covering in restaurants, pubs, hairdressers, gyms and leisure centres, or entertainment venues such as cinemas, concert halls and theatres.
The FT had this revealing snippet:
Speaking last week, the health secretary Matt Hancock said: "You do need to wear a face mask in Pret because Pret is a shop. If there's table service, it is not necessary to have a mask. But in any shop, you do need a mask. So, if you're going up to the counter in Pret to buy takeaway that is a shop."

Hours later a Downing Street spokesman said it was his understanding that it would not be mandatory "if you went in, for example, to a sandwich shop in order to get a takeaway to wear a face covering".
You really couldn't make this stuff up.
---
"Waste imperialism": The environmental consequences of single-use PPE
Great FT report.
Much of the PPE used around the world is single-use by design and can contain a range of different plastics, from polypropylene and polyethylene in face masks and gowns to nitrile, vinyl and latex in gloves.

Yet just a few decades ago, almost all PPE was reusable, said Jodi Sherman, professor of anaesthesiology and epidemiology at Yale University. That changed in the 1980s when the medical devices industry recognised the moneymaking potential of single-use disposable products, she explained.

"The more stuff you throw away, the more you have to buy, so it's an advantageous business model for things not to be durable," Prof Sherman said. Now the vast majority of protective equipment is disposable, manufactured far from the point-of-use and delivered just in time to limit the need for warehousing and to ensure supplies do not expire.

The World Health Organization projected that PPE supplies would need to increase by 40 per cent monthly to meet demand during the pandemic, including an estimated 89m masks, 76m pairs of gloves and 1.6m pairs of goggles. Frost & Sullivan, a consulting firm, has predicted that the US could generate an entire year's worth of medical waste in just two months.
Guess where it's beginning to show up. Much of Europe's waste is shipped to countries such as Indonesia and Turkey, which an activist from A Plastic Planet described as the "worst of waste imperialism".
---
No-touch touchscreens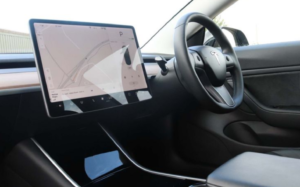 One of the most disconcerting things about getting into a new Tesla is the fact that it seems to have none of the usual buttons and controls we are accustomed to in traditional automobiles. Instead there just an enormous touchscreen. This is evidence that Teslas are basically software with wheels. And it means that driving one means interacting with the touchscreen — which, to my naive eye — suggests a certain amount of risk. At any rate, my experience of interacting with the SatNav on the much smaller touchscreen on our Prius is that it's best done while the vehicle is stationary!
The thought that touchscreens are likely to become much more central in the automobiles of the future sparked some interesting research in Cambridge, in collaboration with Jaguar Land Rover. One of the outcomes is the development of a 'no-touch touchscreen'. It uses a combination of artificial intelligence and sensor technology to predict a user's intended target on touchscreens and other interactive displays or control panels, selecting the correct item before the user's hand reaches the display. It is claimed that "in lab-based tests, driving simulators and road-based trials, the predictive touch technology was able to reduce interaction effort and time by up to 50% due to its ability to predict the user's intended target with high accuracy early in the pointing task".
The interesting thing, though, is how this research suddenly acquires a new salience in the Covid era, where the virus can reside on a surface and be passed along by people who touch the surface and then touch their faces. (Think doorknobs, for example.) In that sense, it's a good illustration of how research conducted for one application area (in this case automobiles) can also be useful in other, ostensibly unrelated, areas.
Over five years ago, my GP's surgery installed a touch-screen on which patients were required to register their arrival. When I pointed out (politely) that this could represent an infection risk for the practice, the receptionist listened to me politely with that 'what-kind-of-nutter-have-we-here?' expression, and for a while nothing happened.
And then one day there was a hand-sanitiser next to the screen.
The good news is that this was long before the Coronavirus arrived.
---
Travel in a time of Covid
Sobering tale from Maeve Higgins, an Irish citizen who lives and works in the US.
The list of countries with borders open to Americans has never been shorter. But for now, Ireland, unlike many others in Europe, is still allowing Americans in. It's the welcome part that's missing. American tourists who don't feel like quarantining and instead hope to drink and dine at recently and cautiously reopened restaurants and bars are being soundly turned away.

This is of interest to me, an Irish citizen who lives in the United States, because of my recent trip back. I went to Ireland when the pandemic started, figuring it would be safer. It was. In fact, Ireland has one of the lowest rates of Covid-19 in Europe. However, I missed my home and my life and mainly Shake Shack, so I decided to go back to New York. It wasn't easy, because of the travel ban the United States has put in place on people coming from Europe. This obstacle was new to me. An Irish passport is a powerful one that usually admits me to most parts of the world, and an American visa like the one I have in my passport is an equally rare and precious thing.

Suddenly, though, doors were being slammed shut and gates locked tight. I decided to return through Canada. I applied for and got my visa waiver online within minutes. I flew to London but was not allowed on the connecting flight to Toronto. It turns out Canada has an extensive travel ban too; Canadians are just too polite to shout about it. Between the jigs and the reels, as we say in Brooklyn, I had to come through Mexico. Not just transit through — I had to stay there for 14 days, which I did last month. This itinerary was not my choice and certainly not logical, but that's what the travel ban did; it forced me to take two extra long-haul flights, as well as holding me squarely in the beautiful and resilient Mexico City, which at that time was a hot spot experiencing record-high levels of infection.
As an added bonus she was in Mexico City during the recent earthquake. The most interesting part of her account, to me anyway, is the way visiting Americans who don't self-quarantine when they arrive in Ireland are finding that they're not welcome in pubs. It seems that our famous Céad Mile Fáilte" greeting ("A hundred thousand welcomes") no longer applies to refugees from Trump's America. Which is a pity, but understandable in the circumstances.
---
Dave Winer: How I'd teach computer science
Typically imaginative (and succinct) curriculum by a great developer.
My only quibble: it's really a lesson on how to write software that works reliably. Computer science — in so far as it exists — is broader than that. (Though I often wonder where the border between CS and 'technology' lies. I've never accepted that technology is just applied science. It does involve the application of scientific knowledge, of course; but it also involves the application of other kinds of organised knowledge. Craft and tacit knowledge, for example; also project management and other kinds of managerial skills and knowledge. No working bridge was ever built just by applying scientific knowledge. If you doubt that, then David McCullough's terrific book on the building of the Brooklyn Bridge might make you think again.)
---
This blog is also available as a daily email. If you think this might suit you better, why not subscribe? One email a day, delivered to your inbox at 7am UK time. It's free, and there's a one-click unsubscribe if you decide that your inbox is full enough already!
---