Nightwalk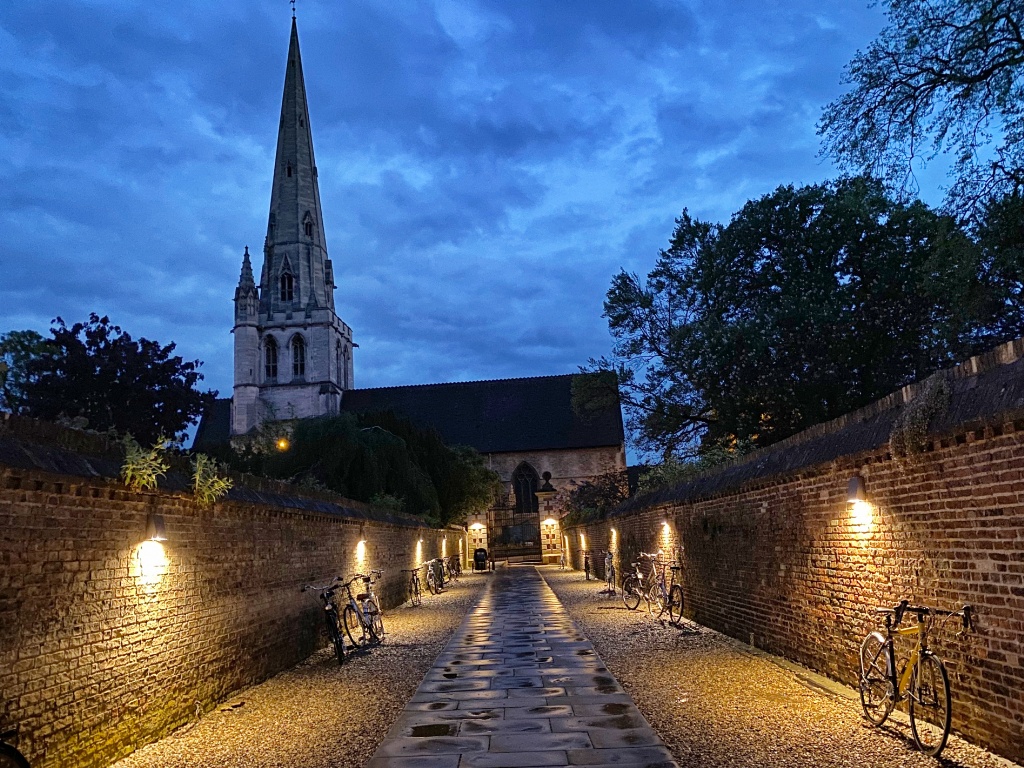 The long paved, walled path from Jesus Lane to the Gatehouse of Jesus College is known as "the Chimney". The explanation may lie in the fact that the Gate Tower was once crowned by ornate brick chimneys.
Photographed on Tuesday evening as I was leaving the college after a dinner.
---
Quote of the Day
"One never, of course, knows what people in portraits are thinking."
---
Musical alternative to the morning's radio news
Stephen Foster | Hard Times, Come Again No More | Thomas Hampson
(A song triggered by the answer to a crossword clue yesterday. The clue was actually about Dickens. Funny how one's mind works when in low gear.)
---
Long Read of the Day
"The Dead Silence of Goods": Annie Ernaux and the Superstore
Fabulous essay by Adrienne Raphel on Annie Ernaux's musings on the phenomenon of the 'superstore'.
From November 2012 to October 2013, in Look at the Lights, My Love —published in 2014 in France and in 2023 in an English translation by Alison L. Strayer—Ernaux recorded her visits to the Auchan superstore in suburban Cergy-Pontoise, an hour northwest of Paris. Like all of Annie Ernaux's works, Look at the Lights plays a formal sleight-of-hand in the best way, with the feel of a dashed-off journal but the felt experience of a deeply philosophical meditation on the nature of shopping, voyeurism, late-stage capitalism, class, race, and desire.

The Auchan superstore, the locus of Ernaux's book, is a nesting-doll "self-contained enclave" within Trois-Fontaines, a conglomeration of the city's public and private institutions: post office, police station, theater, library, etc. Ernaux describes the apparently normal, bustling village of Trois-Fontaines as a trompe l'oeil town, a privately owned corporate center that shuts down at night. "There is a vertigo produced by symmetry," Ernaux writes, "reinforced by the fact that the space is enclosed, though open to the daylight through a big glass canopy that replaces the roof." I'm reminded of the indoor mall in Caesar's Palace in Las Vegas—the Forum Shops—with its sky-painted ceiling reminiscent in zero ways of the Sistine Chapel. The roof cycles from light to darker blue in an accelerated yet elongated version of time: days are thirty minutes, but there are no weeks or years.

Trois-Fontaines touts itself as having every service that people need, and then many that people don't…
Read on. It's great.
---
Chart of the Day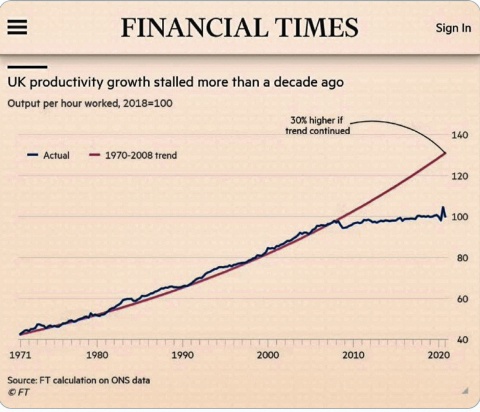 Note the year when productivity-growth stopped.
---
My commonplace booklet
An anniversary I missed last month
Mosaic, the first real web browser (written by Marc Andreessen and Eric Bina), was released on April 30, 1993. Only then did the non-technical world suddenly understand what this "Internet thingy" (as one posh British newspaper editor described it to me) was for!
---
  This Blog is also available as a daily email. If you think that might suit you better, why not subscribe? One email a day, Monday through Friday, delivered to your inbox. It's free, and you can always unsubscribe if you conclude your inbox is full enough already!
---