Quote of the Day
"We like to think of ourselves as living in a post-industrial era, but tell that to someone breaking their body in an Amazon fulfilment centre."
---
Musical alternative to the morning's radio news
The Beach Boys | Surfin' U.S.A.
A relic of my misspent youth.
---
Long Read of the Day
Suspended Hell
Lovely meditation by Katie Kadue on Twitter, Hell, Milton's Paradise Lost and being an early-career academic researcher.
---
Chart of the Day
The planet's vital signs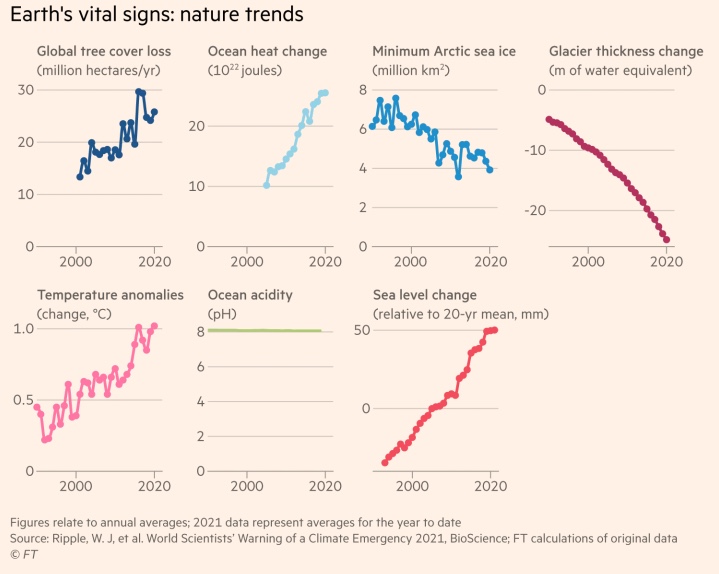 One key concern: the lack of lasting impact the Covid-19 pandemic had on the "vital" indicators.
"Huge behavioural changes by humans in reducing energy consumption as a result of the pandemic had such a small effect," one of the authors cited by the Financial Times explained. "We need to be thinking about big transformative change at this stage . . . yet, we are still in a fossil fuel society."
Energy consumption from fossil fuel sources fell as the pandemic brought industry and services near to a standstill in 2020. Yet global energy use originating from coal power is expected to reach above pre-pandemic levels this year, the forecasts suggests, while energy consumption from oil and natural gas sources will rebound.
---
MeetingBuster and the Christmas Call Diary
Entrancing story on Quentin's blog about how he got interested in Voice over IP (VoIP) — aka Internet telephony — and some of the ways he adapted it for his own purposes.
The thing you need to know about Quentin is that he is constitutionally incapable of not inventing things. He started many years ago with the Webcam and he's been at it ever since.
---
This blog is also available as a daily email. If you think this might suit you better, why not subscribe? One email a day, Monday through Friday, delivered to your inbox at 7am UK time. It's free, and there's a one-click unsubscribe if you decide that your inbox is full enough already!
---