In Memoriam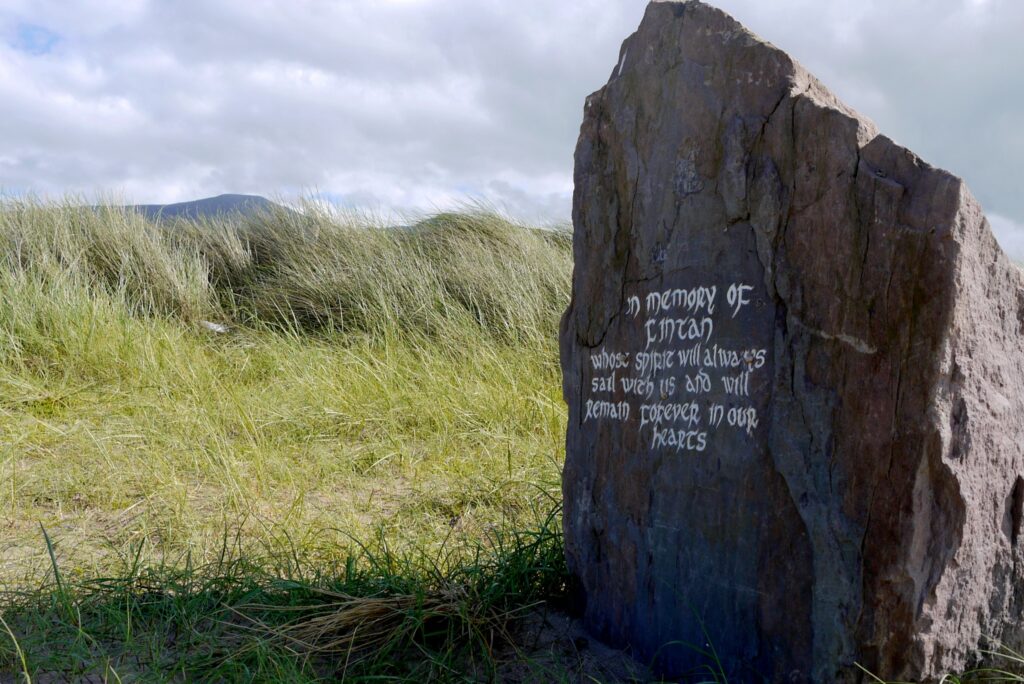 On a beautiful but dangerous beach in Kerry
---
Quote of the Day
"Bigotry may be roughly defined as the anger of men who have no opinions."
---
Musical alternative to the morning's radio news
Byrn Terfel | the Welsh National Anthem | Hen Wlad Fy Nhadau
I once heard him sing — unamplified, at close range — at a funeral of a mutual friend. It was an experience I'll never forget.
---
Long Read of the Day
Bill Janeway: Lessons from the first New Deal for the Next One
A guest post by Bill on Noah Smith's blog. It's a terrific, illuminating essay, which takes the current rhetoric portraying Biden's recovery programme as FDR2.0 and exploring the important differences between the Roosevelt era and the Biden one.
"As a metaphor", Janeway writes,
the 'New Deal' has been mobilized both in response to climate change and in support of President Biden's rescue and infrastructure initiatives. It needs examination if it is to go from serving as a mere slogan to defining a coherent program. Compelling invocation of the New Deal turns on:
Building state capacity for implementing interventions in the market economy;

Navigating potential conflicts in overlapping missions; and

Managing inescapable tradeoffs between efficiency versus effectiveness.
In folk memory, Janeway points out, "FDR's New Deal combined relief, reform, and positive investment in one great seamless demonstration of the progressive potential of vigorous government. In reality, though, it was complicated and conflicted.
He then proceeds to explain how and why this was so, and explores the parallels and differences with Biden's challenge.
Great piece, worth reading in full.
---
Writers, tools and blogging platforms: an exchange
This letter from Dave Winer made my day.
John, I've been following the story of the strange URLs from your Substack newsletter. I also appreciated your telling how you produce your newsletter by copy/pasting from WordPress into Substack. I bet 90 percent of Substack's text comes in this way. And that's what this letter is about. #

I've been asking them to automate that part for you via an API or RSS, or whatever they specify, to remove the copy/paste step from your publication workflow. I am deliberately being a squeaky wheel, hoping that writers who use Substack will join in.# Basically, it should be possible to hook your writing tool directly to both WordPress and Substack.#

I would have used Substack myself if it weren't for this limit. As a writer, I want to eliminate steps, to make my writing more effortless. Publishing an idea takes too many steps, as a result, a lot of ideas don't get out. #

I want to have a better flow on the web as a writer, and I think if other writers knew what was possible they'd want it too, and hopefully they would write about it. You wrote about it yesterday! ;-)#

JN, writers have a lot more power imho than they think. Esp in the early days of a service like Substack. They are listening to you. They know they depend on you. If enough writers wanted a feature, they would implement it. That's how development works. # Please consider writing something yourself about eliminating copy/paste-to-publish step. There's a lot of power trapped in that limit. #

Dave#
Dave: Many thanks for writing. Funny coincidence: I was about to write to you about the email exchange you've embarked on with Ray Ozzie, but that can wait for another day. For now, I just wanted to say that I'm with you all the way in your view that the formulaic editing tools offered by platforms like Blogger, WordPress, Medium, Substack et al are, clumsy and restrictive to use. And I wholeheartedly agree that writers should be able to use whatever tool they find best for them, and that publishing platforms should make it easy to upload text and implement whatever formatting is needed.
My own journey has taken me about 90% of the way towards that. I decided years ago that from henceforth everything I wrote would be composed as ASCII text rather than in a proprietary format (e.g. Microsoft Word) and stored as such. So I started doing that, relying on PANDOC to transform my text into pdf, Word, LaTex or whatever. (In doing that, I was of course harking back to when I first started writing on a Unix time-shared machine, producing plain marked-up text which was then fed into troff to produce beautifully typeset copy.) When John Gruber and Aaron Swartz (RIP) came up with Markdown in 2004 as a lightweight way of marking-up text, I adopted that. And eventually, thanks to Quentin I found a writing app that worked for me — Ulysses — and have used that ever since. Once WordPress started to accept Markdown text, all my blog posts (except the daily Substack version of the blog) have been written that way. Ulysses will also spit out a version of any text I write in a variety of proprietary formats and so looks like being the only writing tool I will need from now until I keel over.
Now, to your point that "Basically, it should be possible to hook your writing tool directly to both WordPress and Substack"… It turns out that Ulysses eventually cracked the WordPress route, and so I can now hit a button and have it immediately uploaded to, and formatted on, Memex 1.1. The HTML looks a bit verbose and clunky, but it renders just fine. And it's efficient and quick. So getting Substack to create an API that enables Ulysses to upload as easily would mean that I was nearly there.
Nearly, but not quite — which is why I really appreciate your feature request to Substack to also enable paragraph-level permalinks.
Keep well.
John
---
This blog is also available as a daily email. If you think this might suit you better, why not subscribe? One email a day, delivered to your inbox at 7am UK time. It's free, and there's a one-click unsubscribe if you decide that your inbox is full enough already!
---