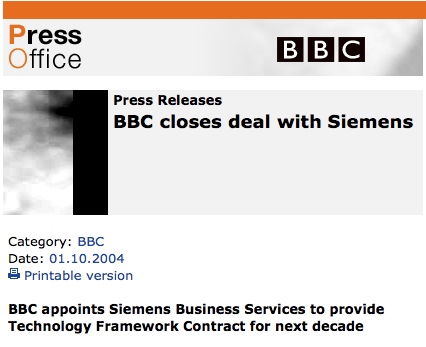 Further to that earlier post about Nokia-Siemens and the monitoring of Iranian protesters, I've just been reminded of something I had known, but had forgotten, namely that Siemens is the firm which runs the BBC's own IT systems. You think I jest? Well, see the picture above. And here's the BBC press statement announcing the deal (in October 2004):
BBC appoints Siemens Business Services to provide Technology Framework Contract for next decade

The BBC has announced today that it has completed the procurement for a 10-year Technology Framework Contract (TFC) with Siemens Business Services worth almost £2bn.

As part of the landmark deal, Siemens Business Services has acquired BBC Technology Ltd, a commercial subsidiary of the BBC.

Led by Tom White, Managing Director, Siemens Business Services, BBC Technology will be renamed Siemens Business Services Media Holdings Ltd.

The BBC has received approval for the sale from the Secretary of State for Culture, Media and Sport and approval from the BBC Governors for both the procurement and the sale.
Now let's ponder the implications of this for a moment. We seem to have a situation where the Beeb is asking Iranians to risk imprisonment – and possibly worse – by uploading photos and videos to its websites. And yet the company that runs the BBC's own IT services is a partner in the joint venture that supplied the monitoring system the Iranian regime is using to detect those who are doing this perilous uploading. Stand by for corporate reassurances of a (ahem) "Chinese Wall" between the Beeb's journalism and its IT department.