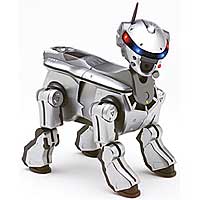 Such cruelty! Good Morning, Silicon Valley reports that,
The Aibo lived seven years — or 49 if you count robotic dog years.

On Thursday, Sony pulled the plug on Aibo, its peppy robotic dog with a software-controlled personality and abilities that has entertained thousands of faithful owners. The dogs, which cost upward of $2,000 each, can dance, whimper, guard and play, developing personalities based on interaction with their owners. Sony has sold more than 150,000 Aibos since launching the product in May 1999.

The Tokyo-based consumer electronics giant is restructuring under new Chief Executive Howard Stringer. Sony said Thursday that it plans to focus on three core businesses — electronics, games and entertainment. Its two robotics efforts, the Aibo and the Qrio humanoid robot, got the ax.
And to forestall all those kind readers who will write in to point out the misspelling of "axe", it's in the original quotation and follows American usage. As Oscar Wilde observed, "England and America are two countries divided by a common language".