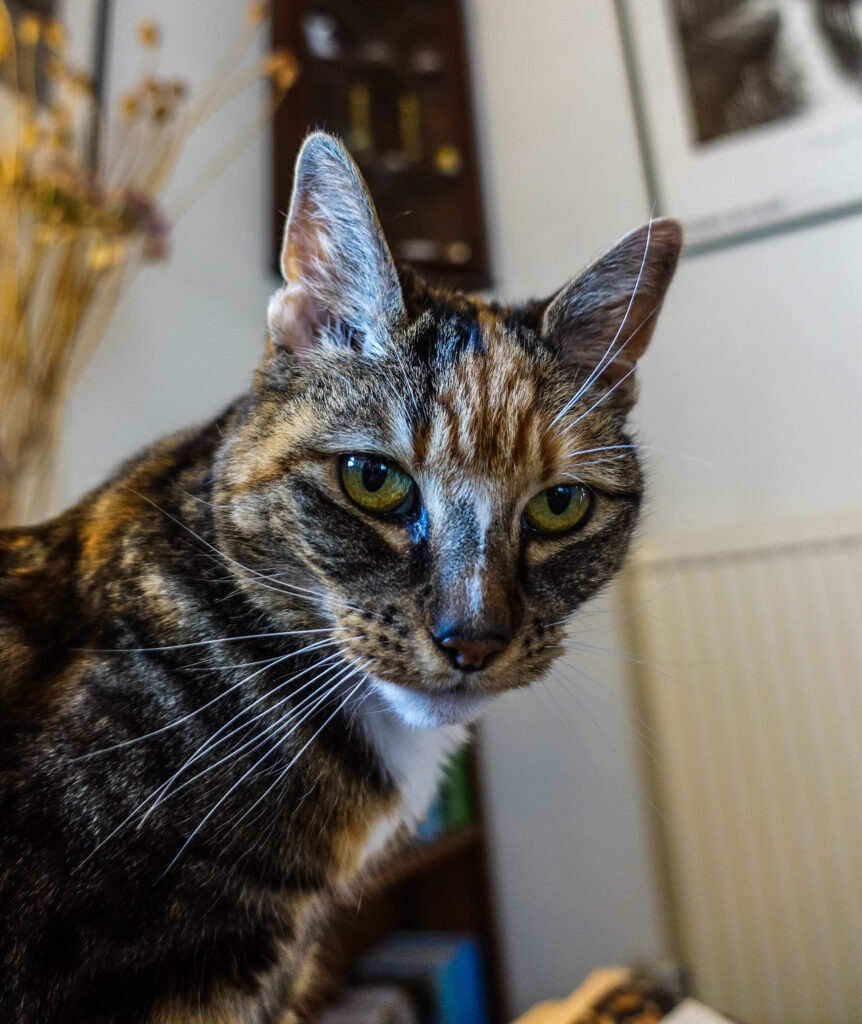 One of our cats. Interesting thing is that when I first looked at it I thought it must have been taken with one of my high-end cameras. But in fact it was taken with the little Sony RX100M4. It's a pretty good advertisement for that device.
---
Quote of the day
"If you think technology can solve your problems, then you don't understand technology and you don't understand your problems".
---
Musical alternative to the morning's radio news
Deep River Blues – Tommy Emmanuel
Just the song for a rainy morning. You may need to skip the ad at the beginning.
---
Thirty glorious years
Long read of the day.
TL;DR Postwar prosperity depended on a truce between capitalist growth and democratic fairness. Is it possible to get it back?
I love long-sweep essays, and this one by Jonathan Hopkin fits that bill. Here's how it opens:
With the end of the Second World War, the economies of western Europe and North America began a period of spectacular growth. Between 1950 and 1973 GDP doubled or more. This prosperity was broadly shared, with consistent growth in living standards for rich and poor alike and the emergence of a broad middle class. The French call it les trente glorieuses – the 30 glorious years – while the Italians describe it as il miracolo economico. The story of how this golden age of shared economic growth came to be has almost been forgotten, despite it being less than a century ago. There has never been a more urgent time to remind ourselves.

How did western countries, in one quarter of the 20th century, manage to increase both equality and economic efficiency? Why did this virtuous combination ultimately fall apart by the end of the century? The answer lies in the awkward relationship between democracy and capitalism, the former founded on equal political rights, the latter tending to accentuate differences between citizens based on talent, luck or inherited advantage. Democracy has the potential to curb capitalism's inherent tendency to generate inequality. This very inequality can undermine the ability of democratic institutions to ensure that the economy works for the majority.

The rise and fall of democratic capitalism in the postwar era is one of the most important events in modern history…
My hunch is that in the long view of history, the the kind of democracy that emerged from the wreckage of WW2 in the period 1946 to 1971, and then began its long decay from then to the present, may come to be seen as a kind of blip. It was a by-product of the global shock of a global war, and it lasted until the economic ideas that informed it and the impact of the war on successive generations began to run out of steam.
Hopkin's argument is that the war "cut capitalism down to size" and gave a decisive push to establish a new form of economic system in which political demands took primacy. As a result, the postwar era established a new form of 'managed' or 'democratic' capitalism that delivered a more equal distribution of income and wealth.
Democratic capitalism redressed the balance between the brutal inequalities of early industrial capitalism and the need for social consent to secure political stability. It rested on three broad pillars: a redistributive welfare state that provided economic security while narrowing income gaps between rich and poor, corporatist dialogue between employers and the labour force, and highly regulated capital markets. Aspects of this form of capitalism sometimes existed in nondemocratic societies too. But as a basic set of socioeconomic institutions it was most associated with the democratic form of government in which competitive elections and representative political parties incorporated citizen demands into policymaking.
All that began to change in the 1970s, when a combination of high inflation, faltering growth and industrial disputes over wages ushered in an era of social and political turbulence that brought a revival of liberal market ideology in the shape of the neoliberalism that seized the imagination of politicians and governing elites throughout the West. But, says Hopkin,
The promise of the neoliberal era to unleash the power of individual incentives to spread prosperity has not been fulfilled. Average growth rates across the advanced capitalist systems failed to match those of the postwar boom years. Since the 1970s, an increasingly unequal income distribution has meant that, for many, living standards failed to improve by much at all in subsequent decades. In the 1970s, strikes, demonstrations, riots and even terrorism expressed social tensions. By the 1990s, a resentful apathy, reflected in falling voter turnout and disengagement with formal party politics, signalled mass frustrations. The neoliberal revolution succeeded not only in shifting policy, but in fundamentally undermining the institutional preconditions of democratic capitalism. Governments progressively delegated important policy decisions to non-elected bodies, some of them supranational. Meanwhile, anti-union legislation and the declining bargaining power resulting from offshoring and heightened global competition took a heavy toll on worker rights.
Which is how we got to where we are now.
Long read, but worth it.
---
Trump and the virus
All of a sudden people are apparently rushing to pray for Trump as he battles with Covid. Pardon me if I sit this one out. My fear is that it will be a replay of the Boris Johnson story. You may recall that Johson damn nearly died from the virus, but was saved by the NHS and then wrapped himself in the NHS flag afterwards to ride a wave of feeble-minded public sympathy over his self-induced ordeal — brought about largely by his inability to take the virus seriously in the early days. Just like Trump.
In the meantime, it's heartening to see how Photoshop remains the staple tool of satirists, as in this picture retrieved from my irreverent WhatsApp feed: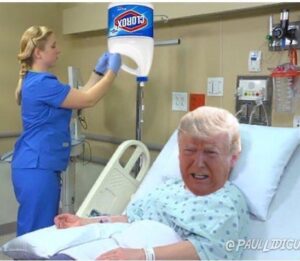 But there are some really interesting aspects of what has happened.
Michael Kruse has a fascinating article in Politico.com about it.
Here's the bit that caught my eye:
"Weakness," Tony Schwartz, co-author of The Art of the Deal, once told me, "is Trump's greatest fear by far."

Weakness, however, inhabits the absolute center of the most primal aspects of the long-arc engine of Trump. He knows, in the most deep-seated way, of the utter unavoidability of human vulnerability—anybody's, everybody's and, of course, his own. And yet Trump resolutely followed the mandate his father modeled to squelch any such concession. Fundamentally disparate but inextricably linked, these are two of the most essential and major motivators of Trump's lifelong pattern of behavior. Now, with the news that Trump has tested positive for the virus that's killed more than a million people worldwide, all of this has come to a perilous head.

The wee-hours shock wave of his diagnosis has exposed the fragility of his bravado. The man who's trumpeted his genes and his blood and his virility while deriding his foes for low energy is now stricken and sequestered, cut off from the adoring supporters who stoke not just his political prospects but his needy psyche. He is 74 and obese, and already was facing a pending public reckoning—and the fear of being seen as anything other than strong in the end is precisely what has made him so weak.

His lengthy record of germophobia, encapsulated by his well-documented hatred of shaking hands, often has been considered merely a bullet point on his list of idiosyncrasies. But in fact it reflects his latent knowledge of the power of infection to wreak quick and terrible consequences. "Shaking hands, you catch colds, you catch the flu," he said in 1999. "And who knows what else?" he said in 2004. "You don't want to be a liability," he said, getting perhaps unwittingly closer to the crux, in 2013. "You don't want to become somebody's patient." Trump, according to Jack O'Donnell, a former Trump casino executive in Atlantic City, was "preoccupied by a fear of communicable disease."
There's a delicious sense of chickens coming home to roost about all this.
---
This blog is also available as a daily email. If you think this might suit you better, why not subscribe? One email a day, delivered to your inbox at 7am UK time. It's free, and there's a one-click unsubscribe if you decide that your inbox is full enough already!
---