Fledging Day!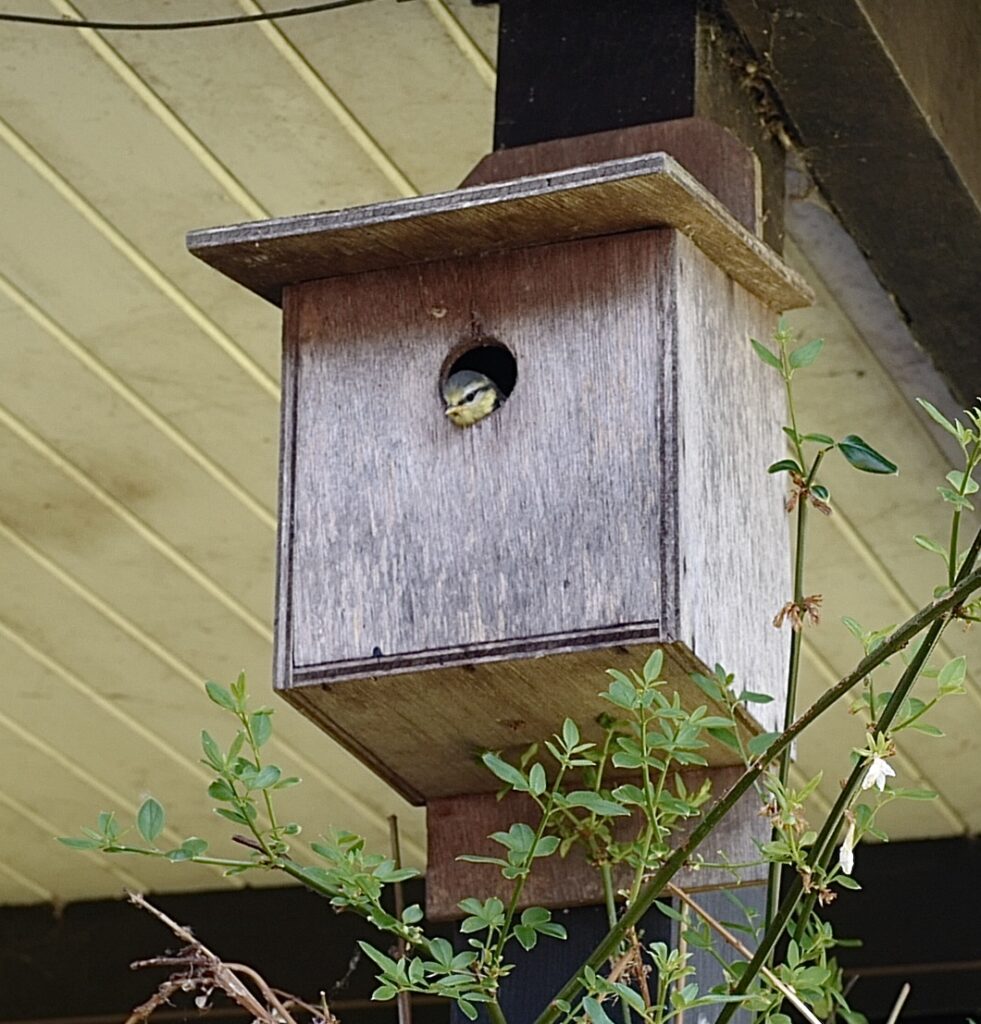 The Blue Tits in the nesting box outside the kitchen window fledged today.
Some of the kids were decidedly dubious about heading out into such a dangerous world, with paparazzi lurking everywhere. Quite right, too.
One was decidedly not amused to find me awaiting his maiden flight.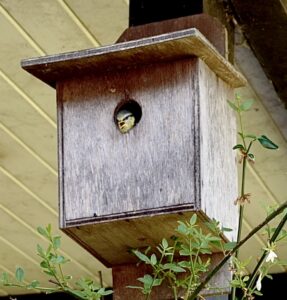 ---
Pushing the Zoom envelope: the Amsterdam Cello Octet does it again
This is lovely — and inventive. Especially the way the home life of the musicians is subtly woven into the piece.
Thanks to Gerard de Vries for spotting it.
---
Infuriated by the impunity with which Dominic Cummings was able to flout the lockdown rules?
If you are a UK voter and have a Tory MP, why not write to him or her letting know how you feel about Cummings's impunity and Boris Johnson's support for it?
It's simple to do: just go to the MySociety Write to Them and the site will check your MP's identity by your postcode and set up a form for composing and dispatching a suitable message to him or her.
I've just done it. It's called giving feedback.
---
The benefits of taciturnity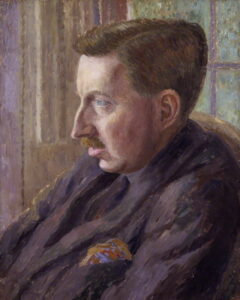 Portrait of Forster by Dora Carrington, oil on canvas, 1920.
Lovely LRB piece by Julian Barnes from 1987.
In Madrid the other week a literary journalist told me the following joke. A man goes into a pet shop and sees three parrots side by side, priced at $1000, $2000 and $3000. 'Why does that parrot cost $1000?' he asks the owner. 'Because it can recite the whole of the Bible in Spanish,' comes the reply. 'And why does that one cost $2000?' 'Because it can recite the whole of the Bible in English and in Spanish.' 'And the one that costs $3000, what does he recite?' 'Oh, he doesn't say a word,' explains the pet shop owner: 'but the other two call him Maestro.'

This made me think, naturally enough, of E.M. Forster; and then of the fact that we were about to undergo the annual garrulity of the Booker Prize for Fiction.
Reminds me of that old adage of Abraham Lincoln's: it's better to keep one's mouth shut and be thought a fool, than to open it and remove all room for doubt.
btw: When I was a student I went to E.M. Forster's 90th birthday party in King's College, Cambridge in January 1969. When I tell people that, they check for the nearest exit, and when I tell them that the party was hosted by Francis Crick of DNA fame, they really run for cover. But it's true: I was a member of the Cambridge Humanists and they held the party for him. Crick was at the time the Chairman of the Humanist society.
Remind me to tell you about the Boer War, sometime …
---
New life and an awareness of mortality
Kara Swisher has a baby daughter — at the age of 57. Don't know how that happened, but she's written about the differences it has made to her life under lockdown:
I am at the highest risk of our little quarantine group, as my 15-year-old has pointed out to me more than once. I assume it is his way of whistling past the grave in hopes that the grave does not whistle back.

But whistle it does, sometimes softly, like when I had a life-threatening stroke on a long-haul trip to China five years back, or more loudly, like when my father died unexpectedly more than 50 years ago from an aneurysm at 34 years old, at the start of what should have been a brilliant long life with his three children.

That is why I am thinking more often of math. Each of us has an exact number — whether it is of years, days, minutes or seconds. We don't know our number, but it helps to keep in mind that this number exists.

I'm now more aware that our time here is finite. So I take an extra minute I might not have before watching my sons play with their new sister at the dinner table. It is a love that I did not expect to jell so quickly and so perfectly. My sons, with their phones down, are clapping their hands, making faces and doing anything they can to delight my daughter into yet another magnificent smile. Luckily for us, she is an endless font of those.
---
Covid is messing with machine-learning systems
You know those 'recommender' systems that tell you what you might be interested in based on your browsing or purchase history? Well, it turns out that the poor dears are mightily confused by our 'weird' behaviour during the pandemic. For example, once upon a time the top 100 searches on Amazon, say, would be mostly for gadgets — iPhone cases, battery packs, SSDs, etc. etc. And machine-learning systems trained on these searches have traditionally been good at extracting the trends from those patterns.
And then all of a sudden everybody is interested in quite different things. "In the week of April 12-18", says an interesting Tech Review article by Will Douglas Heaven,
the top 10 search terms on Amazon.com were: toilet paper, face mask, hand sanitizer, paper towels, Lysol spray, Clorox wipes, mask, Lysol, masks for germ protection, and N95 mask. People weren't just searching, they were buying too—and in bulk. The majority of people looking for masks ended up buying the new Amazon #1 Best Seller, "Face Mask, Pack of 50".
What's happening is that machine-learning systems trained on normal (i.e.pre-pandemic) human behavior are now finding that 'normal' has changed, and some are no longer working as they should.
But machine-learning isn't just used for recommendations. Mr Heaven found a company in London, Phrasee ( Motto: "Empower your Brand with AI-Powered Copywriting"), which uses natural-language processing and machine learning to generate email marketing copy or Facebook ads on behalf of its clients.
Making sure that it gets the tone right is part of its job. Its AI works by generating lots of possible phrases and then running them through a neural network that picks the best ones. But because natural-language generation can go very wrong, Phrasee always has humans check what goes into and comes out of its AI.

When covid-19 hit, Phrasee realized that more sensitivity than usual might be required and started filtering out additional language. The company has banned specific phrases, such as "going viral," and doesn't allow language that refers to discouraged activities, such as "party wear." It has even culled emojis that may be read as too happy or too alarming. And it has also dropped terms that may stoke anxiety, such as "OMG," "be prepared," "stock up," and "brace yourself." "People don't want marketing to make them feel anxious and fearful—you know, like, this deal is about to run out, pressure pressure pressure," says Parry Malm, the firm's CEO.
If, like me, you are sceptical about the claims made for machine-learning technology, this kind of thing will be music to your ears. Though I doubt if the Spotify system that thinks it knows my musical tastes has made the necessary adjustment yet.
---
Quarantine diary — Day 65
---
This blog is also available as a daily email. If you think this might suit you better, why not subscribe? One email a day, delivered to your inbox at 7am UK time. It's free, and there's a one-click unsubscribe if your decide that your inbox is full enough already!
---