From small beginnings…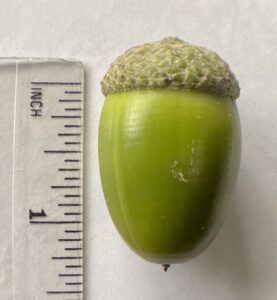 … come mighty oaks. Found this on the pavement near our house yesterday.
---
Quote of the Day
"Actually, I am a golfer. That is my real occupation. I never was an actor; ask anybody, particularly the critics."
---
Musical alternative to the morning's radio new
Joan Baez & Paul Simon – The Boxer – Live 2016 NYC at 75th – Birthday Celebration
---
A TikTok Ban Is Overdue
Tim Wu in the NYT with what is, for him, an unfamiliar argument: basically just because Trump is an idiot, that doesn't mean that everything he does is wrong.
The United States government does not usually block or censor lawful websites, foreign or domestic, because it subscribes to the idea that the internet was designed to be open and connect everyone on earth. On its face, then, President Trump's recent treatment of the Chinese apps TikTok and WeChat, which he threatened to ban from the United States unless they could find American buyers, looks close-minded and belligerent.

There is more to this situation, though, than meets the eye. Were almost any country other than China involved, Mr. Trump's demands would be indefensible. But the threatened bans on TikTok and WeChat, whatever their motivations, can also be seen as an overdue response, a tit for tat, in a long battle for the soul of the internet.

In China, the foreign equivalents of TikTok and WeChat — video and messaging apps such as YouTube and WhatsApp — have been banned for years. The country's extensive blocking, censorship and surveillance violate just about every principle of internet openness and decency. China keeps a closed and censorial internet economy at home while its products enjoy full access to open markets abroad.

The asymmetry is unfair and ought no longer be tolerated. The privilege of full internet access — the open internet — should be extended only to companies from countries that respect that openness themselves.
China can't have it both ways, and it's about time we enforced that rather than appeasing Xi Jinping & Co.
---
Kamala Harris has a long record of being pally with Big Tech
Yeah, well I wondered about that. Today's NYT article is not exactly reassuring.
For Ms. Harris, a Bay Area politician, connections to tech have been essential and perhaps inescapable. In past campaigns — her two elections to be attorney general, her successful run for the Senate and her failed bid for the Democratic presidential nomination — she relied on Silicon Valley's tech elite for donations. And her network of family, friends and former political aides has fanned throughout the tech world.

Those close industry ties have coincided with a largely hands-off approach to companies that have come under increasing scrutiny from regulators and lawmakers around the world. As California's attorney general, critics say, Ms. Harris did little to curb the power of tech giants as they gobbled up rivals and muscled into new industries. As a senator, consumer advocacy groups said, she has often moved in lockstep with tech interests.

Now that she is the running mate of Joseph R. Biden Jr., tech industry critics worry that a Biden administration with Ms. Harris would mean a return to the cozy relationship that Silicon Valley enjoyed with the White House under President Barack Obama.

Although vice presidents rarely set policy, as a former state attorney general Ms. Harris is expected to have a say in Mr. Biden's political appointments at the Justice Department, including officials who oversee antitrust enforcement. She could also have a significant influence on tech policy in a Biden administration, since Mr. Biden has largely focused on other issues.
Way back in January, Biden was very forthright on these matters in an extended interview with the NYT's editorial team. Here's the relevant passage:
Charlie Warzel: Sure. Mr. Vice President, in October, your campaign sent a letter to Facebook regarding an ad that falsely claimed that you blackmailed Ukrainian officials to not investigate your son. I'm curious, did that experience, dealing with Facebook and their power, did that change the way that you see the power of tech platforms right now?

Biden: No, I've never been a fan of Facebook, as you probably know. I've never been a big Zuckerberg fan. I think he's a real problem. I think ——

CW: Can you elaborate?

No, I can. He knows better. And you know, from my perspective, I've been in the view that not only should we be worrying about the concentration of power, we should be worried about the lack of privacy and them being exempt, which you're not exempt. The Times can't write something you know to be false and be exempt from being sued. But he can. The idea that it's a tech company is that Section 230 should be revoked, immediately should be revoked, number one. For Zuckerberg and other platforms.
(Footnote: Section 230 of the Communications Decency Act says that online platforms aren't held liable for things their users post on them, with some exceptions.)
CW: That's a pretty foundational laws of the modern internet.

That's right. Exactly right. And it should be revoked. It should be revoked because it is not merely an internet company. It is propagating falsehoods they know to be false, and we should be setting standards not unlike the Europeans are doing relative to privacy. You guys still have editors. I'm sitting with them. Not a joke. There is no editorial impact at all on Facebook. None. None whatsoever. It's irresponsible. It's totally irresponsible.

CW: If there's proven harm that Facebook has done, should someone like Mark Zuckerberg be submitted to criminal penalties, perhaps?

He should be submitted to civil liability and his company to civil liability, just like you would be here at The New York Times. Whether he engaged in something and amounted to collusion that in fact caused harm that would in fact be equal to a criminal offense, that's a different issue.
So, we'll see…
---
Summer books #10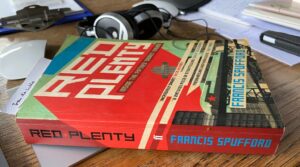 Red Plenty by Francis Spufford, Faber & Faber, 2010.
This is one of the most imaginative books I've ever read. It's a part-factual, part-fictional account of a moment in the history of the Soviet Union when, briefly, it looked as though the fairy-tale that a centrally-planned economy could produce an abundance of good things might actually be true. It was a fairy tale, of course, and Francis Spufford has come up with a literary form that matches it.
---
This blog is also available as a daily email. If you think this might suit you better, why not subscribe? One email a day, delivered to your inbox at 7am UK time. It's free, and there's a one-click unsubscribe if you decide that your inbox is full enough already!
---