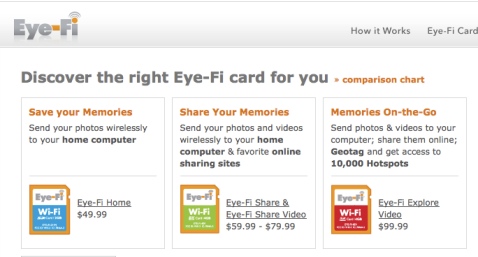 Hmmm… If I'd come on this on April 1 I'd have thought it was a good spoof. But it seems to be real.
The Eye-Fi Card stores photos & videos like a traditional memory card, and fits in most cameras. When you turn your camera on within range of a configured Wi-Fi network, it wirelessly transfers your photos & videos. Better yet: you can automatically have them sent to your computer (PC or Mac), or to your favorite photo sharing website – or both!
As far as I can see, the Eye-Fi to Flickr link only works in the US. (It's a bit like the Amazon Kindle in that respect.) But it still looks like a really neat idea.
Thanks to Rory Cellan-Jones for the original link.