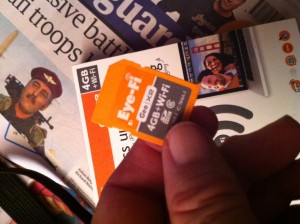 Ten years ago if you said that I would like to have an Internet-connected camera I'd have said you were nuts. But acquiring an iPhone changed my view: I've found it really useful to be able to upload pictures from anywhere at any time without having to be tethered to a computer. The iPhone camera isn't great, but as the man said the best camera is always the one you have with you, and I always have the phone. But it'd be nice to be able to have instant uploads from a better camera.
Enter Eye-Fi, an SD card which can talk to a wireless network from inside your camera. I bought one from Amazon
for just under £70 — which is expensive for an SD card, but what the hell. You install some software on PC or laptop, register with Eye-Fi, put the card into your camera and — Bingo! Images are automatically uploaded. You can link your account to other services like Flickr and Facebook. And the card can do geolocation based on Wi-Fi network location.
Sounds too good to be true? In a way, it is. The system works fine, but uploads are slow unless one constrains the size and quality of the images. For shooting and uploading web-friendly jpegs it works fine: in fact it might be a good way of getting stuff in near-real-time onto Flickr. But you can't use the full range of image quality and size available on a decent camera. So it's got its applications, but it looks as though the iPhone camera will still find plenty of use.
It's also got lots of embarrassing potential. Suppose, for example, you were careless with the upload settings: you might find that a set of, er, intimate pictures were attracting an admiring audience to your Flickr account or Facebook page. And, then of course, there's this.