The Guardian is 200 today!
---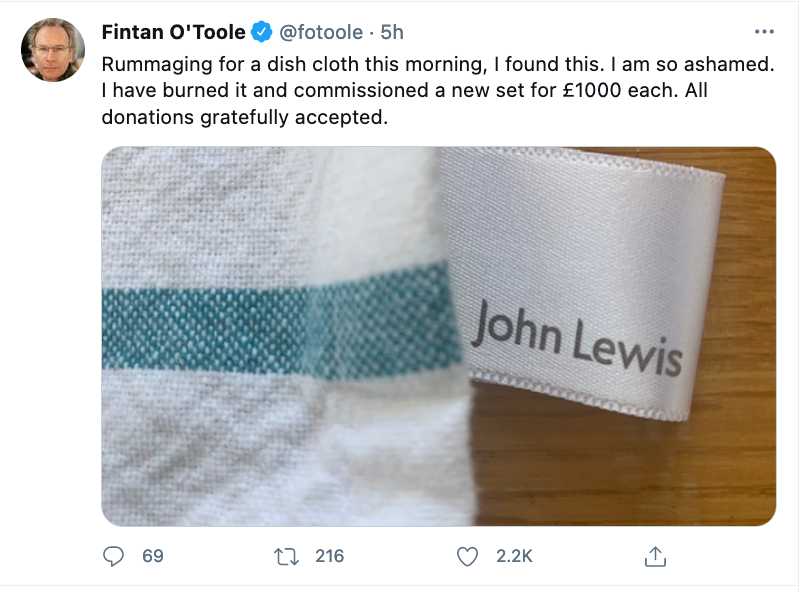 And if you're puzzled by this, read Robert Shrimsley's wonderful satirical piece that appeared in Saturday's Financial Times, which explains all.
---
Quote of the Day
"After 27 years, Melinda Gates finally gets to use a Mac."
---
Musical alternative to the morning's radio news
Ry Cooder & David Lindley | If Walls Could Talk
Ry Cooder was the kind of guy my mother warned me about. She was right!
---
Long Read of the Day
 The Computers Are Getting Better at Writing
Yeah I know that all the stuff about GPT-3 seems a bit iffy, but this long piece in the New Yorker by Stephen Marche is something else. He starts with Kafka's famous unfinished novel.
The second section of "The Metamorphosis" continues the story this way:

As soon as Gregor was alone, he began to feel ill. Turning around was an effort. Even breathing was an effort. A thin stream of blood trickled from his flank down his fuzzy belly. He wanted to crawl away from it, but there was no place to go. He lay still on the spot where he had come to rest just in order to get his breath back and to stop the bleeding. "I'm in a bad way," said Gregor. It had never occurred to him before that he could really become ill. He had seen sick animals—a dove once in a while, which had fallen out of the nestling into the gutter and could not fly any more, or the weak infants of the woman next door who had to be picked up with the tongs and thrown into the dustbin, or the bugs his father used to bring to him when he was still a young boy and which he had liked so much.

Except the second section of "The Metamorphosis" doesn't begin that way. An artificial-intelligence application called Sudowrite wrote the paragraph above. I inputted the text of the first section of "The Metamorphosis" and then pressed a button called Wormhole. The computer composed the continuation.
Sudowrite is an interesting idea. Basically, it accesses GPT-3's interface and turns it into a legible tool that any writer can use. It's currently in beta but its founder sees it product turning into a resource that writers will pay fifteen to twenty dollars per month to use.
Fascinating essay — at least for those of us who write for a living — even if it doesn't mention the horrendous environmental cost of the initial training of GPT-3.
---
Twitter expands Spaces to anyone with 600+ followers, details plans for tickets, reminders and more
From Techcrunch:
Twitter Spaces, the company's new live audio rooms feature, is opening up more broadly. The company announced today it's making Twitter Spaces available to any account with 600 followers or more, including both iOS and Android users. It also officially unveiled some of the features it's preparing to launch, like Ticketed Spaces, scheduling features, reminders, support for co-hosting, accessibility improvements and more.

Along with the expansion, Twitter is making Spaces more visible on its platform, too. The company notes it has begun testing the ability to find and join a Space from a purple bubble around someone's profile picture right from the Home timeline.
Hmmm… I have 7,652 followers at the time of writing, so I should be entitled to 'a live audio room'. But what would I do with it? This is clearly a pre-emptive strike to make sure Clubhouse doesn't make too many inroads.
---
Hypocrisy on stilts?
From Benedict Evans's indispensable weekly newsletter:
In January, the CEO of Axel Springer wrote an impassioned essay claiming that the web should be totally private and no 'big company' should collect any kind of personal data at all. He published this on Business Insider (which he owns), on a page with no less than 68 different third party trackers. Now, Axel Springer is part of a group of German publishers complaining about Apple's privacy changes in iOS 14.5. Pick one, please.
When I opened the Business Insider page on my machine, the Ghostery ad-tracker found 23 trackers rather than the 68 that Ben mentions; but that could be a reflection of the fact that I use a VPN which also blocks stuff. Still, 23 reinforces his point.
---
Another, hopefully interesting, link
Do You Live in a Bubble? Just enter your address to find out. Link Neat idea, but this version only works for the US. It'd be nice to have one for the UK. Hmmm…
---
This blog is also available as a daily email. If you think this might suit you better, why not subscribe? One email a day, Monday through Friday, delivered to your inbox at 7am UK time. It's free, and there's a one-click unsubscribe if your decide that your inbox is full enough already!
---