The road in Winter
One of my favourite roads in Norfolk. When we get to it we know we're nearly at the coast.
---
Quote of the Day
"Discipline is choosing between what you want now, and what you want most"
---
Musical alternative to the morning's radio news
Boccherini | Cello Sonata in A Major, G.4 | 2013 | Jonathan Roozeman
---
Zoom is trying to turn itself into a platform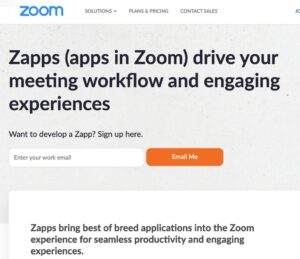 Sigh. It's predictable. As video conferencing becomes a commodity, Zoom needs to find a way of not just being a video-conferencing app. So it's signed up lots of 'partners', mostly the usual suspects (Slack, Trello, etc.) They all have cheery and (to my jaundiced eye) slightly depressing videos. For example:
The aim is to build what corporate strategists call a 'moat' round Zoom to keep users inside the compound.
---
Call police for a woman who is changing clothes in an alley? A new program in Denver sends mental health professionals instead.
As austerity and the pandemic continues to destroy people's lives, many police forces say that they are having to turn into part-time social workers. This heartwarming report in the Denver Post illustrates what an intelligent response to human distress would be like.
A concerned passerby dialed 911 to report a sobbing woman sitting alone on a curb in downtown Denver.

Instead of a police officer, dispatchers sent Carleigh Sailon, a seasoned mental health professional with a penchant for wearing Phish T-shirts, to see what was going on.

The woman, who was unhoused, was overwhelmed and scared. She'd ended up in an unfamiliar part of town. It was blazing hot and she didn't know where to go. Sailon gave the woman a snack and some water and asked how she could help. Could she drive her somewhere? The woman was pleasantly surprised.

"She was like, 'Who are you guys? And what is this?'" Sailon said, recounting the call.

This, Sailon explained, is Denver's new Support Team Assistance Response program, which sends a mental health professional and a paramedic to some 911 calls instead of police.

Since its launch June 1, the STAR van has responded to more than 350 calls, replacing police in matters that don't threaten public safety and are often connected to unmet mental or physical needs. The goal is to connect people who pose no danger with services and resources while freeing up police to respond to other calls. The team, which is not armed, has not called police for backup, Sailon said.

"We're really trying to create true alternatives to us using police and jails," said Vinnie Cervantes with Denver Alliance for Street Health Response, one of the organizations that helped start the program.

Though it had been years in the making, the program launched just four days after protests erupted in Denver calling for transformational changes to policing in response to the death of George Floyd.
---
Other, possibly interesting, links
The Nobel Prize Committee couldn't reach Paul Milgrom to tell him that he won the Nobel Prize for Economics, so his neighbour (and fellow winner) Robert Wilson knocked on his door in the middle of the night. Here's what Milgrom's Ring doorbell recorded! Link

Q: Why has New Zealand rejected populist ideas other nations have embraced? Hint: The country doesn't have any newspapers owned by Rupert Murdoch. Link.

"Eight Persistent COVID-19 Myths and Why People Believe Them". From Scientific American
---
This blog is also available as a daily email. If you think this might suit you better, why not [subscribe]? One email a day, delivered to your inbox at 7am UK time. It's free, and there's a one-click unsubscribe if you decide that your inbox is full enough already!
---