Street scene, Arles, 2017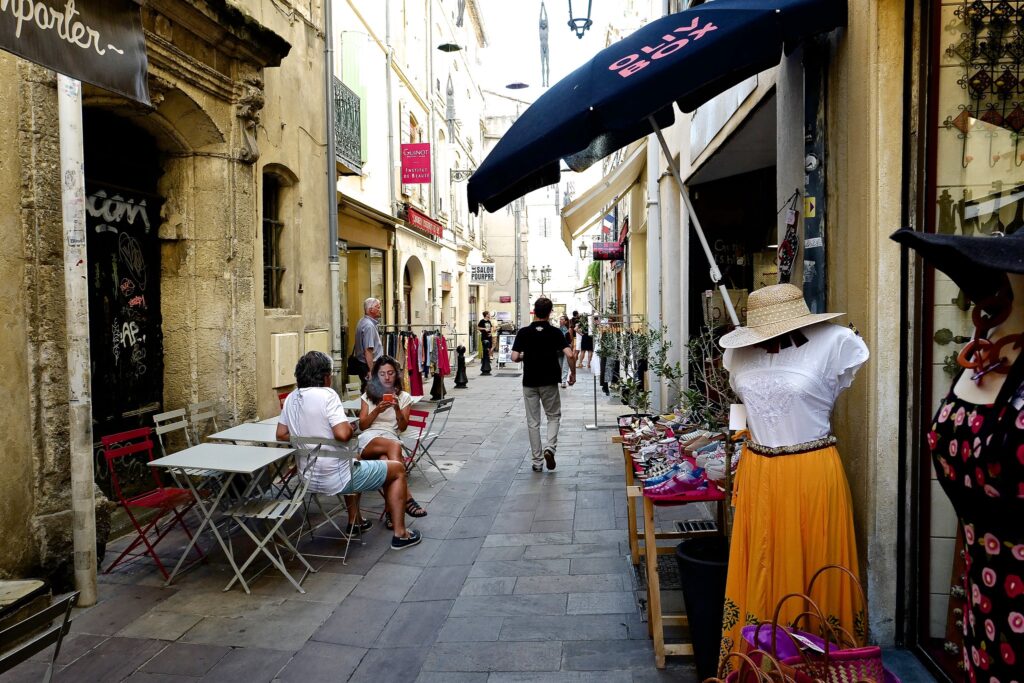 A relic from the days when people could travel freely!
---
Quote of the Day
"Genuine poetry can communicate before it is understood."
(Except for the poetry of Seamus Heaney, where you get it the instant you read it.)
---
Musical alternative to the morning's radio news
Yusuf Cat Stevens | Father and Son | Another Saturday Night | Festival de Viña 2015
---
Long Read of the Day
The Substackerati
Terrific Columbia Journalism Review essay by Clio Chang about the company that runs the platform on which this (email) edition of my blog, Memex.1.1, is published. It's a well-informed, nicely critical and beautifully-written piece, well worth your time if you're interested in media ecology and what is happening to journalism.
Sample:
Substack, established in 2017 by three tech-and-media guys—Chris Best, Hamish McKenzie, and Jairaj Sethi—is a newsletter platform that allows writers and other creative types to distribute their work at tiered subscription rates. Newsletters go back at least as far as the Middle Ages, but these days, with full-time jobs at stable media companies evaporating—between the 2008 recession and 2019, newsroom employment dropped by 23 percent—Substack offers an appealing alternative. And, for many, it's a viable source of income. In three years, Substack's newsletters—covering almost every conceivable topic, from Australian Aboriginal rights to bread recipes to local Tennessee politics—have drawn more than two hundred fifty thousand paid subscribers. The top newsletter authors can earn six figures, an unheard-of amount for freelance journalists. Emily Atkin, who runs Heated, on the climate crisis, told me that her gross annual income surpassed $200,000—and among paid-readership Substacks, she's ranked fifteenth. "I literally opened my first savings account," she said.
---
Rising seas predicted to flood thousands of affordable housing units by 2050
Researchers mapped where coastal homes could flood in the US
From the Verge:
Coastal cities in the US could find themselves grappling with a new housing crisis in the coming decades. The number of affordable housing units vulnerable to flooding could triple by 2050 as the planet heats up, according to a new study. That amounts to more than 24,000 homes that could flood at least once a year by 2050, compared to about 8,000 in 2000.

The study, published today in the journal Environmental Research Letters, ranks the states and cities at greatest risk. Its authors also unveiled a new interactive map that people can use to see how their hometown might be affected.
I tried to use the interactive map to see if Mar-a-Lago might be inundated, but I'd have needed to get my VPN to switch to a server in the US first and it was early in a busy morning and I concluded that life was too short. S
Still, it's a nice thought…
---
Deal, no-deal, maybe-deal…
Fascinating thought from Jonty Bloom…
Ever since the referendum I have said the UK will leave without a deal, the fantasies of the ultras trumping any sensible negotiations in the public interest. But for the first time I see the possibility of a deal because of the Daily Mail and Telegraph, no less.

It will be a bad deal and ignores the pleas, lobbying, research and interests of almost every industry in the UK. But for almost the first time the papers have started noticing that no deal also means; holiday homes can only be used for 3 months at a time, car insurance will soar in price and pet passports will be an expensive pain in the derriere. Those are just three consequences of Brexit, there are many others and although these are similar issues to those hitting business, this time they hit people with votes.

The EU negotiating strategy, "nothing is agreed until everything is agreed" has led to this, far cleverer than "give us a deal or we break the law." But all still depends on whether the PM will realise what is happening and stand up to the ultras. Will he notice in time that people don't seem to care about other people's jobs but care deeply about fido's holidays? Ignoring that would as they say in Yes Minister, be a "brave decision".
I wonder.
---
Facebook is still stumped by WhatsApp
How can it monetise it without destroying what makes it work?
Nice piece by Shira Ovide in the New York Times…
Perhaps never before has an online property been so popular and made such little money. More than two billion people worldwide use WhatsApp regularly to text or make phone calls, but it scarcely generates any money for Facebook, which has owned WhatsApp since 2014.

That's because WhatsApp is mostly a personal communications app, and Facebook doesn't make money from that group chat with your cousins. This looks set to change. Haltingly, including by agreeing to buy a customer service start-up on Monday, Facebook is trying to use its trademark playbook to remake WhatsApp into an inescapable way for businesses to interact with us.

If Facebook figures it out, WhatsApp could change how we shop and use the internet forever — as the company's main social network and Instagram did. If not, Facebook will own a spectacularly popular failure. The outcome will set trends for our digital lives and determine which businesses thrive or don't.

To understand WhatsApp, you need to know about Facebook's three-step playbook and why it's breaking down…
What I love about WhatsApp is that it costs Facebook a tone of money to keep it going and yet it can't wring a cent out of it. My hunch is that if they try to 'monetise' it, then a sizeable proportion the masses of people who love and use it will become disenchanted and drift to something else.
Nothing lasts forever.
---
Other, hopefully interesting, links
Google Reveals Major Hidden Weakness In Machine Learning. It's called underspecification, but it's just the latest of the fundamental problems that the current feeding-frenzy with the technology conveniently ignores. Link.

Ed Yong's Must-Read Stories of the Pandemic. Link.
---
This blog is also available as a daily email. If you think this might suit you better, why not subscribe? One email a day, delivered to your inbox at 7am UK time. It's free, and there's a one-click unsubscribe if your decide that your inbox is full enough already!
---