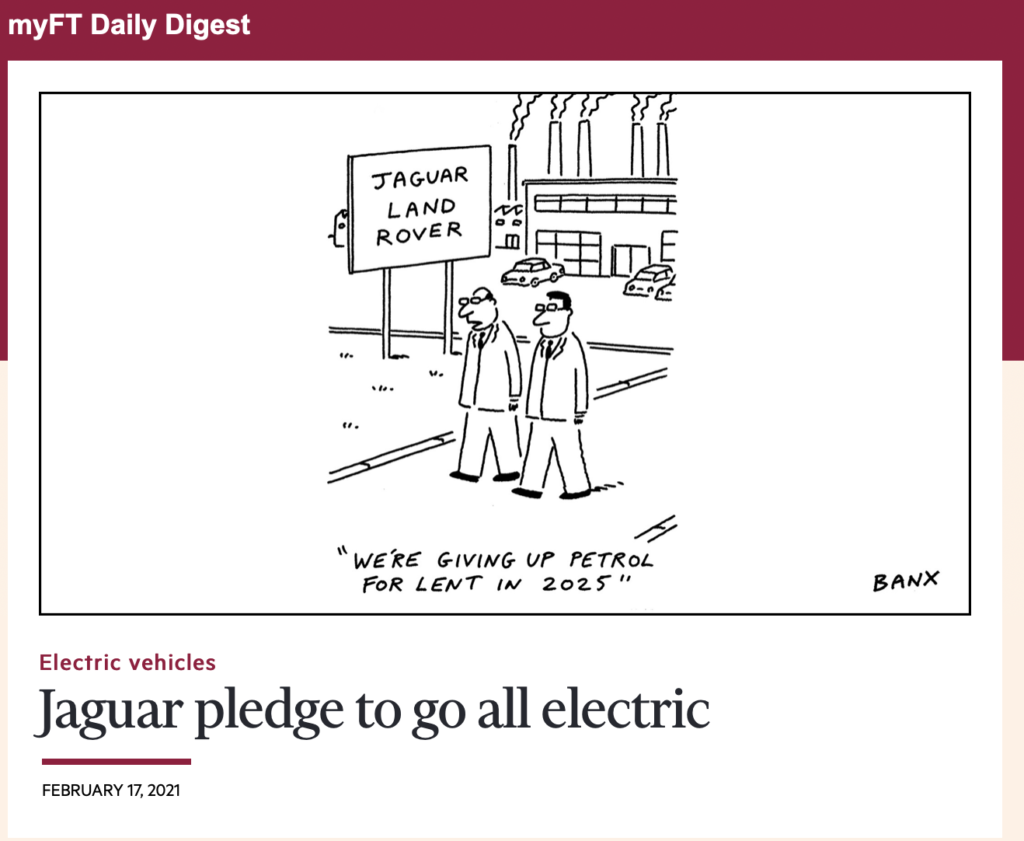 ---
Quote of the Day
"If we live in side a bad joke, it is up to us to learn, at best and worst, to tell it well."
Applies to all of us living under the present UK government
---
Musical alternative to the morning's radio news
John Field | Piano Concerto No 3 | II Nocturne In B-Flat: Andantino | III. Rondo: Tempo Di Polacca | John O'Conor with the Scottish Chamber Orchestra
---
Technology and the industrialisation of sport
Spoiler alert: This post is about golf, a sport about which many of my readers will have, er, mixed feelings. So if you have better things to do with your valuable time, please skip to the next item and no hard feelings will be felt.
Now to business. Golf is the only sport I have ever cared about. I played it from a very young age (starting aged ten) and until I graduated played at every available opportunity. I was a fairly good golfer — good enough, for example to play for my university team as an undergraduate (though I sometimes wondered if I owed my place in the team less to my sporting prowess and more to the fact that I was the only member who did not drink alcohol and could therefore always be relied upon to drive the minibus). But when I came to Cambridge as a postgraduate I realised that continuing to play seriously was incompatible with being married with a young son, never mind doing any academic work. And so I gave it up. But I've always retained a keen interest in the sport and a deep fondness for some of the great Irish links courses (Lahinch, Ballybunion, Royal Co Down and Portmarnock, for example) that I knew as a young lad.
During my lifetime golf has changed dramatically — from being a minority sport to one that had mass appeal. This was largely due to television — which brought huge audiences (and colossal amounts of money) for major golfing tournaments (the Masters, the British and American Open Championships, the Ryder Cup and so on). And it has also been industrialised as the design and marketing of golf equipment became a huge global industry. So, in a way, what happened to golf is analogous to what happened to soccer or motor racing — the infusion of huge amounts of money, industrial R&D and televised big events transformed an activity that was enjoyed by many into a series of gladiatorial spectacles involving a small elite of global stars.
At the highest level of the sport — the level of Rory McElroy, Tiger Woods, Bryson DeChambeau et al — what's been noticeable for years is the distances that these guys can now hit the ball. In part this was due to the fact that they became athletes who spend a lot of time in the gym (a concept that would have been unknown to Christy O'Connor Snr., the chap who taught me as a kid). But it is also due to a sustained level of R&D into materials, aerodynamics and club design which has made it easier to drive the ball such huge distances that championship courses have to be continually lengthened to accommodate these prodigious drives.
These trends have widened the gulf between golf as played by normal mortals and the game played by McIlroy & Co. And so there has been a move — analogous to what happened with Formula 1 Racing — to rein in the influence of technological advance on the game and bring it back to its essence. It is, as Bobby Jones famously observed, a game that is played in the space between one's ears, and ideally by people who are all equipped with comparable equipment.
According to a Reuters report, the two governing bodies of the game have begun concerted thinking on how to stop the rot.
The Royal and Ancient (R&A), in conjunction with the United States Golf Association (USGA), has proposed reducing driver shaft length to 46 inches from the current limit of 48.

Another "area of interest" for the R&A and USGA is for the potential use of local rules that would specify the use of clubs and/or balls, resulting in shorter distances.

The proposals are part of the latest updates to the Distance Insights Report published last February that said increased hitting distances changed the challenge of the game and risked making courses obsolete.
These proposals have irked Rory McIlroy in particular.
"I think the authorities are looking at the game through such a tiny little lens, that what they're trying to do is change something that pertains to 0.1% of the golfing community," four-times major champion McIlroy said.

"Ninety-nine percent of the people that play this game play for enjoyment. They don't need to be told what ball or clubs to use.

"I think this report has been a huge waste of time and money, because the money that it's cost to do this report could have been way better distributed to getting people into the game."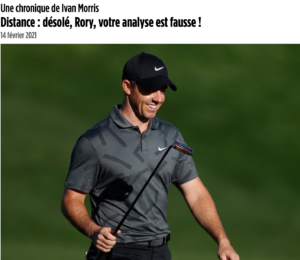 Which brings me to Ivan Morris, a friend and former schoolmate of mine who turned out to be a very fine amateur golfer and — even better — into an astute writer and commentator on the sport. (See his book Only Golf Spoken Here for a sample.) He has taken issue with McIlroy in a splendid blast published in a French golfing magazine.
"In golf", he writes,
the equipment manufacturers invest in new technology to showcase it on the pro tours so that gullible simpletons like me will pay exorbitant sums for the same equipment that players like Rory use in the hopeless belief that I might manage to execute similar shots to his, if only I had the same golf clubs.

Hitting the ball further is never going to happen (for me) and I am (always) wasting my money and will probably continue doing so. I also waste my time going around golf courses that are too long for me (and too short for Rory) The heart of the matter is: By and large, Rory is a fantastic media performer but, on this occasion he may have been under pressure from his equipment supplier and blatantly missed the point of what the R&A and USGA are attempting to achieve – protect golf courses and limit the costs incurred in building and maintaining them.
The reason why the manufacturers are against being reined in by the proposed changes, Ivan thinks, is the fear that their greatest marketing ploy — "that their latest creation will give the recreational player the extra distance he craves without any extra effort on his part. It's not going to happen. It never has and it never will."
Rory wants to see grass roots golf developed. As one of the grass root contingent I'll tell him how to do it. Build more (short) 9-holes courses to speed up play. Turn golf into a two hour game and reduce the cost of it by allowing the grass to grow on the greens to reduce their speed. I can't see Rory being enamoured with that idea any time soon.
Me neither.
---
How to introduce yourself when you're famous
From Andrew Ingram (Whom God Preserve), commenting on yesterday's "Lunch at Maxwell House":
"Great Maxwell story – and an insider tip. That ploy of going round the room saying "I'm Robert Maxwell" – it's so you can say who you are in reply. So much less scary than "…and you are?" Terry Wogan taught me that."
---
The most realistic view of our post-pandemic future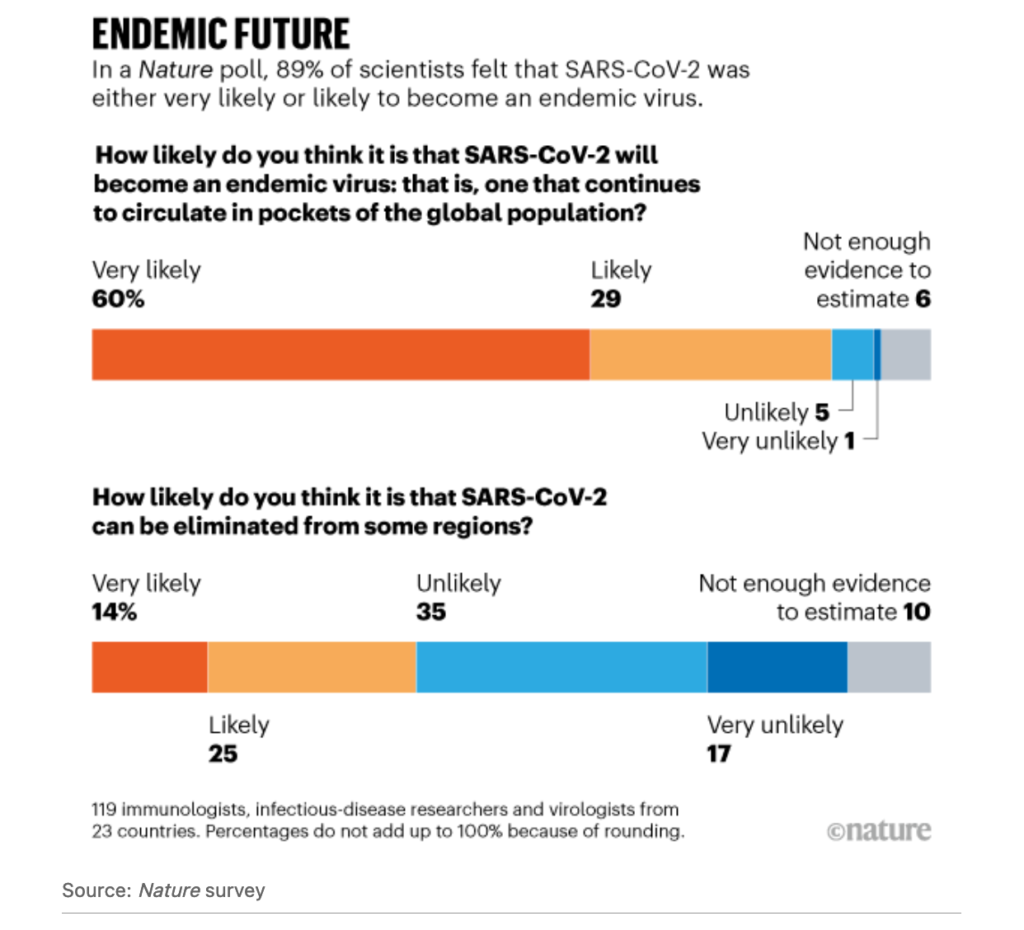 In January, the journal Nature asked more than 100 immunologists, infectious-disease researchers and virologists working on SARS-CoV-2 whether it could be eradicated. Almost 90% of respondents think that the coronavirus will become endemic — meaning that it will continue to circulate in pockets of the global population for years to come. But failure to eradicate the virus does not mean that death, illness and social isolation will continue on the scales seen so far. The future will depend heavily on the type of immunity people acquire and how the virus evolves.
The full report is here.
---
This blog is also available as a daily email. If you think this might suit you better, why not subscribe? One email a day, delivered to your inbox at 7am UK time. It's free, and there's a one-click unsubscribe if you decide that your inbox is full enough already!
---