How things change: George Osborne and David Cameron sucking up to Xi Jinping in 2015
From Politico's wonderful daily briefing, commenting on the conundrum for Brexiteers by China's brutal crackdown in Hong Kong.
A long time ago, in a galaxy far, far away: "We have cemented Britain's position as China's best partner in the West," a triumphant George Osborne beamed as he rolled out the red carpet for Chinese officials back in 2015. "We've got billions of pounds of Chinese investment creating thousands of jobs in Britain, and we've also now got a relationship where we can discuss the difficult issues." Uh huh. And look — here's David Cameron glugging a pint of warm ale with Xi Jinping on that same trip. You have to wonder how bad these clips will look another five years from now.
Actually, they looked pretty odious at the time too.
---
Coronavirus: What does Covid-19 do to the brain?
Paul Mylrea is a friend and valued colleague. In the early stages of the pandemic he was struck down with Covid and became desperately ill. But he survived and is now recovering from the two strokes he suffered as the virus rampaged through his body. The fact that Covid had laid him low shocked me because he's one of the fittest people I know. Among other things, he was a senior diving instructor, swam every morning in the river Cam, and went everywhere on his Brompton bike. I remember thinking that "If the virus has got Paul, then nobody's safe".
This piece by Fergal Walsh, the BBC's medical correspondent, about Paul's struggle with the illness is a heartwarming story of medical skill and the body's capacity for renewal. It is also confirmation of what a deadly and multifaceted pathogen Covid-19 is.
---
Imagine if the National Transportation Safety Board investigated America's response to the coronavirus pandemic.
Absolutely fascinating Atlantic essay by James Fallows.
Here's the gist:
Consider a thought experiment: What if the NTSB were brought in to look at the Trump administration's handling of the pandemic? What would its investigation conclude? I'll jump to the answer before laying out the background: This was a journey straight into a mountainside, with countless missed opportunities to turn away. A system was in place to save lives and contain disaster. The people in charge of the system could not be bothered to avoid the doomed course.
James Fallows is both a gifted writer and a keen pilot. This long essay is well worth reading in full.
---
The short-term decline in FB ad spending
Lots of big firms (Unilever, Coco-Cola, to name just two) have been making statements about how they will be not buying ads on Facebook in response to the BlackLivesMatter campaign. I'm afraid my instinctive reaction was to see this as empty virtue-signalling, and to privately predict that it would have little impact on Facebook's bottom line in the longer run.
The New York Times has s story today which might appear to refute this. "Advertiser Exodus Snowballs as Facebook Struggles to Ease Concerns" is the headline.
Yet even as Facebook has labored to stanch the ad exodus, it is having little effect. Executives at ad agencies said that more of their clients were weighing whether to join the boycott, which now numbers more than 300 advertisers and is expected to grow. Pressure on top advertisers is coming from politicians, supermodels, actors and even Prince Harry and his wife, Meghan, they said. Internally, some Facebook employees said they were also using the boycott to push for change.

"Other companies are seeing this moment, and are stepping up proactively," said Jonathan Greenblatt, chief executive of the Anti-Defamation League, citing recent efforts from Reddit, YouTube and Twitch taking down posts and content that promote hate speech across their sites. "If they can do it, and all of Facebook's advertisers are asking them to do it, it doesn't seem that hard to do."

The push from advertisers has led Facebook's business to a precarious point. While the social network has struggled with issues such as election interference and privacy in recent years, its juggernaut digital ads business has always powered forward. The Silicon Valley company has never faced a public backlash of this magnitude from its advertisers, whose spending accounts for more than 98 percent of its annual $70.7 billion in revenue.
I don't buy that stuff about a "precarious point". And data from Socialbakers doesn't confirm it, as this chart suggests: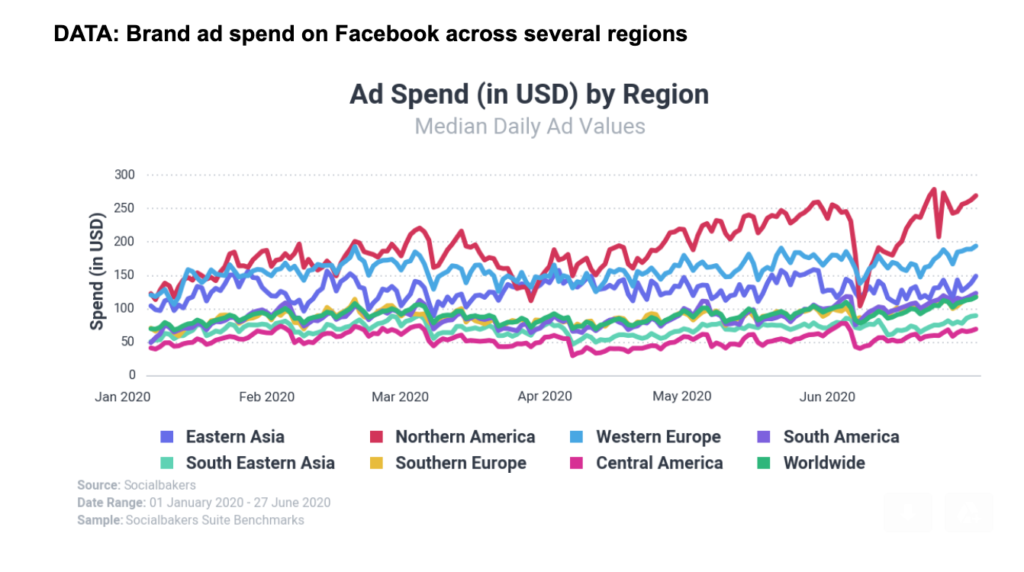 Note the sharp fall around the time of the protests — and then the rapid recover.
Big corporations engaging in virtue-signalling will make little difference to Facebook's bottom line. The company probably makes most of its ad revenues from small and medium firms, for whom its targeting advertising system is perfect. And they aren't going to stop advertising for ethical reasons.
The Economist agrees:
The damage to Facebook is likely to be small. Its $70bn ad business is built on 8m advertisers, most of them tiny companies with marketing budgets in the hundreds or thousands of dollars and often reliant on Facebook as an essential digital storefront. The 100 largest advertisers on the site account for less than 20% of total revenue, compared with 71% for the 100 largest advertisers on American network television. And so far only three of Facebook's top 50 ad-buyers have joined the boycott.
---
This blog is also available as a daily email. If you think this might suit you better, why not subscribe? One email a day, delivered to your inbox at 7am UK time. It's free, and there's a one-click unsubscribe if you decide that your inbox is full enough already!
---