Where those Florida beach celebrants went after partying
You know the story: lots and lots of people congregated on a beach in Fort Lauderdale, Florida during the Spring break weekend. A couple of geo-tracking companies, one of which was Tectonix (Slogan: "Reshape Your Data Experience) posted an fascinating video showing where those celebrants went afterwards.
Donie O'Sullivan of CNN has a good report on this. Apparently there are at least two companies — Tectonix and X-mode — doing this.
The map generated from X-Mode's data by Tectonix, a data visualization firm, is indeed powerful and underlines why the US government might be considering using location data from Americans' cell phones to try to track and possibly curtail the spread of the coronavirus.

It also may point to a potential sea change in how some in the tech industry talk about the data they possess. Silicon Valley has endured years of high-profile data privacy scandals. But now smaller companies like X-Mode, unheard of unknown by the majority of Americans, are publicly touting demonstrations of their technology — suggesting businesses like theirs see the potential of helping track the spread of the coronavirus as an opportunity to show how their often maligned data can be used for good. Cuebiq, another location tracking company, has been similarly public about its abilities.
For people who don't understand the tracking capabilities of smartphones this will probably be startling info. For those who follow the industry it is, sadly, old hat.
---
IT support staff are critical workers too
One overlooked group of critical workers is the folks who are doing IT support to enable thousands and thousands of people who have never worked out of an office to do it at home. I see it in my college and in the wider university. But a colleague who works for a large corporation tells me that their IT staff are stretched to breaking point — having to prep 300-500 new laptops a day with the security and other specialised software needed for secure home working. IT Support is one of the most stressful occupations there are (partly because their clients are often angry and/or frustrated when they call them in). And getting beginners onto Zoom, Teams, VPNs etc. isn't often easy.
---
How the telephone failed to make the Spanish flu bearable
This isn't the first time technology was supposed to make isolation easier.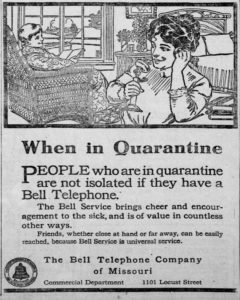 This is from the St Louis Post-Despatch of November 17, 1910, years before the Spanish flu outbreak. Harry McCracken, the Tech Editor of Fast Company, has a lovely of the role the Bell system played in that crisis.
Cities and entire states imposed emergency measures similar to those in place today, aiming to flatten the flu's curve by keeping people apart from each other. Places of business, education, and worship were temporarily closed, and masks were required in some areas.
For a time, it looked like the telephone might help people carry on their lives with minimal disruption. In Holton, Kansas, the local Red Cross distributed placards that local merchants could place in their windows, encouraging customers—especially those who might be ill—to call rather than enter the premises. (Even before the epidemic, telephone ordering was becoming a popular form of commerce—grocery stores, for instance, offered Instacart-like delivery services.)
But then…
Guess what? There was a category of 'critical' workers that nobody had thought of. Switchboard operators. Overwhelmingly female. And they were as vulnerable to the flu as our critical workers. SO you can guess the rest of the story — encapsulated in these ads: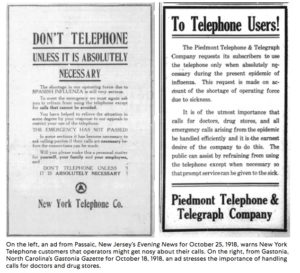 It's a lovely essay — worth reading in full.
---
YouTube and 5G coronavirus conspiracy theories.
You may not have noticed but seriously crackpot conspiracy theories about 5G mobile telephony causing COVID-19 have been circulating on social media, including YouTube. And nutters have apparently been so moved by them that they ahve started to set fire to mobile phone masts. This has led to demands to YouTube to shape up and stop this nonsense circulating.
According to a Guardian report by Alex Hern, YouTube has
"reduced the amount of content spreading conspiracy theories about links between 5G technology and coronavirus that it recommends to users, it has said, as four more attacks were recorded on phone masts within 24 hours.

The online video company will actively remove videos that breach its policies, it said. But content that is simply conspiratorial about 5G mobile communications networks, without mentioning coronavirus, is still allowed on the site."
This is standard-issue First Amendment cant. YouTube (like Facebook and Twitter) believes it has a responsibility to let nutters broadcast so long as they do not violate those sacred Terms and Conditions. But the First Amendment applies only to the government. YouTube is a private platform, owned and controlled by Google (well, Alphabet, Google's parent company). It can do what it likes. It has no obligation to give a platform to anyone.
"There are lots of things wrong about 5G, says Cory Doctorow
But 5G doesn't give you cancer. It won't make you sick. And…god, I am getting stupider just thinking about typing this, coronavirus is not a false-flag op to disguise the illnesses that 5G is secretly creating.

The reason I have to mention that is that the conspiracyverse is full of that specific theory, and it's inspiring people to COMMIT ARSON and torch 5G towers.

No, seriously.

In the wake of multiple attacks on 5G towers, Youtube has announced changes to its moderation guidelines. It will allow 5G conspiracy theories, just not ones that (oh god my fingers are seizing up from the stupid) link 5G with coronavirus.
Corona conspiracy theories are new, but conspiracy theories have have been around for ever. "Even a cursory perusal of the arguments for these conspiracies", says Cory, " reveals that they have not gotten better, even as they've gained traction". If the same arguments are attracting more adherents, he argues, then one of two things is going on. Either: YouTube is a mind-control ray that can turn rational people into believers in absurd ideas; or the number of people to whom these ideas seem plausible has grown and/or Youtube has made it more efficient to reach those people.
Cory thinks it's the latter, and I agree. YouTube is not a powerful hypnotising machine so much as a machine for finding people who are susceptible to nonsense.
---
Quarantine diary — Day 17
---
This blog is now also available as a once-a-day email. If you think this might work better for you why not subscribe here? (It's free and there's a 1-click unsubscribe if you subsequently decide you need to prune your inbox!) One email a day, in your inbox at 07:00 every morning.
---