Newton's notebook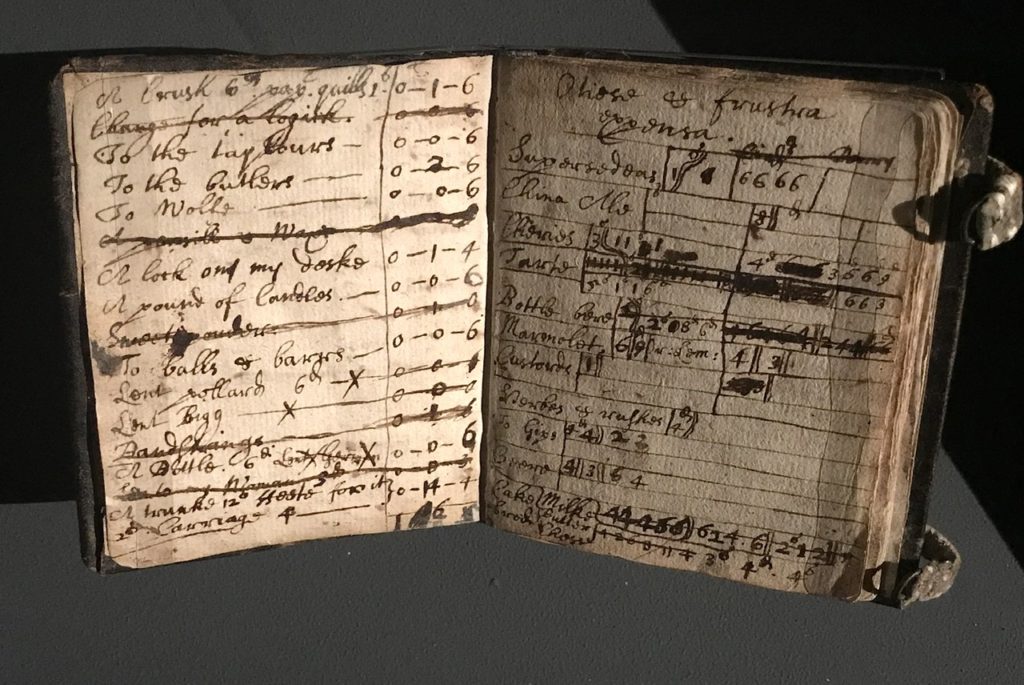 The young Isaac Newton was a painstaking recorder of his expenditure, probably because he was relatively poor. This is one of his early notebooks, where he records his expenditure on frivolous 'sweetmeats' — as sugary treats were then called.
This particular notebook is included in the Fitzwilliam Museum's current (and fascinating) Feast and Fast: the Art of Food in Europe 1500-1800 exhibition.
---
Surprise, surprise! There are lots of scammers on Airbnb
Good Vice investigation reveals what a lot of people already know:
The stories quickly started to fall into easily discernible categories. Scammers all over the world, it seems, have figured how best to game the Airbnb platform: by engaging in bait and switches; charging guests for fake damages; persuading people to pay outside the Airbnb app; and, when all else fails, engaging in clumsy or threatening demands for five-star reviews to hide the evidence of what they've done. (Or, in some cases, a combination of several of these scams.)
The article has an interesting list of the ways people (hosts as well as guests) can be scammed. And, to be fair, Airbnb seems to be willing to accept some responsibility for the bad stuff that goes on on their platform. In that sense, it provides a welcome contrast to Facebook.
---
Talk, don't fly
One predictable consequence of Corona. "Zoom Video Stock Soars as Coronavirus Travel Bans Boost Focus on Videoconferencing."
______________________________ 
Towards another Facebook Presidential election
Four reasons that make Frederic Filloux believe that we are heading towards another American Presidential Election swayed by Facebook.
Mark Zuckerberg's stubbornness in exonerating political advertising from any fact-checking process. In short: any false statement showing up in a newsfeed can be debunked by either Facebook team or any TPFC (third-party fact-checking) it relies on and taken down. But if the same statement appears in a paid-political ad, it is allowed to stay (unless it points to previously debunked fake news).
There is no change of Facebook's core principle, which is to reward emotion, and incendiary statements — a principle that clearly favors right-wing rhetoric (starting with Donald Trump). Facebook never considers altering its algorithm to spotlight high qualityand more even-keeled content. The reason is that it brings less engagement, which is at the core of Facebook's economics.
Unlike 2016, this time, Facebook has a vested interest in seeing Democrats lose. Whoever the nominee be, he or she will go after Facebook, at least with severe regulation and at worse with an attempt to break the companies' holdings up.
Trump digital campaign is running on full throttle compared to Democrats'. In the exact same scenario as 2016, the Trump campaign is spending heavily on social media and runs 3x more ads than Pete Buttigieg and 7x more than Elizabeth Warren, who is following Hillary Clinton's path: in 2016, while Trump was flooding voters with 6 million different ads, HRC ran only 66,000 different versions of its message. Toyda, the numbers are staggering: according to a detailed investigation published last week by the Guardian, the Trump campaign spent $19.4m on 218,100 different Facebook ads in 2019, which were seen between 633m and 1.3bn times.
_________________________________________________________________________________________________________ 
Climate models are running hot — and nobody knows why.
Fascinating Bloomberg report. It's not just one model, but lots of the major ones. They're starting to predict much higher temperatures. And at the moment, there's no consensus in the climate-research community about why this is happening. Is it just a quirk of these very complex models? Or the result of interactions that nobody's understood? It's a bit like the problem of inexplicable machine-learning systems. Only more worrying.
---