Man's best (and smarter) friend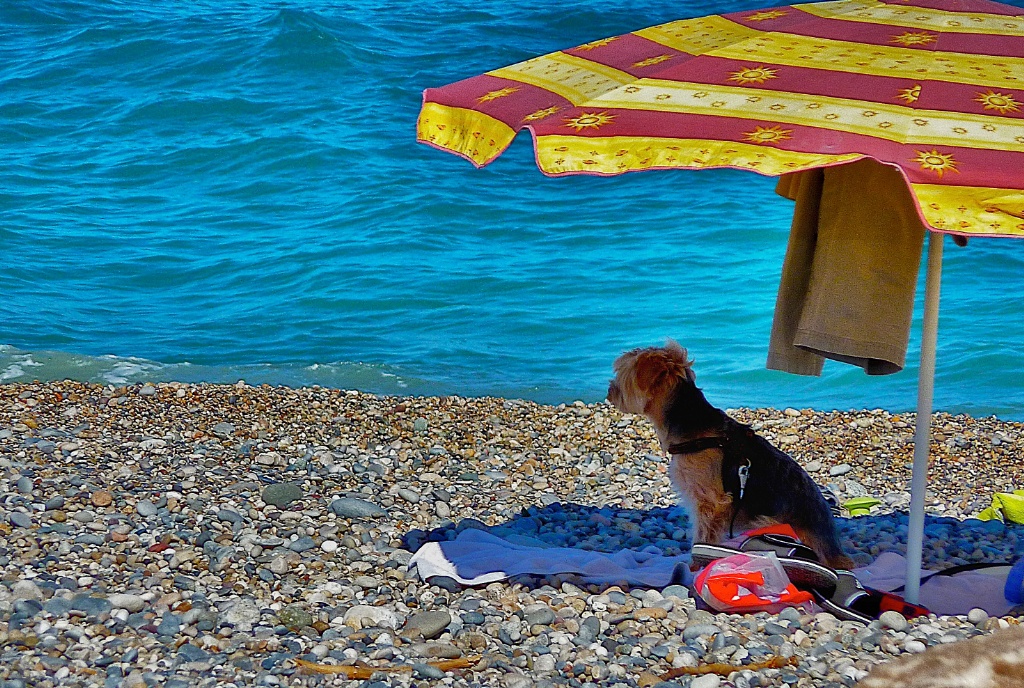 This is one of my favourite photographs. One sweltering August afternoon we were driving along the seafront at Antibes on our way to Vence when we spotted this scene, and I stopped, grabbed my Leica and took a single shot. The dog's owners were lying out under the blistering sun, cooking like sausages on a spit, while their clever mutt sat calmly in the shade watching them tenderly and wondering at the foolishness of humans.
---
Quote of the Day
"You have accused me of being a flatterer. It is true. I am a flatterer. I have found it useful. Everyone likes flattery; and when you I come to Royalty you should lay it on with a trowel."
It's still the case apparently, at least according to Tina Brown's new book.
---
Musical alternative to the morning's radio news
Bob Marley & The Wailers | No Woman, No Cry | Live at the Rainbow, 4th June 1977
Beautiful, just beautiful, and with a lovely guitar accompaniment too.
---
Long Read of the Day
The significance of TikTok
If you're puzzled by the TikTok phenomenon(and I guess most people over 30 are) then this startling blog post by Scott Galloway is unmissable. He has an enviable ability to get past the surface flashiness of online phenomena to the heart of the matter. Among other things, this piece explains why the tech giants are so freaked out by TikTok — and also why parents should perhaps be too.
For me, it's also yet another reminder of how perceptive Herbert Simon was all those years ago.
Thanks to Pete for alerting me to it the moment it appeared.
---
About those kill-switched Ukrainian tractors
Lovely piece by Cory Doctorow
Here's a delicious story: CNN reports that Russian looters, collaborating with the Russian military, stole 27 pieces of John Deere farm equipment from a dealership in Melitopol, Ukraine, collectively valued at $5,000,000. The equipment was shipped to Chechnya, but it will avail the thieves naught, because the John Deere dealership reached out over the internet and bricked these tractors, using an in-built kill-switch.

Since that story ran last week, I've lost track of the number of people who sent it to me. I can see why: it's a perfect cyberpunk nugget: stolen tractors rendered inert by an over-the-air update, thwarting the bad guys. It could be the climax of a prescient novella in Asimov's circa 1996.

But I'm here to tell you: this is not a feel-good story.
It isn't — even though I laughed when I first read about it. The nub of it is that what John Deere did to Russian looters, anyone can do to farmers, anywhere. Including in the USA. Which doesn't amuse those farmers much, by all accounts.
But read Cory's story to get the full effect.
---
My commonplace booklet
From yesterday's Washington Post:
Russia permanently banned nearly 1,000 Americans, including President Biden and Vice President Harris, from entering the country in response to the United States' support of Ukraine and its sanctions. It's a largely symbolic move featuring a wide-ranging collection of Biden administration members, Republicans, tech executives, journalists, lawmakers who have died, regular U.S. citizens and even actor Morgan Freeman. One prominent name missing from the list: former president Donald Trump.
---
This Blog is also available as a daily email. If you think that might suit you better, why not subscribe? One email a day, Monday through Friday, delivered to your inbox. It's free, and you can always unsubscribe if you conclude your inbox is full enough already!
---