Watering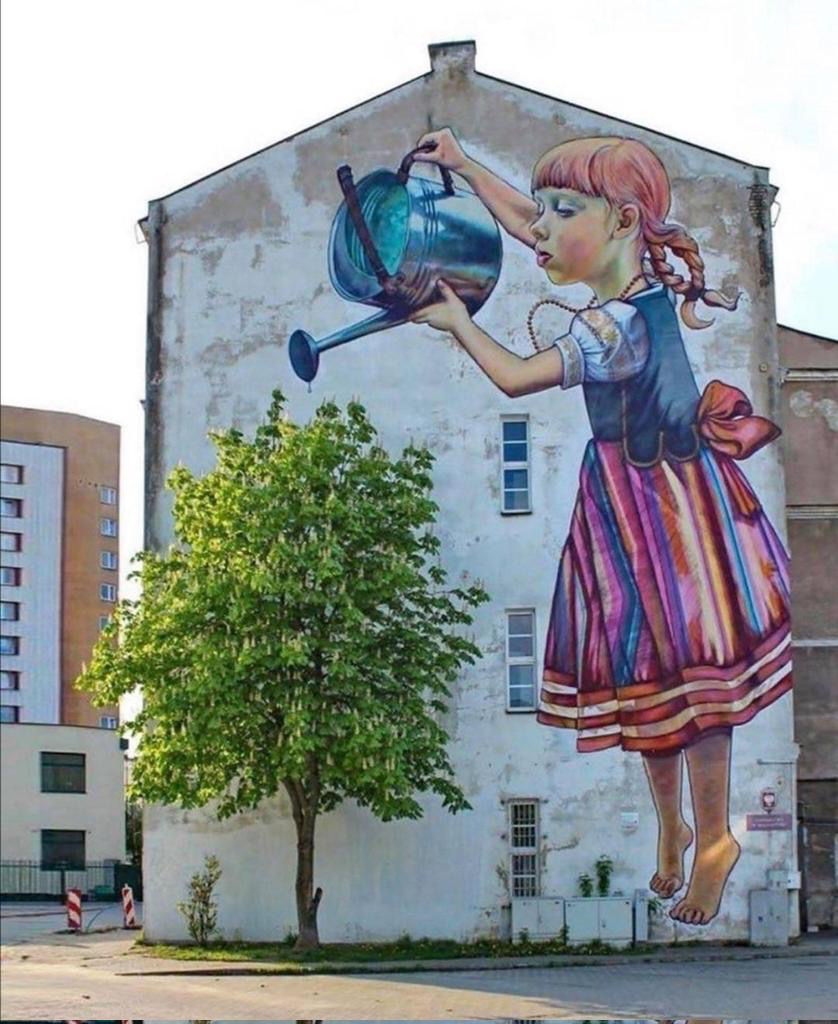 Captivating piece of urban art by Natalie Rak (aka Rak), a street artist based in Poland.
Thanks to Ingrid Hoeben via Mastodon.
---
Quote of the Day
"People ask me why I ride with my bottom in the air. Well, I've got to put it somewhere."
Lester Pigott, who was Champion Jockey 11 times and rode 29 Classic winners — including the Derby 11 times.
---
Musical alternative to the morning's radio news
Martin Hayes and Dennis Cahill | The Cat In The Corner/John Naughton's Jig
I wish I could claim the credit for this, but my namesake was a legendary Co Clare musician and a great collector of tunes. And Martin Hayes is one of the greatest Irish musicians around today. Thanks to Declan Deasy for the hint.
---
Long Read of the Day
Love and Loathing in the Time of ChatGPT
As you doubtless already know, there's a veritable tsunami of comment, speculation, criticism and dazzlement about ChatGPT. Believe me, I've read too much of it and I'm depressed by the naïveté and short-termism of a lot of it. All of which explains why I really welcomed this long, long essay by Ali Minai. It's one of the best things I've read to date, and contains, among other things, an ingenious and insightful experiment he did with the system.
Here's a sample that illustrates the wisdom of the piece:
So what can we learn from these little diversions? First, that ChatGPT is indeed a very powerful tool – one capable of capturing our attention and playing with our minds. It is not a toy.

Second, that, for information it has been trained on explicitly (e.g., individuals with detailed Wikipedia pages and other public information), it has good recall, but once pushed out of this comfort zone, it begins to make stuff up rather than admitting ignorance. There needs to be a caveat here: I have occasionally seen it add incorrect information even for well-known instances, and sometimes to beg off with an excuse of ignorance for an unfamiliar one. ChatGPT too is whimsical in its own way, and seldom generates the same answer twice.

Third, when it does make things up, it does so in a plausible way, making those falsehoods much harder to detect. This is because the entire basis of language models is to generate text that is in context. For applications such as generating movie scripts or fairy tales, this is great, but not when the bot is being queried for accurate information. Finally, we see that ChatGPT is capable of spinning a yarn when the right query comes along, as in the "Grimus Caterwaul" case. Thus, even though it does not really understand, its simulation of understanding is quite impressive. It can, therefore, be a very useful tool in applications that require appropriate confabulation, such as brainstorming or plotting stories…
Do read it. Worth your time.
---
My commonplace booklet
My piece yesterday on Virginia Woolf's delight in her new "nine penny" fountain pen, and my wondering what that would be in today's money, started lots of hares running.
"One of those inflation calculators," wrote James Mackay,
tells us that £1 today is equivalent to 1.9p (=4.56d) in 1924. So Virginia Woolf's nine pennies, 9d, then were conveniently close to £2 now. I suspect that your old pens would now sell for more.
Lots of readers, including Andy Linton, Steve Waller and Brian Naughton pointed me to the CPI inflation calculator which claims that £1 in 1024 would be the equivalent of £77.78 today.
Given that there were 240 pennies in a 1924 £, VW's pen cost £0.0375. Which, being translated into today's money looks like £2.92. Well, you might get a cheap biro for that, so my guess is that Woolf's pen cost a lot more than nine old pennies.
This set me off down an entertaining rabbit-hole. I find, for example, that there is no bandwagon onto which some manufacturers will hesitate to jump. Montblanc, for example, created "a rare Virginia Woolf writers limited edition full set of three writing instruments includes fountain pen, ballpoint pen and mechanical pencil" which a dealer is now advertising for £1,000.

And in 2010 Bonhams sold a fountain pen from such a set for $427. According to the blurb,
Seventy-five years after the publication of her novel The Waves, this black resin pen with its carved wave shapes evokes the life and work of this modern British writer. The curved shape of the pen and its simple clip set with a single ruby highlight the pen. 5 ½" (13.8 cm). Medium 18 K gold nib with two engraved elm trees. Includes original packaging and papers. Limited Edition: 08,002/16,000.
Being a snob, perhaps VW would have enjoyed this. Or would she have been mortified? It's almost enough to make one wonder if someone has marketed a limited edition of Vita Sackville-West's mechanical pencil. On the other hand, life is short.
---
This Blog is also available as a daily email. If you think that might suit you better, why not subscribe? One email a day, Monday through Friday, delivered to your inbox. It's free, and you can always unsubscribe if you conclude your inbox is full enough already!
---