Lilac blossom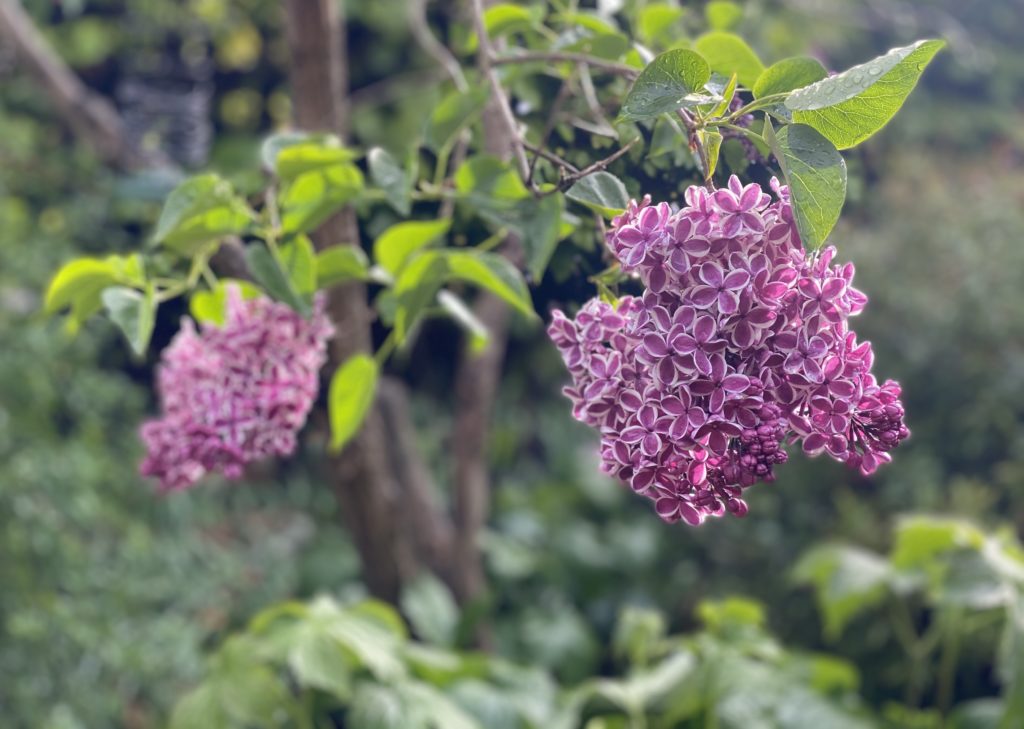 In our garden, this evening.
---
So even the omnipotent French state lacks capacity
All my life I've assumed that there was one state in Europe with consummate capacity. As a student visiting Paris in the Autumn of 1968 in the aftermath of les eventments, for example, I was struck by the grip that the police and the military had reimposed on the city. This was in the aftermath of an episode of demonstrations and disruption that had, temporarily, even caused President de Gaulle to contemplate fleeing. But in the end, authority was restored — with a vengeance. This was a state, I concluded, with formidable capacity even in peacetime.
But the Coronavirus may have exposed that as a bit of a myth. At any rate there's an interesting piece in today's New York Times suggesting that that fabled state capacity may not be what it was.
While France's vaunted health care system has staved off disaster, France has suffered the world's fourth-biggest death toll — now at 23,660 official deaths, behind the United States, Italy and Spain — a consequence, critics say, of the central government's failure to anticipate the onslaught of the contagion.

That failure and a critical shortage of masks and testing kits — also resulting from gaps in state policies — led to the virus's rapid early spread, prompting France to impose one of the word's strictest nationwide lockdowns, now in its seventh week.

Prime Minister Édouard Philippe announced a tentative plan on Monday to gradually reopen the country starting on May 11. Schools and businesses would start reopening, though not restaurants or cafes. He urged companies to keep their employees working at home. And he promised that masks and testing would be made sufficiently available. But it was not clear that those steps would halt what polls show is declining confidence in the government's handling of the pandemic.
Sacre Bleu!
---
The existential sadness of virtual tours of deserted museums
Earlier this month the New Yorker carried a touching and thoughtful piece by the magazine's Art Critic, Peter Schjeldahl. Once we are again free to wander museums, he argues, the objects won't have altered, but we will have, and the casualties of the coronavirus will accompany us spectrally.
We will have so much to say to one another when the coronavirus crisis is over: distillations from solitude, in cases like mine. At seventy-eight, with bad lungs, I'm holed up with my wife at our country place until a vaccine is developed and becomes available. It's boring. (Remember when we lamented the distracting speed of contemporary life?) On the scale of current human ordeals, as the pandemic destroys lives and livelihoods, mere isolation hardly ranks as a woe. It's an ambivalent condition that, among other things, affords time to think long thoughts. One of mine turns to the art in the world's now shuttered museums: inoperative without the physical presence of attentive viewers. Online "virtual tours" add insult to injury, in my view, as strictly spectacular, amorphous disembodiments of aesthetic experience. Inaccessible, the works conjure in the imagination a significance that we have taken for granted. Purely by existing, they stir associations and precipitate meanings that may resonate in this plague time.
The gap between the painters we call "the old masters" and our recent selves is that they lived in the shadow of mortality, or at least a sense of the proximity of death in a world without medicine and prone to pestilence and war. For a long time, though, modernity and science excavated a moat between their sensibility and ours. "But right now", he writes, "we have all convened under a viral thundercloud, and everything seems different."
At the heart of the essay is an extended meditation on Diego Velázquez's painting "Las Meninas" (1656), which, says Schjeldahl, "is the best painting by the best of all painters". Last December he had gone to Madrid (where the painting in in the Prada), believing that he would never see it again. (He has cancer, but has been granted an extension by immunotherapy.)
It's a lovely, moving piece, worth reading in full. _____________________________________________________________________________ 
Another by-product of the Coronavirus crisis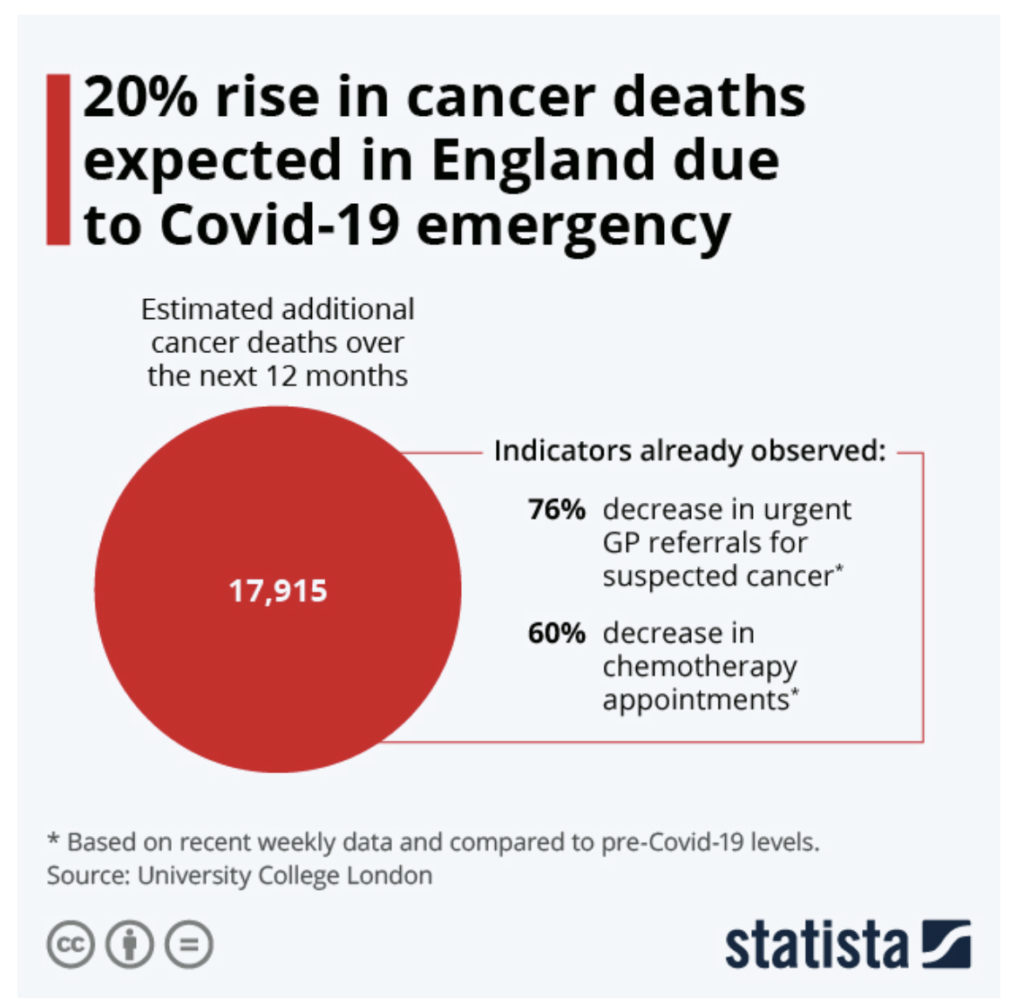 There's nothing that this blasted virus doesn't touch.
__________________________________________________________________________ 
Evgeny Morozov's The Syllabus
Evgeny Morozov (whom God preserve) has launched a characteristically ambitious project: The Syllabus. Think of it as intelligent curation on steroids. It hoovers up the torrents of stuff published online and intelligently distils from it stuff that is worth noticing, reading, listening or viewing. The weekly output consists of curated syllabi featuring pieces that cut across text, video and audio. Curation runs either along thematic lines – e.g. technology, political economy, arts & culture – or by media type such as Best of Academic Papers, Podcasts, Videos. Subscribers can also build their own personalised syllabus centered around your interests.
The approach uses a mix of algorithmic and human curation: each week, algorithms detect tens of thousands of potential candidates – and not just in English. And then a team of human editors, led by Morozov, select a few hundred worthy items.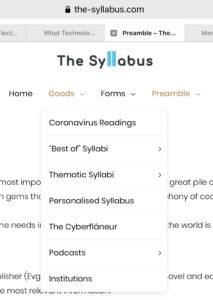 Maurits Martijn has written an illuminating account of how the project came to be.
Clay Shirky famously said decades ago that "there is no such thing as information overload; there is only filter failure". Which is why one of the most valuable services people can provide on the open web (outside of the walled gardens of social media) is intelligent curation. That's why services like Kottke.org, The Browser, Charles Arthur's The Overspill and Ben Thompson's Stratechery are so useful. But all of these are curated by people who cannot read everything. Morozov's idea is to use technology to survey an unimaginably wider range of stuff that might conceivably be worth our attention, and then filter that using human judgement.
What I love about this project is its sheer ambitiousness. I've been a subscriber from its early days.
---
Why Trump's press conferences should continue to be broadcast live
Interesting take from Olivia Nuzzi in NYmag:
What a lot of Trump critics miss is that the biggest threat to his presidency isn't the pandemic and the collapse of the global economy. It's Trump. The more we see him — rambling, ranting, casually spitballing about bleach and sunlight — the clearer that becomes. But that's not the media's problem, and taking the spotlight off of him as he displays the full extent of his inadequacies would only serve to help him and to make the public less informed about what the federal government is doing — or not doing.

Watching Trump dangerously improvise is, in itself, information. It's pure access to his thoughts and ideas and emotional state, presented to the world in real time. Trump's presence at the briefings is not valuable if what we hope to get from them is factual information about the pandemic. But if we want to learn more about what the government is doing, and why it's doing what it's doing, what could be better than this? We should think of the briefings as opportunities to observe the president and gauge his level of understanding of, and interest in, the crisis each day — to watch the reality show of his relationships with the members of his task force play out before our eyes, rather than reported on later through palace-intrigue stories informed by anonymous sources who half the country doesn't believe exist.
Spot on. The point is that these performances provide a compelling insight into what might loosely be called Trump's mind. They reveal how stupid and unhinged he is. (He always reminds me of the saloon-bar drunks I used to observe as a student.) As the Guardian's Australia Editor observed
When Trump's words are processed through the media, the effect is that Trump sounds more coherent than he is. "I realized how much of the reporting of Trump necessarily edits and parses his words, to force it into sequential paragraphs or impose meaning where it is difficult to detect." Taylor said she was left wondering "whether the editing does our readers a disservice."
---
Quarantine diary — Day 40
---
This blog is also available as a daily email. If you think this would suit you better, why not sign up here? (There's a one-click unsubscribe if you want to prune your inbox subsequently.)
---