Deconstructing Cummings's Downing Street statement
Wonderful analysis of the Cummings document by the FT's David Allen Green. Takes the form of a 25-minute video going through the document line by line, but there's also a transcript if you're in a hurry. It's a fascinating piece of work. Allen thinks that the entire document was drawn up by a (no doubt expensive) lawyer because it reads like a witness statement as used in trials. (But there's no signature at the bottom attesting that it is the truth, the whole truth and nothing but the truth!).
The only thing he misses is the fact (mentioned in the Wired report discussed on this blog yesterday) that Cummings retrospectively added to his blog post of March 4, 2019 to make it look as thought he was exceedingly prescient about this kind of pandemic.
______________________________________________________ 
Charlie Warzel on de-platforming Trump
Useful piece by Charlie sparked by the thought that Twitter might ban Trump.
"The strategy of power now is not to dominate the whole narrative," Peter Pomerantsev, a senior fellow at the London School of Economics and the author of "This Is Not Propaganda: Adventures in the War Against Reality" told me recently. "It's to polarize citizens and construct a very potent worldview and to alienate them from the truth. When journalists speak truth to power they're by nature giving the powerful the opposition they want."

Naturally, media outlets and reporters, not wanting to be bullied or discredited, adopt an adversarial approach. This leads to some great, important journalism but also a fair amount of grandstanding, which then become ammunition for the president and his supporters.

This situation is hard for journalists to get their heads around, Mr. Pomerantsev says. "We're trained to stand up to the powerful," he Pomerantsev said. "But now the powerful are comfortable with us doing the punching — just look at how they're attacking."
It's basically a cycle that requires participation from all parties: the president (who initiates it), Twitter (which tolerates it) and the media (which amplifies, frequently to the president's advantage). Removing one participant gums up the cycle, but does not stop it outright.
---
How Trump proposes to go after Twitter for labelling his tweets
He's gone for the 'nuclear strike' — to try to modify Section 230 of the 1996 Communications Decency Act, (which is Title V of the sprawling 1996 Telecommunications Act). The Section is the one that exempts platform providers from legal liability for stuff that users post on their platforms. It's essentially the bedrock of their impunity.
The key part of the Section reads as follows:
(c) Protection for "Good Samaritan" blocking and screening of offensive material

(1) Treatment of publisher or speaker No provider or user of an interactive computer service shall be treated as the publisher or speaker of any information provided by another information content provider.

(2) Civil liability No provider or user of an interactive computer service shall be held liable on account of—

(A) any action voluntarily taken in good faith to restrict access to or availability of material that the provider or user considers to be obscene, lewd, lascivious, filthy, excessively violent, harassing, or otherwise objectionable, whether or not such material is constitutionally protected; or

(B) any action taken to enable or make available to information content providers or others the technical means to restrict access to material described in paragraph (1).
This is what Trump's draft Executive Order targets.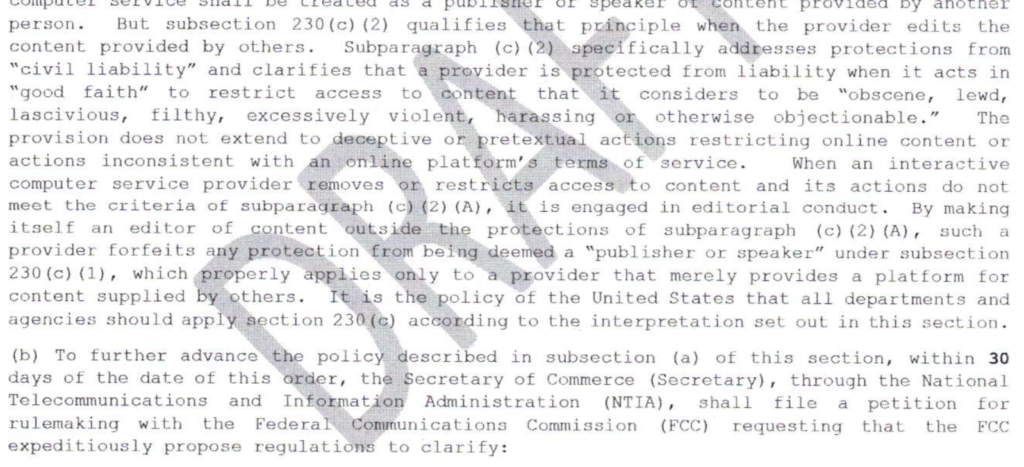 The thrust of the Order is that Twitter's labelling of Trump's tweets as inaccurate is not protected under Subparagraph C(2).
"The provision does not extend to deceptive or pretextual actions restricting online content or actions inconsistent with an online platform's terms of service. When an interactive computer service provider removes or restricts access to content and its actions do not meet the requirements of Subparagraph C (2) (A), it is engaged in editorial conduct."
So the Order directs the Federal Communications Commission (FCC) to conduct an inquiry to "clarify"

This is going to be interesting. If nothing else, it guarantees that all the tech companies will be pouring money into Joe Biden's campaign, because Section 230 has always been their get-out-of-gaol card. Indeed, for social-media companies it's what underpins their business model.
And… Right on cue, up pops Mark Zuckerberg (who has had a couple of dinners recently with Trump, I believe) on Fox News yesterday criticising Twitter for fact-checking Trump's tweets, saying private technology companies "shouldn't be the arbiter of truth of everything that people say online". Zuckerberg is keeping his political options open. Creep.
---
Every stock is a vaccine stock
What's the value of a Covid vaccine — and to whom? General Electric stock was rocketing up on Tuesday, but not because of anything the company did or announced. What's going on is that any positive news about a Covid vaccine Recent Covid-19 vaccine serves as a catalyst, making every stock feel like a vaccine stock.
Fascinating post by Tyler Cowen:
It's not surprising that when Moderna reports good vaccine results, Moderna does well. It's more surprising that Boeing and GE not only do well they increase in value far more than Moderna. On May 18, for example, when Moderna announced very preliminary positive results on its vaccine it's market capitalization rose by $5b. But GE's market capitalization rose by $6.82 billion and Boeing increased in value by $8.73 billion.

A cure for COVID-19 would be worth trillions to the world but only billions to the creator. The stock market is illustrating the massive externalities created by innovation. Nordhaus estimated that only 2.2% of the value of innovation was captured by innovators. For vaccine manufacturers it's probably closer to .2%.
The disconnect between stock markets and the real world is truly mysterious.
---
Quarantine diary — Day 68
---
This blog is also available as a daily email. If you think this might suit you better, why not subscribe? One email a day, delivered to your inbox at 7am UK time. It's free, and there's a one-click unsubscribe if your decide that your inbox is full enough already!
---