If you might find it more useful to get this blog as a daily email, why not subscribe here? (It's free, and there's a 1-click unsubscribe). One email, in your inbox at 07:00 every morning.
---
England's green and pleasant land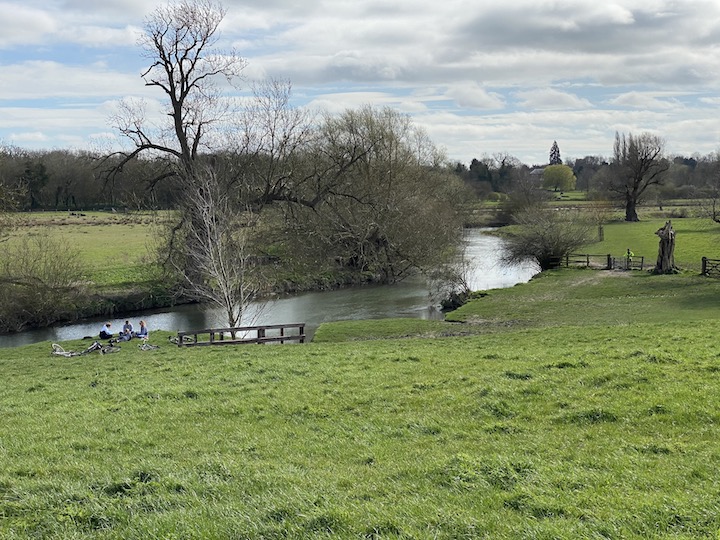 One part of the country that's not currently under lockdown: the river Cam at Grantchester, photographed on Tuesday morning.
____________________________-
Apocalypse now
The Wall Street Journal reports from the Papa Giovanni XXIII Hospital, a large, modern medical facility in Bergamo, a prosperous Italian city that has been overwhelmed by the coronavirus disease:
Bergamo shows what happens when things go wrong. In normal times, the ambulance service at the Papa Giovanni hospital runs like a Swiss clock. Calls to 112, Europe's equivalent of 911, are answered within 15 to 20 seconds. Ambulances from the hospital's fleet of more than 200 are dispatched within 60 to 90 seconds. Two helicopters stand by at all times. Patients usually reach an operating room within 30 minutes, said Angelo Giupponi, who runs the emergency response operation: "We are fast, in peacetime."

Now, people wait an hour on the phone to report heart attacks, Dr. Giupponi said, because all the lines are busy. Each day, his team fields 2,500 calls and brings 1,500 people to the hospital. "That's not counting those the first responders visit but tell to stay home and call again if their condition worsens," he said.

Ambulance staff weren't trained for such a contagious virus. Many have become infected and their ambulances contaminated. A dispatcher died of the disease Saturday. Diego Bianco was in his mid-40s and had no prior illnesses.

"He never met patients. He only answered the phone. That shows you the contamination is everywhere," a colleague said. Mr. Bianco's co-workers sat Sunday at the operations center with masks on their faces and fear in their eyes…
This is why social-distancing has to be made to work.
---
MEOW
Our local supermarket announced that the first hour after opening this morning would be reserved for people who would have to 'self-isolate' from next weekend. I fall into that category because of my age, but people with particular medical conditions also fall into it. Think of it as voluntary house arrest! The supermarket was fairly busy with customers of retirement age. The atmosphere was cheery and civilised, with a vague feeling of wartime solidarity. In a way, I reflected, on discovering that all the milk had gone and further stocks were not expected until midday, that in a sense this is the moral equivalent of war.
And then I remembered that during the 1979 energy crisis in the US, the then president Jimmy Carter had used that phrase — I think in the context of making the US independent of oil imports from the Middle East. For Carter, the phrase was a way of signalling how important his campaign was. But of course his Republican opponents resisted it — and found a way of effectively ridiculing it by making an acronynm from the initial letters of each word: MEOW. And it worked.
---
AI is an ideology, not a technology
Nice essay in Wired by Jaron Lanier, arguing that, at its core, "artificial intelligence" is a perilous belief that fails to recognize the agency of humans. "The usual narrative goes like this", he writes.
Without the constraints on data collection that liberal democracies impose and with the capacity to centrally direct greater resource allocation, the Chinese will outstrip the West. AI is hungry for more and more data, but the West insists on privacy. This is a luxury we cannot afford, it is said, as whichever world power achieves superhuman intelligence via AI first is likely to become dominant.

If you accept this narrative, the logic of the Chinese advantage is powerful. What if it's wrong? Perhaps the West's vulnerability stems not from our ideas about privacy, but from the idea of AI itself.
The central point of the essay is that "AI" is best understood as a political and social ideology rather than as a basket of algorithms. And at its core is the belief
that a suite of technologies, designed by a small technical elite, can and should become autonomous from and eventually replace, rather than complement, not just individual humans but much of humanity. Given that any such replacement is a mirage, this ideology has strong resonances with other historical ideologies, such as technocracy and central-planning-based forms of socialism, which viewed as desirable or inevitable the replacement of most human judgement/agency with systems created by a small technical elite. It is thus not all that surprising that the Chinese Communist Party would find AI to be a welcome technological formulation of its own ideology.
Thoughtful piece. Worth reading in full.
---
Will the virus enable us to rediscover what the Internet is for?
The wonderful thing about the Net — so we naive techno-utopians used to think — was that it would liberate human creativity because it lowered the barriers to publication and self-expression. The most erudite articulation of this was probably Yochai Benkler's wonderful The Wealth of Networks, a celebration of the potential of 'peer production' and user-generated content. We saw the technology was an enabling, democratising force — a 'sit-up' rather than a 'lie-back' medium. And we saw in its apparently inexorable rise the end of the era of the couch potato.
What we never expected was that a combination of capitalism and human nature would instead turn the network into million-channel TV, with billions of people passively consuming content created by media corporations: the ultimate lie-back medium. And indeed, if you look at the data traffic on the Net these days, you see the effects of that. According to Sandvine, a network equipment company, in 2019, for example, video accounted for 60.6 percent of total downstream volume worldwide, up 2.9 percentage points from 2018. Web traffic was the next biggest category, with a 13.1 percent share (down 3.8 points year over year), followed by gaming at 8.0 percent, social media at 6.1 percent and file sharing at 4.2 percent. The same report found that Google and its various apps (including YouTube and Android) accounted for 12 percent of overall internet traffic and that Facebook apps took 17 percent of downstream internet traffic in the Asia-Pacific region, as compared with 3 percent worldwide.
One interesting question raised by the COVID-19 crisis is whether people who find themselves isolated in their homes will discover affordances of the network of which they were hitherto unaware. Kevin Roose of the NYT explores this in "The Coronavirus Crisis Is Showing Us How to Live Online". We've always hoped that our digital tools would create connections, not conflict, he says. We now have a chance to make it happen. After a week in self-isolation, he finds himself agreeably surprised:
Last weekend, in between trips to the grocery store, I checked up on some friends using Twitter D.M.s, traded home-cooking recipes on Instagram, and used WhatsApp to join a blockwide support group with my neighbors. I even put on my Oculus virtual reality headset, and spent a few hours playing poker in a V.R. casino with friendly strangers.

I expected my first week of social distancing to feel, well, distant. But I've been more connected than ever. My inboxes are full of invitations to digital events — Zoom art classes, Skype book clubs, Periscope jam sessions. Strangers and subject-matter experts are sharing relevant and timely information about the virus on social media, and organizing ways to help struggling people and small businesses. On my feeds, trolls are few and far between, and misinformation is quickly being fact-checked.
Well, well. Reporters should get out more — onto the free and open Internet rather than the walled gardens of social media.
---