St Patrick's Day!
(And it's not true that he banished the snakes from Ireland, as a casual inspection of the country's political elite will confirm.)
---
The flock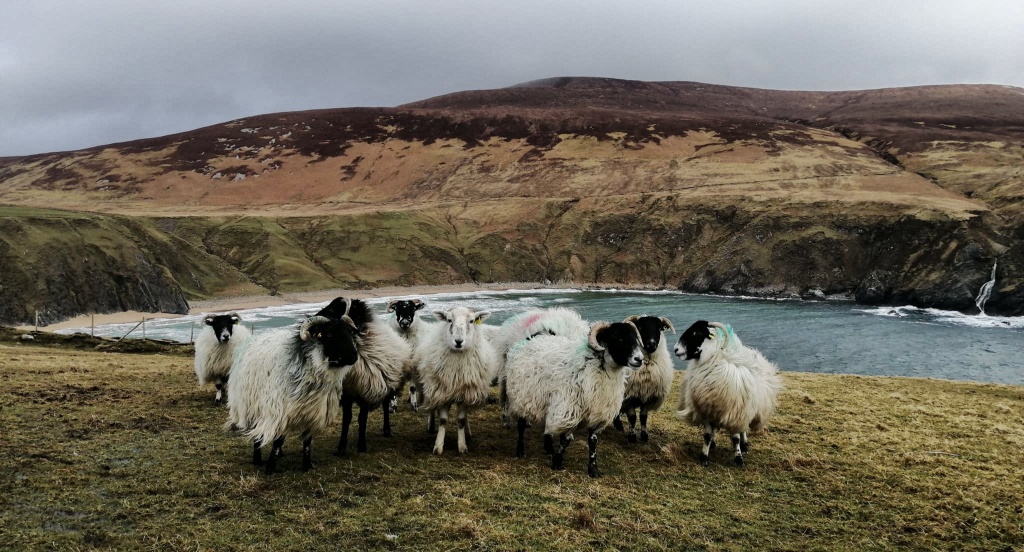 Lovely photograph taken the other day in Glencolumbcille by John Darch (Whom God Preserve). Note the symmetry of the group.
---
Quote of the Day
"Quote me as saying I was mis-quoted"
---
Musical alternative to the morning's radio news
Steve Cooney | O'Farrell's Slip Jig
You've got to have a slip jig on this day of all days.
---
Long Read of the Day
The Channel 4 exposé of the Jeremy Kyle Show made me ashamed of the TV profession
Great piece by Dorothy Byrne, the former head of news and current affairs at Channel 4 TV.
Over two nights this week, millions of viewers watched the horror that was ITV's Jeremy Kyle Show exposed. The two-part investigation, Jeremy Kyle Show: Death on Daytime, on Channel 4, suggested that the production team lied to vulnerable participants, some of whom had obvious mental health issues, with sometimes terrible consequences. The Jeremy Kyle Show was taken off air only after one victim, Steve Dymond, "failed" a lie detector test on the show and killed himself a week later. It was also revealed that at least one other participant had killed herself after appearing on the programme years earlier – and the investigation hinted there were potentially more cases.

But the programme's greatest shock lay not in its content but in what – or who – was not on screen. It approached more than 200 people who had worked on the Jeremy Kyle Show over 14 years, and not a single one would go on camera…
I was a TV critic for 13 years and really enjoyed the medium but detested many of the people who worked in the industry. Dorothy Byrne was one of the shining exceptions.
The Jeremy Kyle show was one of the most obnoxious, cruel and exploitative shows ever to appear on British television. What was even more depressing, though, was that so many people tuned in to watch it.
---
Xi's awkward dilemma
From Gideon Rachman in the Financial Times ($)
A short, victorious Russian war would have suited China. Beijing's favoured narrative about the inexorable decline of American power would have looked even more credible. The stage might have been set for a Chinese attack on Taiwan.

Instead, Russia has got bogged down. The western alliance has been revived, and the US and its allies have unveiled a new armoury of economic sanctions that will look very threatening in Beijing.

China is now having to digest the news that, as a result of western sanctions, Russia has lost access to most of its foreign reserves. As the economist Barry Eichengreen points out, one of the main reasons that countries hold foreign reserves is "as a war chest to be tapped in a geopolitical conflict". But China, which has the world's largest foreign reserves, has just discovered that it could lose access to its war chest overnight.

China is not nearly self-sufficient in either energy or food. It has worried for decades about the "Malacca Dilemma" — the threat that the US navy could blockade China by cutting off key shipping routes. China's huge investments in its navy are partly aimed at averting that possibility. Now, however, Beijing has to consider the possibility that a freezing of the country's foreign reserves, allied to other financial sanctions, could be just as threatening as a naval blockade.

Frustratingly for China, there is no easy way out of this. The obvious solution would be for it to trade increasingly in its own currency, the renminbi. But Beijing has shied away from making the RMB fully convertible, fearing that this would lead to destabilising capital flight.
The piece is accompanied by a brilliant cartoon showing Putin, with hands dripping with blood, embracing 'Pooh Bear', as Xi is known to Chinese dissidents.
The moral of the story is, I suppose, "don't put all of your Faberge eggs in other people's baskets".
Later Noah Smith has an intriguing blog post suggesting that Xi suddenly has a lot on his plate — to wit: the Ukraine war, renewed Covid outbreaks, a stock-market crash and a real estate bubble that is now bursting.
---
My commonplace booklet
Saturday Night Live does Amazon Go Lovely sketch. Link
---
This Blog is also available as a daily email. If you think that might suit you better, why not subscribe? One email a day, Monday through Friday, delivered to your inbox. It's free, and you can always unsubscribe if you conclude your inbox is full enough already!
---