Morning on the river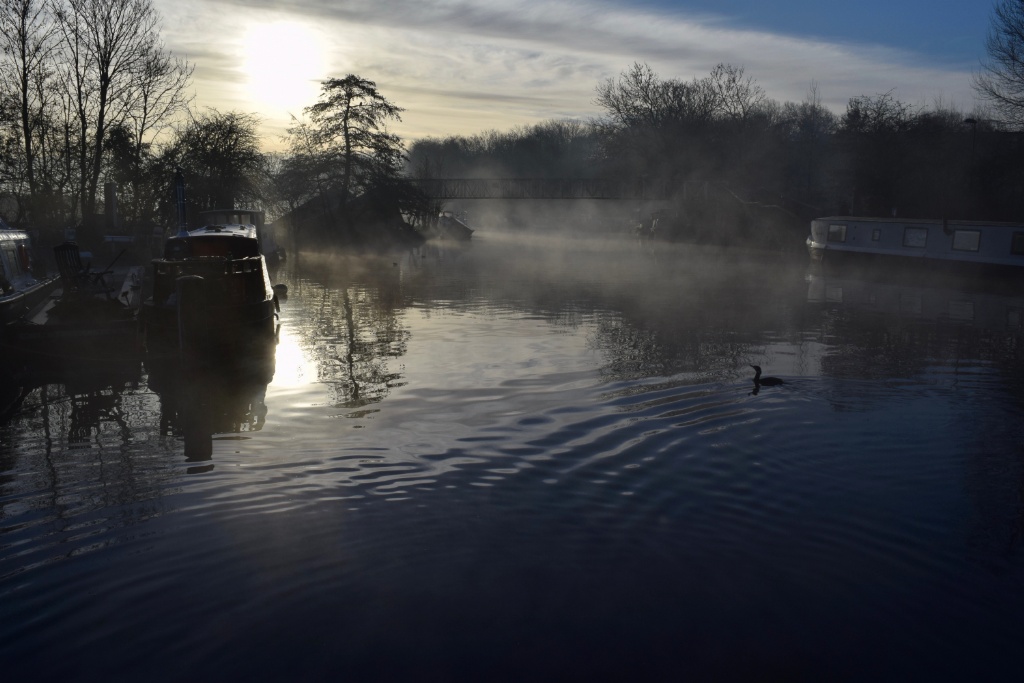 A friend who has a houseboat in London took this yesterday morning. Beats living in an apartment any day.
---
Quote of the Day
"I just received the following wire from my generous Daddy — 'Dear Jack. Don't buy a single vote more than necessary. I'll be damned if I'm going to pay for a landslide'."
JFK, in a speech to journalists, Washington, 1958.
---
Musical alternative to the morning's radio news
The Shannon family and Tim Edey | Four jigs
Sometimes, musical talent really does run in families. Consider the Shannons: this session was recorded in 2010 in Bofey Quinn's restaurant, Corofin, Co. Clare. The musicians are: Sharon Shannon (Accordion), Mary Shannon (Banjo), Majella Shannon (Fiddle), Garry Shannon (Flute) with accompaniment from Tim Edey (Guitar). The music: 3 jigs — Dan The Cobbler, The Kilmovee (or Larrisey's) and Calliope House.
---
Long Read of the Day
On the Legacy of Hunter S. Thompson and Gonzo Journalism
Fifty years after Fear and Loathing in Las Vegas, maybe Hunter S. Thompson's journalism is ripe for a reassessment. Peter Richardson has written one which is due out on January 25. I've always preferred Fear and Loathing on the Campaign Trail to Thompson's famous Las Vegas essay, partly because he was so perceptive about Jimmy Carter at a time when the rest of the press crowd overlooked the peanut farmer. I hadn't known, though, that Thompson first came to prominence after being asked to write a piece about the Kentucky Derby with cartoonist Ralph Steadman providing the visuals. The two went to the race but didn't bother looking at the horses.
It was a stroke of genius, a bit like going to the Folies Bergere in the 1930s and watching the audience.
Anyway, I found this an informative and enjoyable read. Hope you do too.
---
How does an electric car work?
Tyler Cowen (Whom God Preserve) was asked this question by one of his readers:
Say you were trying to teach yourself, to a 99th percentile layperson's level, how, say, an electric car actually worked. How would you go about doing that, precisely?
Tyler's answer
I am not sure exactly how high (or low) a standard that is, but here is what I would do.

Watch a few YouTube videos.

Read a book or two on how electric cars work, along the way finding an expert or mentor who could answer my questions.

If needed, read a more general book about electricity.

Try to explain to someone else how electric cars work. Try again.

I would recommend this same general method for many particular questions.
Hmmm…. A week or so after we took delivery of our Tesla, this helpful video on how the new Model 3 motors worked appeared on YouTube. I watched it diligently several times, and got the general drift but wouldn't have been able to explain it to anyone without making detailed notes.
Being a practical sort of chap, though, I then got into the car, floored the accelerator and was able to confirm that the motors worked as advertised. Zero to 60 in 3.1 seconds. After a few minutes I was able to breathe again. Not recommended for persons of a nervous disposition.
---
My commonplace booklet
The Covid Derby: Wonderful spoof race commentary.
Note the authentic Irish accent. My countrymen have always taken a keen interest in the inequality of horses, whatever about humans.
Thanks to Christine Happel for spotting it.
---
This Blog is also available as a daily email. If you think that might suit you better, why not subscribe? One email a day, Monday through Friday, delivered to your inbox. It's free, and you can always unsubscribe if you conclude your inbox is full enough already!
---