Why I never bought the idea that Boris Johnson was a lovable clown
Watching his contortions over 'Partygate' I keep thinking of my beloved mother-in-law, Elsie Pinniger, who was in an unprotected care-home in late April 2020 and, well, you can guess the rest…
For the first 100 days of the pandemic, I kept an audio diary. This is the entry for the 9th of May — Day 49.
The transcript is in 100 Not Out: A Lockdown Diary — a Kindle version of the diary.
---
Quote of the Day
"An aristocracy is like cheese; the older it is the higher it becomes." * Lloyd George
Now why does this make me think of the Duke of York? And which hill will he be marching down next?
---
Musical alternative to the morning's radio news
Scott Joplin | Solace – A Mexican Serenade | Joshua Rifkin
---
Long Read of the Day
Putin's Challenge to Western hegemony
If, like me, you're puzzled about what's happening — or likely to happen — in Ukraine then this long, long blog post by Adam Tooze is for you. As I read it I became increasingly mortified by how little I actually knew about the Ukraine, or about how Putin's strategy had evolved over a decade or more.
Some (of my) takeaways:
Tooze's astute view of Russia as a "strategic petrostate" with huge foreign currency reserves which give Putin enormous freedom of manoeuvre (and run counter to Western media delusions of how he is running out of road).
As a state, Ukraine is a basket case and what makes it vulnerable to Russian power is "not just its geography, but the division of its politics, the factional quality of its elite and its economic failure".
NATO's expansionism post-1989 was a colossal blunder, the consequences of which continue to haunt Europe.
The key factors governing what happens next are: Russia's geopolitical concerns about America's stance; Biden's preoccupation with China, not Russia; Ukraine's disastrous economic position; and Putin's own political clock (both he and Biden face elections in 2024.)
But that's just what I got from the piece. You may get more.
---
Unexpected pleasures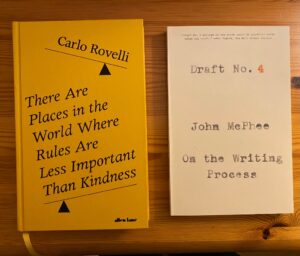 Two lovely literary surprises came my way this Christmas.
Carlo Rovelli is an Italian theoretical physicist who works mainly in the field of quantum gravity but is also a best-selling writer of accessible books about science. I first became interested in him when I read Ian Thomson's review of Helgoland, his most recent book, which is an explanation to explain quantum mechanics to human beings. The title comes from the fact that the theory was first developed in 1925 by the young German physicist Werner Heisenberg during a summer holiday he spent on the barren North Sea island of Helgoland.
Intrigued by this (but still baffled by quantum physics) I went looking at other books Rovelli had written and came on this lovely collection of 46 short pieces, 13 of them published in Corriere della Sera (which surely must be one of the most interesting newspapers on earth, given that Umberto Eco also used to be a columnist on it). It's a reassuring reminder of what a nice genre the newspaper column is, something that — as someone who has written 50 of them a year since the 1980s – I obviously appreciate.
John McPhee is one of the New Yorker writers I've admired for many years. What I hadn't known until recently is that he also teaches a course on 'Creative Nonfiction' at Princeton. This little book is a masterclass in the art of long-form journalism which makes one envious of his students, and it led me to buy several copies to give away as gifts to people who I thought would appreciate it. They do.
---
My commonplace booklet
Perils of a blind date
From the Guardian:
A Chinese woman has become an overnight sensation after she posted video diaries documenting her life after being stuck at a blind date's house.

Wang went for dinner on Sunday at her blind date's residence in the central Chinese city of Zhengzhou, where a recent outbreak of Covid cases sent thousands into quarantine in parts of the city. As she was finishing her meal, the area was put under lockdown.

She was unable to leave her date's house as result, she told the Shanghai-based news outlet the Paper this week, saying she had gone to the city for a week-long trip to meet potential suitors from the southern province of Guangdong.

Wang quickly shared the bizarre experience with friends on social media. "I'm getting old now, my family introduced me to 10 matches … The fifth date wanted to show off his cooking skills and invited me over to his house for dinner," said Wang in one of the videos.
---
This blog is also available as a daily email. If you think that might suit you better, why not subscribe? One email a day, Monday to Friday, delivered to your inbox at 7am UK time. It's free, and you can always unsubscribe if you decide that your inbox is crowded enough already.
---