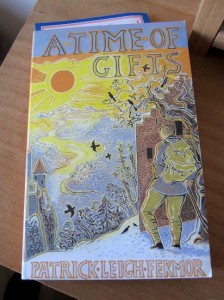 In Patrick Leigh-Fermor's entrancing book
about his long walk through pre-war Europe, I came on this reflection on the narrow escape Vienna had when it was besieged by the Turks. He'd just been to a museum where various artefacts symbolising the Turkish defeat were displayed:
Martial spoils apart, the great contest has left little trace. It was the beginning of coffee-drinking in the West, or so the Viennese maintain. The earliest coffee-houses, they insist, were kept by some of the Sultan's Greek and Serbian subjects who had sought sanctuary in Vienna. But the rolls which the Viennese dipped in the new drink were modelled on the half-moon of the Sultan's flag. The shape caught on all over the world. They lark the end of the age-old struggle between the hot-cross-bun and the croissant.
Truly, you learn something new every day. I had always assumed that the croissant was the product of unaided Gallic inspiration.