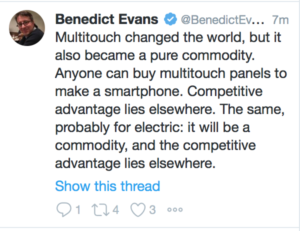 Ben Evans is one of the most perceptive observers of the tech industry.
When I bought my first Toyota Prius hybrid many years ago I marvelled at the engineering ingenuity that went into making hybrid tech so seamless. And then realised that (a) Toyota would license the drivetrain to other manufacturers and (b) the technology would eventually be commoditised. So now almost every car manufacturer offers hybrid models even though few of them actually developed the drivetrain themselves. It's Brian Arthur's model of technological innovation at work.
The iPhone — multitouch — analogy is useful. Most smartphones are not iPhones, but most of the profits from smartphones are currently captured by Apple. The big question for Tesla is whether — when electric cars become mundane — it can hold onto Apple-scale margins. In that context, you could say that Nissan — with its Leaf — might be the Samsung of the electric car business.