Fuchsia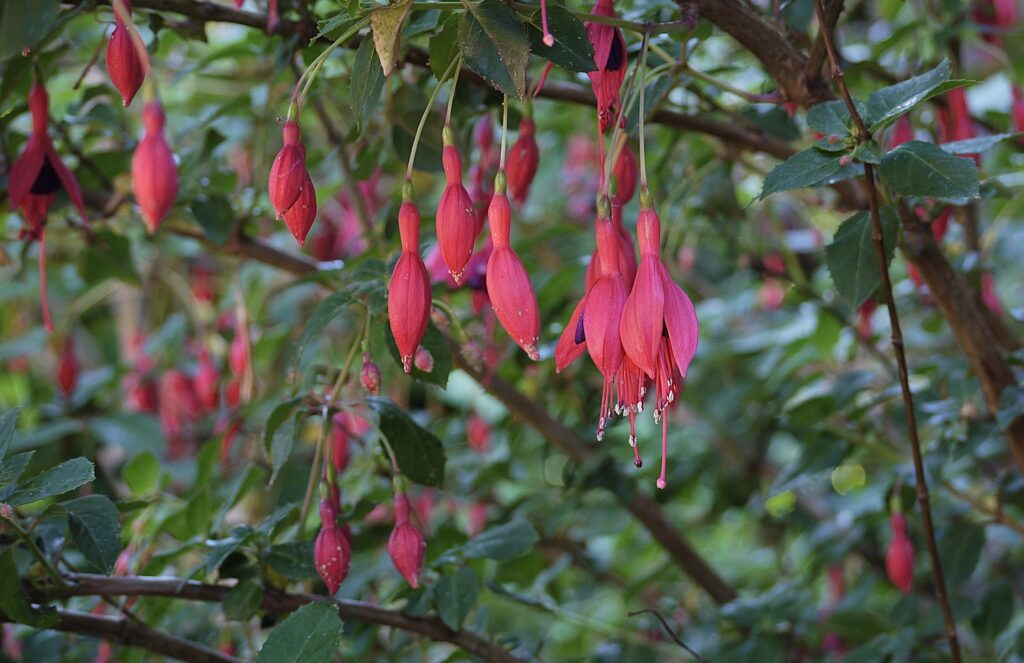 In the garden this afternoon.
---
Quote of the Day
A delight for crossword fiends and conspiracy theorists on subliminal messaging: "Stay alert, control the virus, save lives" is an anagram of "Easily survives travel north to castle".
---
Thoughts of the thoughtless
Eliot Weinberger's list of the slogans on the protestors wanting end to the lockdown:
Signs at the many protests at state capitols against the lockdown, where crowds wave Confederate and 'Don't Tread on Me' flags and (legally) carry assault rifles:

FAKE CRISIS
COVID-19 IS A LIE
MY RIGHTS DON'T END WHERE YOUR FEAR BEGINS
FAUCI IS NOT OUR PRESIDENT
MY BODY MY CHOICE
JESUS IS MY VACCINE
KEEP TEXAS FREE FROM TYRANNY
GIVE ME LIBERTY OR GIVE ME COVID-19
SOCIALISM SUCKS
SACRIFICE THE WEAK: REOPEN
ARBEIT MACHT FREI
I WANT A HAIRCUT

In the ten days after the Republican governor of Georgia, Brian Kemp, reopens gyms, spas, hair salons, tattoo parlours and other essential services, confirmed coronavirus cases in the state rise by 42 per cent.
---
Twitter taking on Trump's lies? About time too
My Observer column, out today:
In addition to washing your hands while singing the first two verses of The Internationale, it might be a good time also to clean out your Twitter feed. According to a recent report of a research study by Carnegie Mellon University's Center for Computational Analysis of Social and Organizational Systems, about 45% of the false narratives about Covid-19 on Twitter are sent by bots.

The study examined more than 100 false Covid narratives (including the 5G conspiracy theories) pushed in over 200m tweets since January. If you're a reader of this newspaper, the likelihood is that you never saw any of these. But that's because you are – like me – cheerfully encased in your own filter bubble. I write with feeling on this matter, because on the morning after the Brexit referendum I went through the list of about 800 people whom I follow on Twitter, and I could not locate a single one who seemed to have been in favour of Brexit in the run-up to the vote. The shock felt by them after the vote was palpable. But it was also a salutary reminder that anyone who uses social media lives in a digital echo chamber. … But bots are not the only problem facing Twitter…
---
War Economics and the Crisis: a Conversation between Adam Tooze and Nicholas Mulder.
It's long (80 minutes) but worth it if you want to get an historically-informed helicopter-view of what's going on.
---
A report from inside the track-and-trace fiasco
Wonderful piece in the Observer by a member of Johnson's "world-beating" track-and-trace team. Here's a sample:
The self-led courses were very basic – with some generic dos and don'ts about customer data, security and so on. I completed it all in less than one and a half hours, with a score of 95%+.

The next morning I was worried, and feeling very unprepared. I felt the job was an important thing to do. But it was essential to get this right, and I didn't really understand the role and how to use the systems. I logged in and saw a message saying I would be invited to a chatroom and to please wait.

I waited seven and a half hours (my entire shift). I called the HR helpline after about one hour and was told to relax – everyone is waiting.

The next day I was scheduled to work again. This time, I was invited to a chatroom. I recognised many of the names in the group from my training, so knew the other people were also new. Many people were writing, "Did anyone do anything yesterday?" "Do we just wait?" "What are we waiting for?"

The questions quickly turned to complaint, and we were left unsupervised for hours. A message then appeared asking us to complete our online training – which was met with a chorus of "I did the training". The day passed as we waited, re-attempted training, and wrote messages to supervisors and got no response. You get the drift. Don't fret. This operations will be running like clockwork by Christmas. If there is a Christmas, that is.
_____________________________________________________________ 
Quarantine diary — Day 72
---
This blog is also available as a daily email. If you think this might suit you better, why not subscribe? One email a day, delivered to your inbox at 7am UK time. It's free, and there's a one-click unsubscribe if your decide that your inbox is full enough already!
---