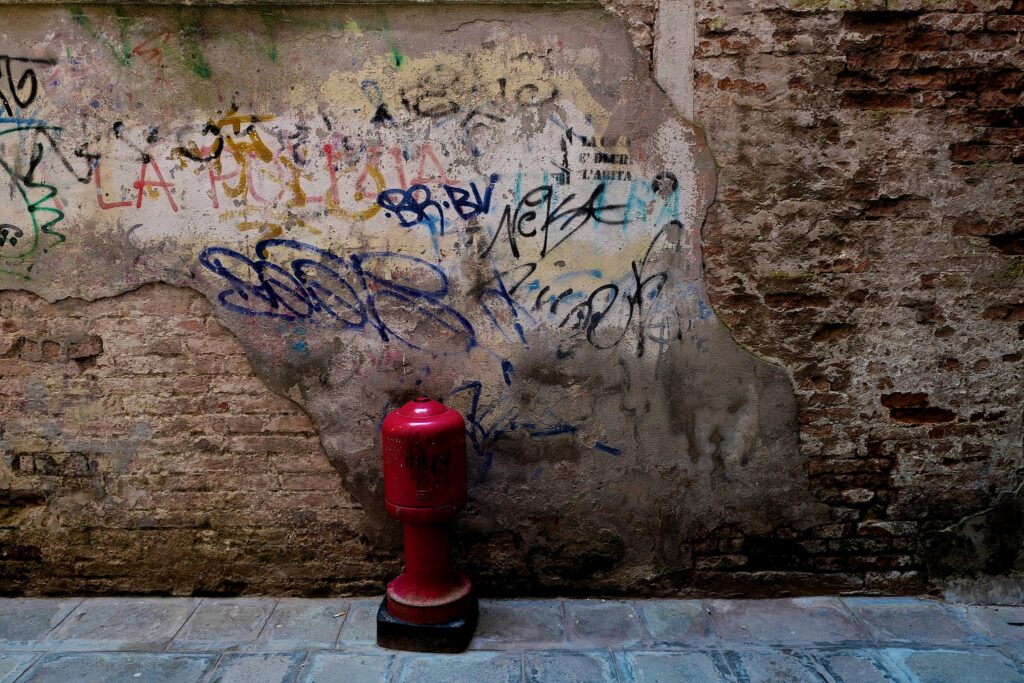 Fire hydrant, Venice, 2016.
---
Quote of the Day
"It's only the very young girl at her first dinner-party whom it is difficult to entertain. At her second dinner-party, and thereafter, she knows the whole art of being amusing. All she has to do is listen; all we men have to do is to tell her about ourselves."
There's real wisdom in that observation. I'm a reasonably sociable chap, but I hate receptions and what used to be called "cocktail parties". So I evolved a strategy for getting through them. I would find someone (generally a male) who wasn't engaged in conversation and introduce myself. Then I would ask him about himself — what did he do, where did he work, who were his colleagues, etc. He would happily oblige — and very rarely ask me any questions in return. After a while I discovered that this strategy had an interesting (and unexpected) side-effect. My involuntary interviewees often told third parties (who duly reported back to me) what an interesting chap I was.
When we come out of lockdown and I have to go to receptions again, I will of course, continue this practice. It never fails.
On a related tack… One of the most interesting women I've ever known was Patricia Cockburn, wife of Claud, the wonderful rogue journalist. When I was an undergraduate, she and Claud were very kind to me, and I sometimes came to lunch in Brook Lodge, their glorious, rackety, Georgian house just outside of Youghal in Co. Cork.
Patricia came from an Anglo-Irish family, the Arbuthnots, who were horsey, well-connected and pretty broke. They didn't send their girls to University on the grounds that a better strategy was to try to marry them off to rich Establishment dudes.
So Patricia was a deb, and was often invited to posh dinners. She once told me a great story about being a guest at a dinner of some posh cavalry regiment. She was seated next to a retired Indian Army colonel, a fierce, pop-eyed gent with a luxuriant moustache, who looked like an escapee from an Evelyn Waugh novel and who completely ignored her. Eventually, in an effort politely to gain his attention, she asked him if he would like some water, offering to pour some from the crystal jug placed between them.
"Never touch the stuff" snarled the Colonel, and turned away. Eventually, Patricia plucked up courage and said: "But Colonel, how do you wash your teeth?"
Again, he swivelled round like a gun turret. "A little light Sauterne, madam", he roared. The remainder of the dinner passed in total silence, at least on her part.
---
Musical alternative to the morning's radio news
Mark Knopfler | Brothers In Arms | Meistersaal, Berlin | 10 September 2007
---
Long Read of the Day
Your face is Not Your Own
Terrific essay by Kashmir Hill, who has in her time done great stuff on the dominance of tech companies, among other things. This piece is about the implications of the activities of a company called Clearview AI which has been hoovering up facial images on the Web.
The legal threats to Clearview have begun to move through the courts, and Clearview is preparing a powerful response, invoking the First Amendment. Many civil-liberties advocates fear the company will prevail, and they are aghast at the potential consequences. One major concern is that facial-recognition technology might be too flawed for law enforcement to rely on. A federal agency called the National Institute of Standards and Technology (NIST) periodically tests the accuracy of facial-recognition algorithms voluntarily submitted by vendors; Clearview hasn't participated. In 2019, the agency found that many algorithms were less accurate in identifying people of color, meaning their use could worsen systemic bias in the criminal-justice system. In the last year, three cases have been unearthed (none involving Clearview) in which police officers arrested and briefly jailed the wrong person based on a bad facial-recognition match. All three of the wrongfully arrested were Black men.

There's also a broader reason that critics fear a court decision favoring Clearview: It could let companies track us as pervasively in the real world as they already do online.
Facial recognition is a toxic and dangerous technology. This isn't just a speculative opinion on my part, btw. A good working model is on display every day in Mainland China.
---
Is online advertising about to crash, just like the property market did in 2008?
My Observer column today:
One of the most interesting developments of the past year or so was the revelation that serious outfits such as the UK Competition and Markets Authority were launching major investigations into the hidden, high-speed advertising auctions run by the social media platforms. This suggests that there's something rotten in there: the claims of the companies about the effectiveness of targeted advertising are, basically, too good to be true.

If so, then we are mugs to take them at their face value. And it's time to call their bluff. Which is exactly what Sinead Boucher, the CEO of Stuff, New Zealand's leading online news and media site, did. In March 2019, she decided to stop advertising on Facebook, a move that her peers regarded as crazy. "That action had zero effect on our traffic," she told a seminar at the Reuters Institute in Oxford. "We were prepared for a drop in our audience but it had zero effect. It made us realise we should think more about our decisions, instead of buying into the idea that you have to work with all the social media platforms."
Maybe the social media emperor has fewer clothes than we imagined.
---
This blog is also available as a daily email. If you think this might suit you better, why not subscribe? One email a day, delivered to your inbox at 7am UK time. It's free, and there's a one-click unsubscribe if your decide that your inbox is full enough already!
---