Analogue nostalgia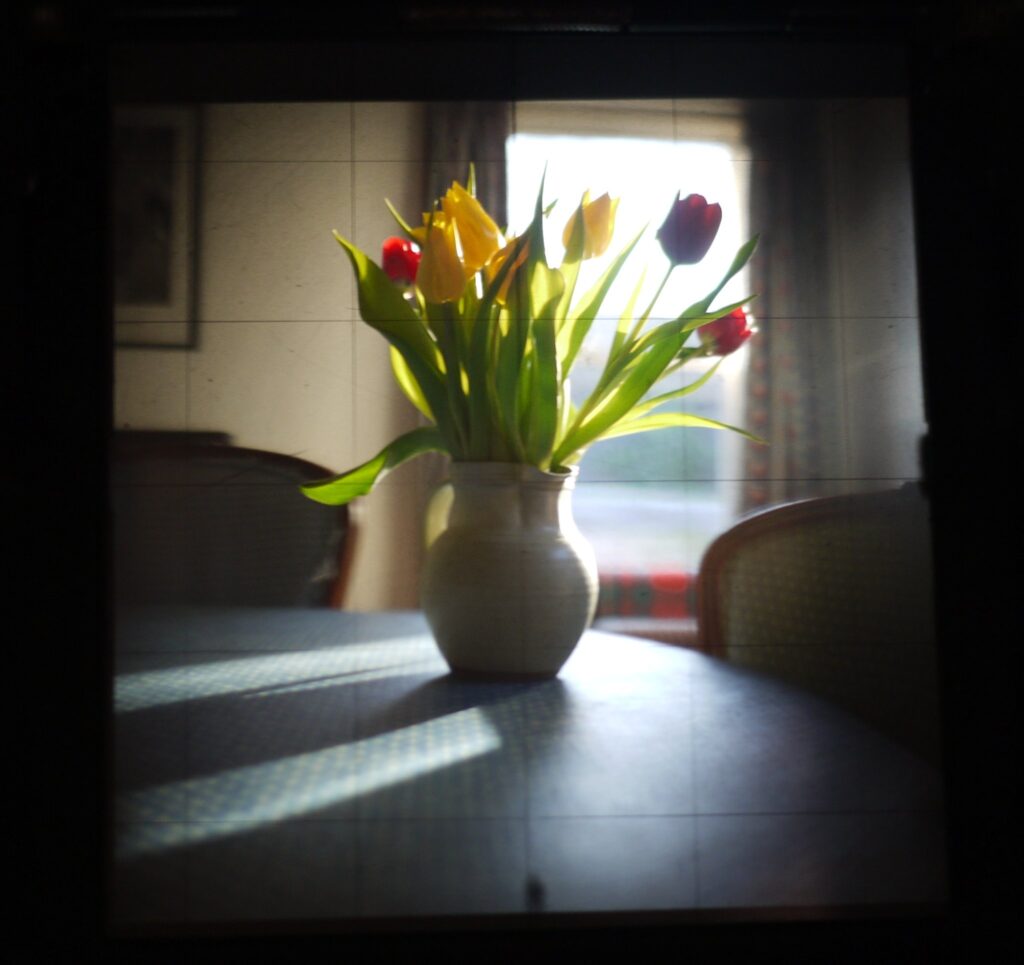 Flowers as seen on the ground-glass screen of a Rolleiflex by an iPhone.
---
Anniversaries and what they evoke
57 years ago today, JFK was assassinated. Like everyone else, I can remember exactly where I was when I heard the news.
Yesterday was the centenary of 'Bloody Sunday' (one of the two such Sundays in recent Irish history).
Here's an excerpt from the Wikipedia account of the event in 1920:
Bloody Sunday (Irish: Domhnach na Fola) was a day of violence in Dublin on 21 November 1920, during the Irish War of Independence. More than 30 people were killed or fatally wounded.

The day began with an Irish Republican Army (IRA) operation, organised by Michael Collins, to assassinate the "Cairo Gang" – a group of undercover British intelligence agents working and living in Dublin. IRA operatives went to a number of addresses and killed or fatally wounded 15 men. Most were British Army officers, one was a Royal Irish Constabulary (RIC) sergeant, and two were Auxiliaries responding to the attacks. At least two civilians were killed, but the status of some of those killed is unclear. Five others were wounded. The assassinations sparked panic among the British authorities, and many British agents fled to Dublin Castle for safety.

Later that afternoon, British forces raided a Gaelic football match in Croke Park. The RIC, supported by "Black and Tans", Auxiliaries, and British soldiers, were sent to carry out a cordon and search operation. Without warning, these forces opened fire on the spectators and players, killing or fatally wounding 14 civilians and wounding at least sixty others. Two of those killed were children. Some of the RIC claimed they were fired at, and this was accepted by the British authorities. All other witnesses said the shooting was unprovoked, and a military inquiry concluded it was indiscriminate and excessive. The massacre further turned Irish public opinion against the British authorities.
The other 'Bloody Sunday' was in January 1972. Here's the relevant excerpt from the Wikipedia page:
Bloody Sunday, or the Bogside Massacre, was a massacre on 30 January 1972 in the Bogside area of Derry, Northern Ireland, when British soldiers shot 26 unarmed civilians during a protest march against internment without trial. Fourteen people died: 13 were killed outright, while the death of another man four months later was attributed to his injuries. Many of the victims were shot while fleeing from the soldiers, and some were shot while trying to help the wounded. Other protesters were injured by shrapnel, rubber bullets, or batons, and two were run down by army vehicles. All of those shot were Catholics. The march had been organised by the Northern Ireland Civil Rights Association (NICRA). The soldiers were from the 1st Battalion, Parachute Regiment ("1 Para"), the same regiment implicated in the Ballymurphy massacre several months prior.
I've just watched the first episode of the new series of The Crown which opens with the murder, by the IRA, of Lord Mountbatten, a former Viceroy of India and Chief of the UK General Staff, who had a holiday house in County Sligo. That, plus the anniversary of the 1920 atrocity and memories of the 1972 one, led to two thoughts.
The first is the savagery of all of those three atrocities, and of the extent to which the 1972 massacre is still live in the memories of the people of Northern Ireland.
The second is a sense of wonder at the achievement of the Good Friday Agreement, which brought an end to the savagery.
And then I thought of the cavalier way in which Boris Johnson and the Brexiteers are putting that fragile agreement at risk with their brinksmanship over negotiations with the EU. Giving power to this bunch of jokers was like entrusting the care of a delicate clock to a monkey.
---
Musical alternative to the morning's radio news
Peter Carberry, Padraig McGovern, Seamus O'Kane | Brittany Winter School | 2015
Wonderful slow tune. Táimse im choladh is the first tune, I think.
---
Long read of the Day
The way we train AI is fundamentally flawed
TL;DR summary: The process used to build most of the machine-learning models we use today can't tell if they will work in the real world or not. And yet we're building a new world around them.
---
If you think Biden's administration will rein in big tech, think again
My Observer column this morning.
As readers of this column know only too well, section 230 of the 1996 US Telecommunications Act is the clause that exempts tech platforms from legal liability for anything that users post on their platforms. It's the nearest thing social media has to a kill switch. Pull it and their business models evaporate. Trump had been threatening to pull it before the election, but he lacked the attention span to be able to do anything about it. Biden, on the other hand, had already talked about it in January and would have people around him who knew what they were doing. So maybe we were going to get some real progress in getting tech giants under control.

And then he gets elected and what do we find? Biden's transition eam is packed withtech industry insiders. Tom Sullivan, from Amazon, is earmarked for the Department of State. Mark Schwartz, also from Amazon, is heading for the Office of Management and Budget, as are Divya Kumaraiah from Airbnb and Brandon Belford from Lyft, the ride-hailing company. The US Treasury gets Nicole Isaac from LinkedIn, Microsoft's department of spam, and Will Fields, who was Sidewalk Labs' senior development associate. (Sidewalk Labs was the organiser of Google's attempt – eventually cancelled – to turn Toronto's waterfront into a data-geyser for surveillance capitalism.) The Environmental Protection Agency, a body that Trump looted and sidelined, gets Ann Dunkin, who is Dell's chief technology officer. And so on.

Well, I thought, perusing this sordid list, at least there's nobody from Facebook on it. How innocent can you be?…
---
The pandemic has made us even more dependent on a highly invasive technological ecosystem
Terrific OpEd by Ron Deibert in the Globe and Mail on the way panic-stricken adoption of online systems has resulted in a massive step-up in the level and intrusiveness of surveillance technology. Here's how it begins:
My son is an undergraduate student at the University of British Columbia. Like many of his peers, he has seen his classes move online – and so have their exams.

Students in his program were recently required to consent to a remote exam invigilation software platform manufactured by a company called Proctorio. As with most tech companies, work-from-home measures and social isolation have been a boon to Proctorio: more than 2.5 million exams were proctored by the company in April, 2020, alone, a stunning 900-per-cent increase compared with April, 2019. Other companies in this space – such as ExamSoft, Examity and ProctorU – are enjoying similar surges in demand.

Once installed on a student's device, applications like Proctorio can monitor students' keystrokes, capture and record anything on their screens, track their web browsing, and even turn on cameras and microphones to record students' faces, their surroundings and ambient sounds for evidence of cheating. Proctorio's proprietary algorithms flag what it detects as "suspicious behavior" to faculty or teaching assistants (TAs) for follow up.

My son said using Proctorio made him feel "creeped out" and uncomfortable. Who can blame him?

It's one thing to have a TA strolling up and down the aisles of an exam room. It's quite another to force students to install spyware that tracks everything from their keystrokes to retina movements, sending that data down a mysterious black hole. Imagine having an omniscient, invisible robot looking over your shoulder, staring into your eyeballs, scrutinizing every movement, and scanning your bedroom – the entire time you're taking an exam. Who could concentrate in those conditions? And yet, he had no choice: The course makes it mandatory…
It's a great piece by a leading expert on the downsides of digital tech and in particular the surveillance it enables. And it highlights the way the institutional panic triggered by Covid has led universities — and employers, and other organisations everywhere to install and become reliant on tech that would be totally unacceptable in pre-pandemic times.
Well worth reading in full.
---
Coming soon to a store near you: the British government's first disaster of 2021. A food shortage
Terrific piece by George Monbiot.
A few days ago, I carried out a small experiment. I sent almost identical requests to two government departments.

I asked the business department whether the UK holds strategic oil reserves. Yes: the UK keeps stocks equivalent to 90 days of net imports. I asked the environment department whether the UK holds strategic food reserves. No: they aren't necessary, because "the UK has a highly resilient food supply chain". The government treats oil as a strategic asset but food as a matter for the market.

So what happens if our "highly resilient food supply chain" breaks after Brexit transition, on 1 January? It won't, the government promised. "Our risk assessments show there will not be an overall shortage of food in the UK," whether or not there's a deal. But when I pressed it to show me these risk assessments, the plural turned out to be misleading. There's just one assessment: a "reasonable worst-case scenario" for the UK's borders.

This is grim enough. It suggests that the flow of freight through the ports could be reduced by between 20% and 40%, while trucks travelling in either direction could be delayed by up to two days: a big problem for fresh food.

So far, so bad. But the UK's border is only one link in the food supply chain, and it may not be the weakest.
The UK currently imports over 60% of its food, much if not most of it from the EU. And it turns out that the country is now chronically short of warehousing capacity — partly due to the pandemic and partly to restocking by companies in the hope that there's a Christmas retail boom.
And the trouble is that it's hard to stockpile, say, onions, tomatoes or salad — three of the things that we get from Europe.
---
This blog is also available as a daily email. If you think this might suit you better, why not subscribe? It's free. One email a day, delivered to your inbox at 7am UK time. And there's a one-click unsubscribe link if you decide that your inbox is crowded enough already!
---