Shoppers?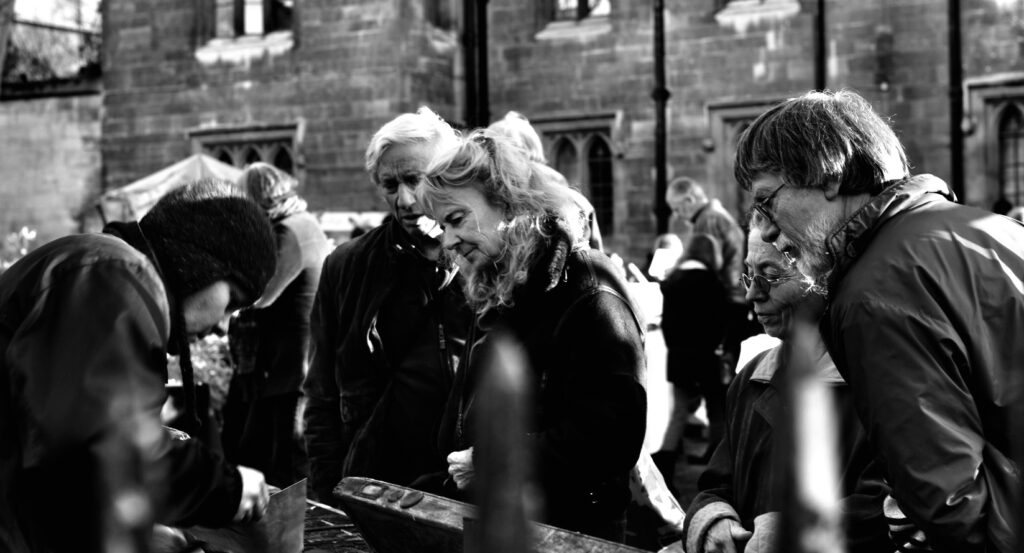 At a Christmas market (remember them?) some years ago.
---
Quote of the Day
"I understand your desire for disruption, but I am tired of picking up the pieces. Over and over, I have to glue together the cups you have broken so we can sit down and take tea together."
Angela Merkel to Emmanuel Macron (as reported in the New York Times)
---
Musical alternative to the morning's radio news
David Lindley & Ry Cooder | The Promised Land
Wow!
---
How two Irish brothers started a £70bn company you've probably never heard of
This morning's Observer column
The most valuable private company in Silicon Valley is an outfit most people have never heard of – unless they are a) Irish or b) tech investors. It's called Stripe, and this week the latest round of investments in it have given it a valuation of $95bn (£68.5bn). It was founded in 2010 by two smart young lads from rural Ireland – the brothers John and Patrick Collison – who were then aged 19 and 21 respectively. The latest valuation of their company – based on a recent investment of $600m from investors including Ireland's National Treasury Management Agency, Fidelity and Sequoia Capital – means that each now has a net worth on paper in the region of $11.5bn.

The Collisons hail from Dromineer, a small town on the shores of Lough Derg in County Tipperary. When they were growing up it was too remote to have an internet connection, and initially the only way they could get decent broadband was via an expensive satellite link. In some ways they look like young prodigies from central casting. As a teenager, Patrick discovered Lisp, the programming language that was once the lingua franca of early AI programmers, and used it to create a conversational system that won him Ireland's young scientist of the year award in 2005, at the age of 16. His brother, two years younger, got the highest scores ever recorded in the Irish school leaving certificate.

When John was 15 and Patrick 17, they launched their first startups…
Do read the whole thing.
Incidentally… I don't know much about John, but Patrick Collison is a really interesting guy. See, for example, the reading list on his blog. Or his remarkable conversation with the economist Tyler Cowen. Silicon Valley hasn't produced many intellectuals, and many of those who aspire to the title are just miming profundity or apeing Peter Thiel. (See What Tech Calls Thinking by Adrian Daub for an entertaining takedown of Valley pretensions in this respect.) But Patrick Collison looks to me like the real deal.
---
Long Read of the Day
Underestimating the Challenges of Avoiding a Ghastly Future Link
This is really sobering, even for someone (like me) who is sceptical about our species's capacity to avoid the coming catastrophe.
Here's the TL;DR summary:
We report three major and confronting environmental issues that have received little attention and require urgent action. First, we review the evidence that future environmental conditions will be far more dangerous than currently believed. The scale of the threats to the biosphere and all its lifeforms—including humanity—is in fact so great that it is difficult to grasp for even well-informed experts. Second, we ask what political or economic system, or leadership, is prepared to handle the predicted disasters, or even capable of such action. Third, this dire situation places an extraordinary responsibility on scientists to speak out candidly and accurately when engaging with government, business, and the public. We especially draw attention to the lack of appreciation of the enormous challenges to creating a sustainable future. The added stresses to human health, wealth, and well-being will perversely diminish our political capacity to mitigate the erosion of ecosystem services on which society depends. The science underlying these issues is strong, but awareness is weak. Without fully appreciating and broadcasting the scale of the problems and the enormity of the solutions required, society will fail to achieve even modest sustainability goals.
But if you have time, it's worth reading the whole thing.
(I sometimes think that what we need is a theory of incompetent systems — i.e. ones that can't fix themselves.)
---
Books of the Week
It's been an extraordinary week, with four interesting books hitting the shelves.
Value(s): Building a Better World for All by the former Governor of the Bank of England, Mark Carney. Will Hutton gave it a near-rave review today.
If 25 years ago anyone had suggested that one of the world's most prominent ex-central bankers would launch an intellectual broadside at free market fundamentalism for shredding the values on which good societies and functioning markets are based, I would have been amazed. If, in addition, it was suggested he would go on to argue that stakeholder capitalism, socially motivated investing and business putting purpose before profit were the best ways to put matters right, I would have considered it a fairy story.
Me too.
Many Different Kinds of Love: A Story of Love, Death and the NHS by Michael Rosen. Reviewed by Kate Kellaway.
With a writer's ability to extract something from misfortune, he has become Covid-19's frontline spokesperson, go-to survivor, man who nearly did not make it. It is not a role anyone would gladly choose. He has been interviewed on television, been the subject of Radio 4's The Reunion, has written newspaper articles and now this book. Even at the beginning of the pandemic, Rosen was interviewed on Radio 4's Today programme in reaction to a tweet in which he protested that older people's lives were being undervalued. What he did not know then was that he had already contracted Covid-19 himself.
Invisible Walls: A Journalist in Search of her Life by Hella Pick.
Reviewed by Fergal Keane. The story of how a girl — number 4672 — who arrived in Britain on the Kindertransport that brought around 10,000 Jewish children to safety in Britain after Kristallnacht, turned into one of the world's great foreign correspondents. Her voice, Keane says, "from before the age of Facebook and Twitter is profound and urgent." As someone who read her as since I was an undergraduate in the Sixties, I know just what he means.
Helgoland by Carlo Rovelli, an Italian theoretical physicist who makes a brave attempt to explain quantum mechanics. Brave man. But Rovelli has form. His collection of essays, Seven Brief Lessons on Physics sold over a million copies and is one of the best-selling science books ever.
My bedside reading list just got longer. Sigh.
---
This blog is also available as a daily email. If you think this might suit you better, why not subscribe? One email a day, delivered to your inbox at 7am UK time. It's free, and there's a one-click unsubscribe if your decide that your inbox is full enough already!
---