The Joy of Six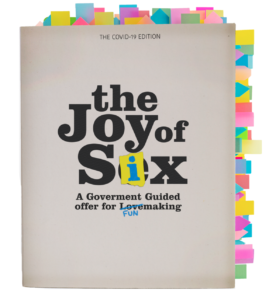 Nice tribute to Alex Comfort's great 1972 bestseller
---
Quote of the Day
"A report from the Centers for Disease Control and Prevention found that 11 per cent of people in the US had contemplated suicide during the June spent in lockdown (up from 4.3 per cent in 2018). Among those aged 18-24 it was 26 per cent."
Gillian Tett, writing in today's Financial Times.
---
Musical alternative to the morning's radio news
Handel: Silent Worship – Somervell's arrangement of Handel's aria Non lo dirò col labbro from his opera Tolomeo, performed by Mark Stone (baritone) and Stephen Barlow (piano).
---
This is how Jonathan Swift would be writing about Johnson & Co
Wonderful column by Marina Hyde. Sample:
Do you remember Ye Olde Operation Moonshotte, an ancient promise by the elders of this government to test 10 million people a day? My apologies for the leading question. There are absent-minded goldfish who remember that figure, given it was announced by Boris Johnson's government barely three seconds ago. The only representative of the animal, vegetable and possibly mineral kingdoms who doesn't remember it is the prime minister himself, who on Wednesday told a committee asking him about it: "I don't recognise the figure you have just given." Like me, you probably feel grateful to be governed by a guy whose approach to unwanted questions is basically, "New phone, who dis?"

Like me, you will be reassured by Matt Hancock's plan to throw another "protective ring" around care homes. What's not to fear about a Matt Hancock ring, easily the most dangerous ring in history, including Sauron's Ring of Power. Guardian Today: the headlines, the analysis, the debate – sent direct to you Read more

Like me, you are probably impressed that the government is ordering you to snitch on your neighbours for having seven people in their garden, while whichever Serco genius is running testing as a Dadaist performance piece about human futility gets to live in the witness protection programme. Shitness protection programme, whatever.

Speaking of which, like me, you probably feel relaxed to learn that Chris Grayling, who notably awarded a ferry contract to a firm with no ferries, is now to be paid £100,000 a year for seven hours work a week advising a ports company. When I read this story I imagined his aides pulling a hammer-wielding Grayling off the pulped corpse of Satire, going: "Jesus, Chris! Leave it – it's already dead! We need to get out of here!"
Terrific stuff. Made my day. And I hope yours, after you've read it.
---
American colleges are the new Sweden
From Politico's newsletter…
Now there's a new Sweden to study: American college campuses. Watching thousands of students gather in classes, in dorms, and in social settings is providing another laboratory for epidemiologists.
Here's what they're learning:
Herd immunity won't save us anytime soon. More than 88,000 people have been infected across about 1,200 college campuses. That's a fraction of the country's total student population of 20 million. About 60 people have died, mostly college employees.

Experts believe that herd immunity will kick in when about 70 percent of the population is infected — assuming an initial infection provides lasting immunity, which scientists still aren't sure about.

"It is almost impossible to imagine a college campus will get to herd immunity," said Howard Forman, a health policy professor at the Yale School of Management, who is leading a team that rates college Covid dashboards.

Asymptomatic exposure is a real problem. College students are carrying Covid without symptoms and then spreading it to the general population, who are then getting sick at much higher rates than the students are.

"When I talk to a lot of colleges and universities, the biggest concern is fear of downstream health in the general population," said Ramesh Raskar, an associate professor at MIT Media Lab, which has been developing contact tracing apps and other technology to contain Covid. "We always suspected asymptomatic transfers but now see they are real. It is frightening."

Social distancing has been more clearly defined. There's still been a lack of clarity about what counts as close physical contact. Colleges are showing how the calculation is more involved than just remaining six feet apart and staying outdoors.

"Before colleges opened, close contact meant going to a barber or people in a meat factory together or going to a senior care center," Raskar said. "Now it's more complex." Cases are spreading at outdoor events if people spend prolonged periods in proximity, without masks. NYU suspended 20 students for throwing a party in Washington Square Park.

Telling people what to do isn't enough. Trying to force students to follow rules by issuing strict guidelines and handing out punishments isn't keeping them from spreading Covid. Education, awareness and clear public health messaging about the importance of wearing masks, downstream risks to vulnerable populations and the contagiousness of the disease has proven to be far more effective at containing Covid, Raskar said.

The campuses that are doing well are in areas without much community spread, Forman said. They also have the money to conduct widespread testing and have students who are highly compliant with guidelines. Just a handful of non-compliant students threaten an entire college reopening plan. The University of Illinois had a comprehensive Covid plan and even accounted for parties, but a dozen students who failed to isolate after testing positive for Covid sparked an outbreak.
The UK is about to discover if these lessons also apply here.
---
"It turns out that human nature is awful and the algorithms have figured this out, and that's what drives engagement."
This is a quote from a Berkeley computer scientist who, with a machine-learning expert, Guillaume Chaslot, in 2016-17 ran a web-scraper on YouTube for 15 months looking for how often the site recommended conspiracy videos. They found the frequency rose throughout the year; at the peak, nearly one in 10 videos recommended were conspiracist fare.
In comes in "YouTube's Plot to Silence Conspiracy Theories", an interesting Wired piece by Clive Cookson who — as far as I know — in the first journalist allowed inside YouTube's growing effort to curtail or counteract the radicalising impact of its recommender algorithms.
It's a long read, but worth it. And it starts with — what else? — a flat earth conspiracy theorist who business was ruined by tweaks in YouTube's recommender algorithm!
---
This blog is also available as a daily email. If you think this might suit you better, why not subscribe? One email a day, delivered to your inbox at 7am UK time. It's free, and there's a one-click unsubscribe if you decide that your inbox is full enough already!
---