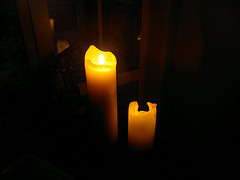 It's Christmas Eve and I've finally come to rest. What shopping isn't done now will have to remain undone. In a few minutes I will light a fire and settle down to read through a pile of New Yorkers that have been piling up through December. But the radio's on and the Festival of Nine Lessons and Carols from King's College down the road has just begun and, without warning, it plunges me into reflective mood.
I remember, for example, the first Christmas Carol and I spent in Cambridge — in 1968. We'd come as graduate students and had heard of the King's Service, of course, so we resolved to attend. But something like two hundred other souls had had the same idea before us, so after an hour queuing in the freezing East Anglian wind we thought better of it and repaired to the warmth of the Copper Kettle cafe on the other side of King's Parade. To the end of her life, Carol remained fascinated by the service, sometimes managing to get a ticket through a friend who was a Fellow of King's but more often settling down to listen to the radio broadcast at this time every Christmas Eve. And, of course, this is when I always think of her, and wish she had lived to see our first grandson, who is blissfully oblivious to all this adult angst.
Another memory: of a Christmas Eve in the 1950s. We're living in Donegal, in a small but cosy house that was then in the country and now is on the outskirts of the town. The house is decorated, fairly sparsely. The fairy lights on the tree were being temperamental — as they always were. My mother is in the kitchen, baking. Then suddenly a crash and an anguished cry. We rush into the kitchen and there is the christmas cake in bits on the tiled floor. And Ma in tears.
My father worked in the Post Office, and this was the busiest time of his year. On Christmas Eve after the sorting office closed he would take some of his colleagues to the pub and then come home for tea — served in the dining room rather than in the kitchen, with a proper tablecloth and stuff. This year, he's later than usual, and when he arrives he's holding a large hinged case made of polished wood. Upon opening it we find that it's a gramophone. Well, almost: it's actually a turntable. It needs an amplifier and speakers, but Da didn't know that when he bought it. But we discover by experimentation that we can connect it up to our Bush radio — which enables us to hear what's on the vinyl discs — provided nobody breathes too loudly.
I still remember the first vinyl discs we owned: recordings of This Old House, How Much Is That Doggy in the Window and Bing Crosby singing A White Christmas. (Ours was not an intellectual household.) But the frustrations engendered by that first turntable had an unexpected outcome: they kindled an interest in electronics which eventually saw me becoming an electrical engineer. And to building my own stereo rig when I was a student.
I've often thought that the reason I dislike Christmas go back to childhood. I associate the season with feelings of disappointment, of hopes and dreams unfulfilled, of our mundane domestic reality not conforming to some media-borne ideal (the most dramatic realisation of which was in the fantastic opening scenes of Bergman's Fanny and Alexander). It may also have had something to do with the fact that, even as children, an alternative version existed. My maternal grandparents were prosperous, lived in an expansive style with a large family and generally seemed unconcerned by the things that worried my parents (who had to live on my father's modest salary). Some years we spent Christmas with them, which meant travelling to Mayo, where they lived.
Because of Da's work commitments, that meant that we always travelled late on Christmas Eve. So one of my abiding memories of this day is of snuggling down under a rug in the back of the car with my siblings (and the family dog), speeding through a dark, silent, deserted countryside and looking out for farmhouses as we went. Why? Because in the window of every house there would be a single lighted candle. My mother (a devout Catholic) explained the custom in terms of 'the star of Bethlehem': our fellow-countrymen were signifying the impending birth of Christ. But to us the candles seemed to serve a far more useful purpose: as landing lights for Santa.
Photograph by Irish Typepad