Here's an instructive story:
Just three months after launching Facebook Live to all users, Mark Zuckerberg decided to go big, realizing in a February meeting that the company should make Live a top priority. A BuzzFeed story on Live tells us what happens next, quoting Facebook Media's product lead Fidjij Simo:

"The original Live team was composed of only a dozen or so people. But the vision laid out for the product at that February meeting would require more than 100 engineers to build. 'The meeting was on a Thursday, and on Monday, [Facebook Media engineering lead Maher] Saba and I were standing in front of 150 engineers,' said Simo."

From 12 engineers to 150 in less than a week. That's the new pace of the media business.
Now here's another instructive question: how many engineers are working on the iPhone camera?
50?
150?
Nope. At the moment, there are 800 engineers working just on the camera.
Which leads me to wonder how many people work in the R&D divisions of Nikon and Canon?
See what conventional companies are up against?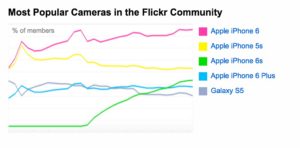 At present, the most popular cameras among Flickr users are all iPhone models. By a mile.