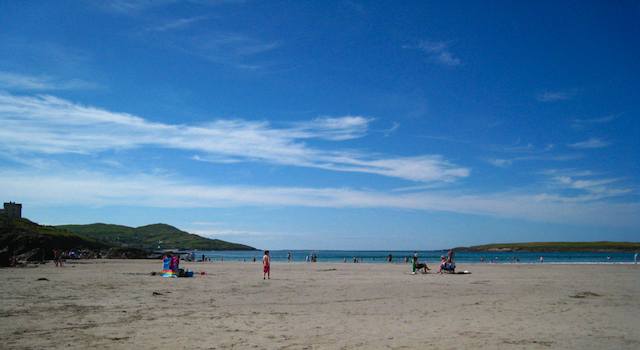 This is where I spent last Sunday — on the beach at Naran. There were all kinds of exciting proposals for what we should do that day, and the others went off on cycle rides and other energetic pursuits. But I just got a folding chair and a book and sat on the beach. And, in the end, I didn't do much reading, but simply sat there watching and listening and drinking in the scene.
I fell to wondering what it is that is so satisfying about beach holidays. Partly it's because they're perfect for families with young children — especially when the beach is as gentle and safe as this. At one stage a nice young couple and their toddler arrived and came past me. The child had clearly just begun to walk, and I watched, enthralled, as she tottered determinedly, hands outstretched, towards the sea with her proud (and slightly anxious) parents following in her wake. And I remembered how Sue and I used to sigh with relief when we came on such a place when our children were young: we could set up a base with rugs and towels and drinks and the kids could roam without us having to worry about their safety. We could even snatch a moment or two to read, or just to talk quietly together. But now the kids are grown up and independent, and still I choose to be here. Why?
One answer is that this is what I craved when I was a child myself. I envied families who had seaside houses. But my parents weren't ones for beach holidays. They believed in shuttling from relative's house to relative's house over the holiday period. Given that they both came from large families, this made for a lot of time on the move. In fact, the only time I can ever remember a long period on a beach with them was a blissful June day we spent at Portnoo — the next beach along this Donegal coast — when I was seven or eight. I remember the water being temperate (and the waves gentle, as they were last Sunday), the sandwiches delicious, and tea (brewed on a Primus stove) tasting like tea never tasted at home. And because it's light until nearly 11pm in June in this part of the world, the day seemed to go on forever. I remember thinking that this is how I always wanted summers to be. But they never were.
Until now. However, I reflected, getting up to fetch a (delicious) cup of tea from the cafe at the end of the rudimentary promenade, better late than never.