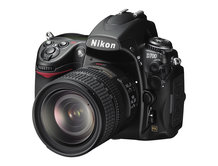 Nikon's first full-frame DSLR is the D3, an interesting camera for which a mortgage is required (it launched at £3,000 and the best online price I've seen is about £2550). But now Nikon has muddied the waters by launching the D700 which effectively is a lightweight version with the same image-capture and processing technology.
Working in low-light conditions the D700 is impressive, shooting up to ISO 6400 and delivering virtually noise-free images, according to its makers.

Continuous shooting can be done 8fps with the appropriate battery pack, while autofocus is done to precision with a 51-point AF system.

As Nikon has made its DSLR range easier to carry, it has taken on board that people may want to shoot in less-than perfect conditions, so the company has added a seal to the camera that protects it from moisture, dust and even electromagnetic interference.

The sensor is also protected with an Integrated Dust Reduction System that stops the CMOPS chip from coming into contact with dust and humidity.
The D700 official price is £1,999, so I guess it will be £1,500 on the web before too long. Makes me wonder what Nikon is up to: surely it will cannibalise D3 sales?
Deep waters, Holmes, eh?