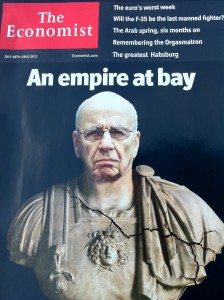 The front cover of today's UK edition of The Economist.
Now let me get this straight.
1. Yesterday, July 14, the Digger gave an interview to the Wall Street Journal (one of his media properties) in which he declared that News Corporation has handled the #hackgate crisis "extremely well in every way possible," and had made just "minor mistakes."
2. Today, July 15, he meets the parents of Milly Dowler, the murdered teenager whose mobile phone was hacked by his goons. According to the Daily Telegraph report of the meeting,
The media mogul held his head in his hands as he repeatedly apologised to Milly's parents Sally and Bob and sister Gemma and said "this never should happened", the family's lawyer said.

Speaking outside the central London hotel where the hastily-arranged meeting took place, Mark Lewis said: "He was humbled to give a full and sincere apology to the Dowler family.

"I don't think somebody could have held their head in their hands and said sorry so many times."
What links these two contradictory stories?
Simple. On June 14, News Corporation hired Edelman, a global PR company, to try to dig the Murdochs out of the hole they were busily excavating for themselves. As NBC Chicago reports it:
A large public relations firm co-based in Chicago has been hired by Rupert Murdoch's News Corporation to help it manage its way through the ongoing phone-hacking scandal.

"Edelman has been retained by the Management and Standards Group at News Corp to provide communications support and Public Affairs counsel," confirmed Cheryl Cook, the agency's Executive Vice President and Director of Media Services.

No U.S.-based Edelman office will be doing any work for News Corp. All activity will be come from Edelman's London office, said Cook.
The hypocrisy implicit in the Digger's volte face is staggering. But what is truly nauseating is the way the Dowlers are being exploited by the Murdochs for the second time. First their daughter's phone is hacked by News Corporation's employees in order to increase sales of his publications. Now they are being used as passive stooges for the Digger's PR-driven 'fightback'.
It's pass-the-sickbag time, folks. It's hard to imagine anyone being taken in by this cant. But then an awful lot of people used to buy The News of the World.