Anyone for cricket?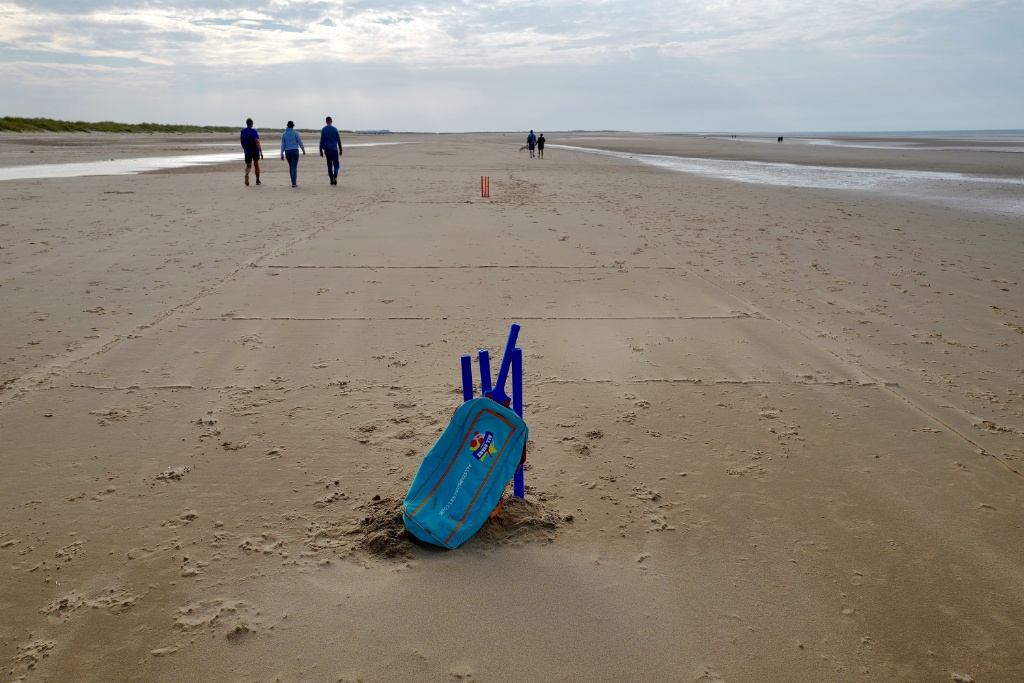 Seen on Brancaster beach on Friday.
---
Quote of the Day
"If work's so great, why don't the rich do it?"
---
Musical alternative to the morning's radio news
Christine McVie | Songbird | Fleetwood Mac Rumours
This was a favourite of my beloved Sue, who died at the end of August 20 years ago. I'm still ambushed every time I hear it.
---
Long Read of the Day
 Why the Tory project is bust
Perceptive essay from by playwright David Hare that was written in 2016. He starts with his early play, Knuckle:
Knuckle was a youthful pastiche of an American thriller, relocating the myth of the hard-boiled private eye incongruously into the home counties. Curly Delafield, a young arms dealer, returns to Guildford in order to try and find his sister Sarah who has disappeared. But in the process he finds himself freshly infuriated by the civilised hypocrisy of his father Patrick Delafield, a stockbroker of the old school. In the play father and son represent two contrasting strands in conservatism. Patrick, the father, is cultured, quiet and responsible. Curly, the son, is aggressive, buccaneering and loud. One of them sees the creation of wealth as a mature duty to be discharged for the benefit of the whole community, with the aim of perpetuating a way of life that has its own distinctive character and tradition. But the other character, based on various criminal or near-criminal racketeers who were beginning to play a more prominent role in British finance in the 1970s, sees such thinking as outdated. Curly's own preference is to make as much money as he can in as many fields as he can and then to get out fast.
But then comes the punch that knocked me out.
The first thing to notice about my play is that it was written in 1973. Margaret Thatcher was not elected until six years later. So whatever the impact of her arrival at the end of decade, it would be wrong to say that she brought anything very new to a Tory schism that had been latent for years…
It's a great, impassioned, prescient essay. Do give it your time.
(I've always thought that it was wrong to regard Thatcher and Ronald Reagan as prime movers of the neoliberal turn. I saw both of them as just cheerleaders for a wave that was already breaking. I still think this was true for Thatcher, but having read Gary Gerstle's magnificent Rise and Fall of the Neoliberal Order I've come to think that Reagan really was a prime mover.)
---
How tech firms can penalise the innocent
Yesterday's Observer column:
Here's a hypothetical scenario. You're the parent of a toddler, a little boy. His penis has become swollen because of an infection and it's hurting him. You phone the GP's surgery and eventually get through to the practice's nurse. The nurse suggests you take a photograph of the affected area and email it so that she can consult one of the doctors.

So you get out your Samsung phone, take a couple of pictures and send them off. A short time later, the nurse phones to say that the GP has prescribed some antibiotics that you can pick up from the surgery's pharmacy. You drive there, pick them up and in a few hours the swelling starts to reduce and your lad is perking up. Panic over.

Two days later, you find a message from Google on your phone. Your account has been disabled because of "harmful content" that was "a severe violation of Google's policies and might be illegal"…
---
My commonplace booklet
Lovely blog post by Quentin (Whom God Preserve) about a misguided road sign he noticed in Hay-on-Wye.
---
This Blog is also available as a daily email. If you think that might suit you better, why not subscribe? One email a day, Monday through Friday, delivered to your inbox. It's free, and you can always unsubscribe if you conclude your inbox is full enough already!
---