Fuchsia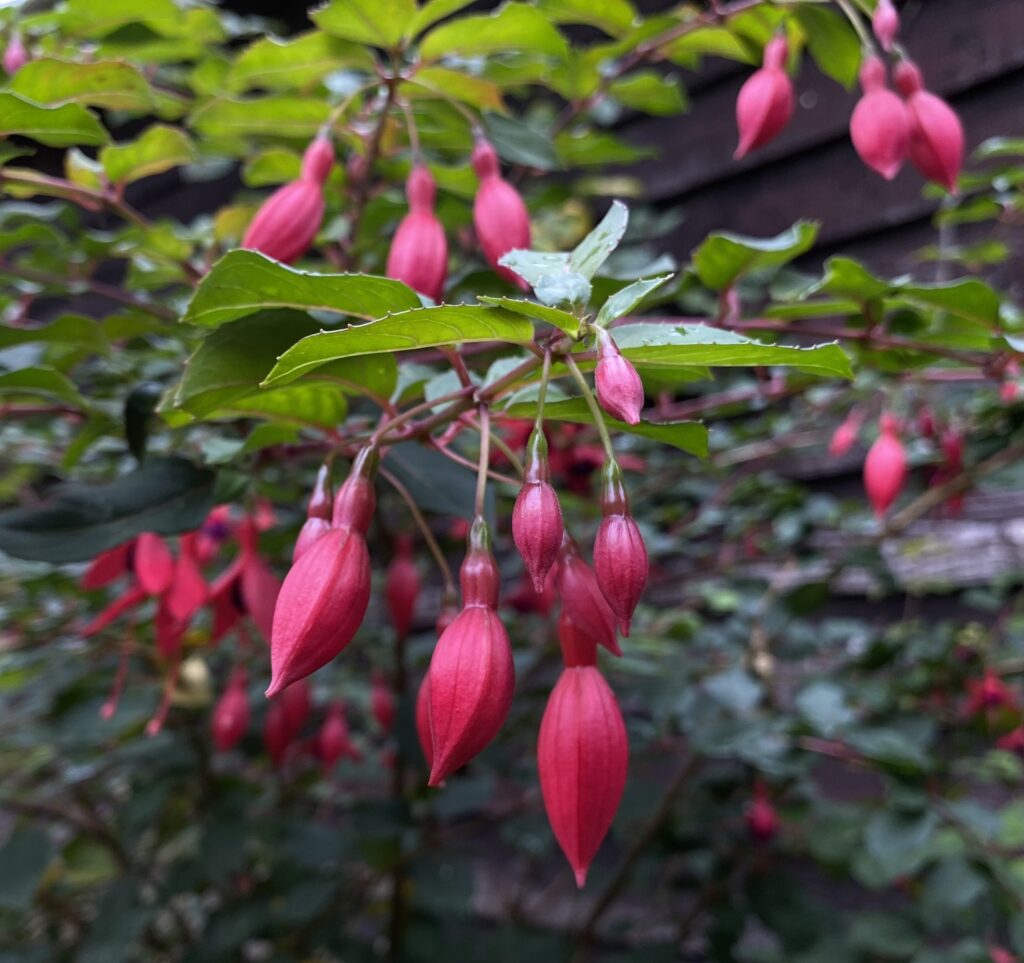 My favourite plant. Still going strong in the front garden.
---
Quote of the Day
Dominic Cummings on working with Boris Johnson:
"One morning in mid-January he called me into his study.
Johnson: Dom, I want to run something by you.

Do you think it's OK if I spend a lot of time writing my Shakespeare book?

Cummings: What do you mean?

Johnson: This fucking divorce, very expensive. And this job. It's like getting up every morning pulling a 747 down the runway. (Pause) I love writing, I love it, I want to write my Shakespeare book.

Cummings: I think people expect you to be doing the PM's job, I wouldn't talk to people about this if I were you…
You get the idea. Within a month of the election he was bored with the PM job and wanted to get back to what he loves while shaking down the publishers for some extra cash."
---
Musical alternative to the morning's radio news
The Wailin' Jennys | The Parting Glass
A favourite end-of-the-evening song in my part of the world. And if you want to hear what it sounds like at the end of a really big evening, try this.
---
Long Read of the Day The pandemic and the chronic erosion of trust
A fascinating Tweetstream by Michael Bank Petersen.
Public support for governments is decreasing across the democratic world. This is driven by voter fatigue with restrictions that drag on and on. Such fatigue is a major explanation of increasing radicalisation…
And so the argument builds.
This is an adroit use of Twitter to outline a complicated argument. The end-point is that if countries try to compel vaccination or to quarantine the unvaccinated (as, say, Austria is apparently doing now) then the political backlash could turn really nasty.
Not such a long read. But it gives one a different perspective on things..
---
DeepMind crunches the numbers – but is it really a magic bullet?
My column in yesterday's Observer:
The most interesting development of the week had nothing to do with Facebook or even Google losing its appeal against a €2.4bn fine from the European commission for abusing its monopoly of search to the detriment of competitors to its shopping service. The bigger deal was that DeepMind, a London-based offshoot of Google (or, to be precise, its holding company, Alphabet) was moving into the pharmaceutical business via a new company called Isomorphic Labs, the goal of which is grandly described as "reimagining the entire drug discovery process from first principles with an AI-first approach".

Since they're interested in first principles, let us first clarify that reference to AI. What it means in this context is not anything that is artificially intelligent, but simply machine learning, a technology of which DeepMind is an acknowledged master. AI has become a classic example of Orwellian newspeak adopted by the tech industry to sanitise a data-gobbling, energy-intensive technology that, like most things digital, has both socially useful and dystopian applications.

That said, this new venture by DeepMind seems more on the socially useful side of the equation. This is because its researchers have discovered that its technology might play an important role in solving a central problem in biology, that of protein folding.

Proteins are large, complex molecules that do most of the heavy lifting in living organisms…
---
My commonplace booklet
Eh? (See here)
Think Robots can't dance? Boston Dynamics taught its robodogs to mimic the Rolling Stones on stage.
---
This Blog is also available as a daily email. If you think that might suit you better, why not subscribe? One email a day, Monday through Friday, delivered to your inbox. It's free, and you can always unsubscribe if you conclude your inbox is full enough already! 
---