Cyclists ahoy!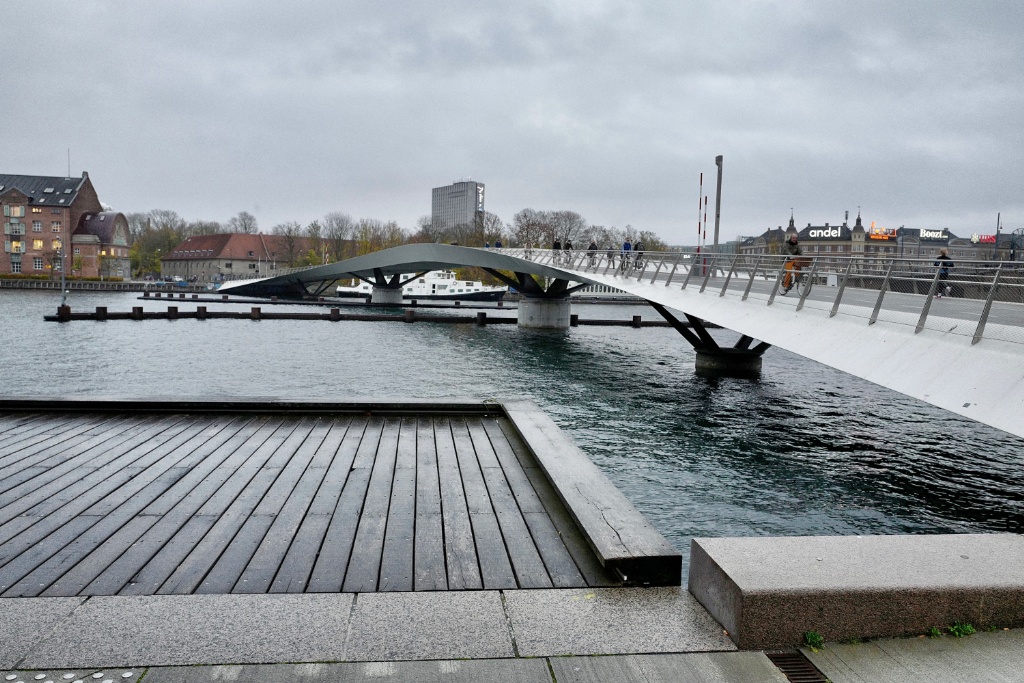 Copenhagen is one of the most liveable cities in the world, IMO. The first thing that strikes one in the morning is the astonishing number of cyclists commuting to work, school and elsewhere. It makes Cambridge look like toytown. The second striking thing is the remarkable infrastructure the city has built to make cycling easy and safe.
This bridge, the Lille Langebro (literally, "Little Long Bridge") is one of the newer pieces of that infrastructure. It's beautiful, imaginative and quirky. And it can be opened for shipping on the few occasions when that's necessary. When I first came on it last Thursday I stood transfixed as the morning rush of two-wheelers flowed off it.
---
Quote of the Day
"Thou shalt not sleep with anyone who has more problems than you."
One of the 'Ten Commandments' of screenwriting coach Robert McKee
---
Musical alternative to the morning's radio news
Franz Schubert | Nacht und Träume | Renée Fleming | 2005
Sound quality is poor, but I prefer it with an orchestral backing rather than just the piano. Either way, it's lovely.
---
Long Read of the Day
Elephants in the Room
Years ago, the security guru Bruce Schneier famously observed that "surveillance is the business model of the Internet" and got slammed for it, because he should have said "the Web", not the Internet. But actually it was advertising that was really the business model of at least two of the Web giants — Google and Facebook.
This blast from Scott Galloway dares to utter the thought that may be beginning to dawn on Silicon Valley, namely that the advertising boom may be over for social media.
Much of the concern was a function of the ad-driven nature of platforms — algorithms that tapped into good/bad aspects of human nature to addict us. Most people knew how Facebook and Google made money, but not how they actually worked, how the ad revenue was fueled by the collection of data and the harvesting of attention. In fact, the phrase "Big Tech" was barely known back then. (Check the Wikipedia entry for Big Tech and see which NYU professor is credited with defining the category.) I just read the last sentence and realized I still crave other people's affirmation. #Pathetic.

Anyway, things are different today. We know we're being tracked, and we understand how digital platforms make money. We also know they're lucrative, as in, among the fastest growing, most profitable businesses in history. Since A Beautiful Mind won Best Picture in 2002, Google has grown its revenue 625-fold. Digital ads transformed the company from a garage project into a multinational corporation, and turned Meta from a college-campus website into the largest media business in the world. If you had to bet everything, it wouldn't be a bad idea to go with whoever controls our attention. Meta or Google? Safe bets. Snap? Riskier, but the moppets love it. It's fun to flirt with other sectors and firms, but these companies are the smart, safe bets.

Until now.
Do read it. Especially the bit about how you would feel if you had bought Facebook shares in 2015!
---
Ireland has raked in billions from tech giants. But what if the golden goose flies the nest?
Yesterday's Observer column:
In 1958, a young Irish civil servant named Kenneth Whitaker surprised his political masters in Dublin with a 250-page document on which he and some of his colleagues in the department of finance had been covertly working for months. Its title, Economic Development, may have been deceptively bland, but its message was blindingly clear. The country was an economic mess and unless radical action was taken its very existence as a viable state was in doubt.

As the writer Fintan O'Toole put it in his memoir, 1950s Ireland was basically "a vast cattle ranch with a few cities and a lot of small provincial towns attached". This ranch had two main exports: live cattle and beef products, most of them destined for the British market, and young people, emigrating in their thousands every year because there were no livelihoods, or any prospect of fulfilling lives, at home.

In July 1958, the Irish government accepted Whitaker's analysis and instructed him to work out a programme for economic expansion, which he duly did. A key phrase in the resulting document was that "a readiness to welcome foreign capital is a necessary complement to secure foreign participation in industrial development". In one of those occasional miracles that are the hinges of history, this radical idea escaped the notice of the country's reactionaries and became government policy. And a government body called the Industrial Development Authority (IDA), staffed with zealous technocrats, set out to make it a reality.

And boy, did they succeed. Ireland may still export cattle and dairy products, but foreign multinationals now account for 10.2% of employment and 66% of the country's exports…
Do read the whole thing
---
My commonplace booklet
From Joe Pell…
A BRUSH WITH HISTORY

'I really think this is the most important object ever found in my excavations,' said Yosef Garfinkel, an archaeologist at Hebrew University of Jerusalem and a co-author of the study who has unearthed evidence of King David's reign during his career. He paused, then added, with a hint of emotion in his voice: 'This is the first sentence ever found in the alphabet.'" The sentence that Garfinkel is referring was etched into a tiny ivory comb that "came from ancient ruins in central Israel and was about the size of a child's thumb. A number of its teeth had snapped. It was so encrusted in dirt that the archaeologist who found it initially added it to a bag of assorted bones." Years later, someone re-discovered it. So what was the message that humans of 1700 BC passed forward? A message about war and peace? A treatise on the existence of gods? A guide to keeping your cave well-organized during the holidays? Nope. The message for the ages is this: "May this tusk root out the lice of the hair and the beard."
---
This Blog is also available as a daily email. If you think that might suit you better, why not subscribe? One email a day, Monday through Friday, delivered to your inbox. It's free, and you can always unsubscribe if you conclude your inbox is full enough already!
---