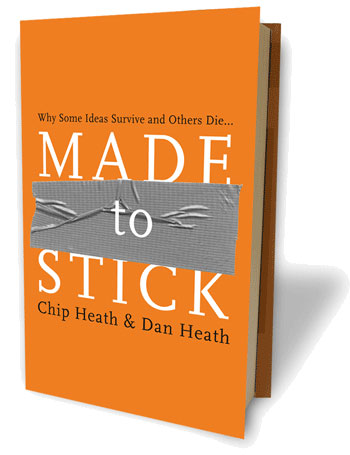 Hmmm… Interesting idea. More info here. On the drive home yesterday I listened to a Harvard Business School podcast in which one of the authors was interviewed. The official blurb reads:
Mark Twain once observed, " A lie can get halfway around the world before the truth can even get its boots on." His observation rings true: Urban legends, conspiracy theories, and bogus public-health scares circulate effortlessly. Meanwhile, people with important ideas—businessmen, educators, politicians, journalists, and others—struggle to make their ideas "stick."

Why do some ideas thrive while others die? And how do we improve the chances of worthy ideas? In Made to Stick, accomplished educators and idea collectors Chip and Dan Heath tackle head-on these vexing questions. Inside, the brothers Heath reveal the anatomy of ideas that "stick" and explain sure-fire methods for making ideas stickier, such as violating schemas, using the Velcro Theory of Memory, and creating "curiosity gaps." Made to Stick describes the traits that link sticky ideas of all kinds, from urban legends to corporate mission statements to advertisements to proverbs.