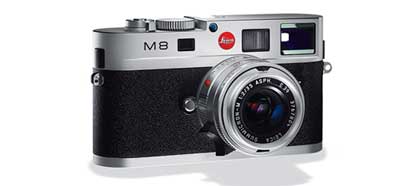 Behold a classic M-series camera body which takes all those expensive items of glassware that result in Leica owners being unable to feed their families. But instead of film, inside is a 10.3 MP sensor. And where the film-speed indicator used to be, you'll find a 2.5-inch LCD screen. Available in UK sometime in November.
Oh — and the price? Er, a mere £2990. Including VAT, naturally.
"It comes", says the NYT waspishly, "in black and silver; a rakish fashion photographer's beret and turtleneck are not included". Huh! The beret is the only thing some of us can afford.