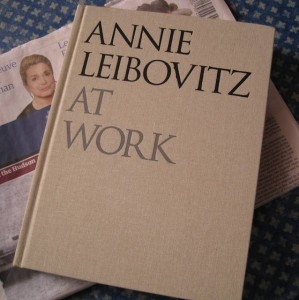 We finally got to see the Annie Leibovitz exhibition at the National Portrait Gallery today. Verdict: very mixed. The glossy, showbiz, Vanity Fair pictures of celebs — Brad Pitt, Johnny Depp, Kate Moss, Leonardo di Caprio with a dead swan draped round his neck (and not particularly in focus either) — are mostly vapid, though there are a few exceptions (Daniel Day Lewis reclining like an Edwardian roue, for example). And the best that can be said for her landscapes is that they are, well, dire.
But there are also some wonderful images: a terrific picture of Cindy Crawford, nude except for a python draped tastefully around her, shot in B&W against a background of lush vegetation; one great portrait of Susan Sontag in chemotherapy, wearing a black poloneck sweater and a wonderful crew-cut of white hair; a sensitive picture of Richard Avedon; and a sensational portrait of Leibovitz's mother. Her four recent photographs of the Queen (which are shown outside of the exhibition proper, in the lobby of the NPG) are very fine indeed, nicely composed and beautifully lit. HM the Q looks very sombre, but the pictures make one think of Leibovitz as the Holbein of our time. (Come to think of it, her recent work seems increasingly painterly: for example her Louis Vuitton advertising pictures of Keith Richards in a New York hotel bedroom put one in mind of Vermeer and the way he lit and portrayed his subjects with their possessions.)
There's also a moving image from Leibovitz's time in Sarajevo with Sontag: a child's bicycle lies on the ground, surrounded by a swirl of smudged blood. The kid was hit by a mortar just in front of Leibovitz's car. They packed him into the car and sent it off to the hospital, but he died en route. In between these eye-catching prints are lots of snapshots from the photographer's family life.
One unusual feature of the show is a room with two walls covered with proofs and contact prints of the pics in the exhibition; this gives a good sense of the variety — and in a way the ordinariness of her life.
The NPG shop is selling the Annie Leibovitz at Work book (above) which is basically her commentary on the pictures plus some other stuff (notes on Equipment, Ten Most Asked Questions, Publishing and Chronology). It's intriguing, informative — and very reasonably priced at £15.